Barnett Newman painting auctioned for $43.8 million
The canvas is the last of 6 in the artist's Onement series.
NEW YORK (AP) — A large 1953 painting by abstract expressionist artist Barnett Newman has sold for $43.8 million at a New York City auction, setting an auction record for his work.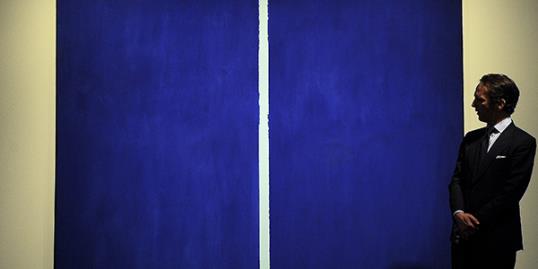 Sotheby's said Tuesday the record price for "Onement VI" includes the buyer's premium.
The painting is the last of six in Newman's Onement series. They're characterized by what's called the zip, a distinctive stripe running down the center of the canvas. Four are in museum collections.
Gallery: Live happier on the money you have
"Onement V" sold at auction last year for $22.4 million, the artist's previous auction record.
Bing: Most expensive paintings
Newman was an exhibitions organizer of the newly opened Betty Parson Gallery in 1946. He played a vital role in the careers of Mark Rothko, Jackson Pollock and others. He also influenced the next generation of artists, including Frank Stella.
Newman died in 1970.
Gallery: 5 fashion rules you should break
More from Daily Dose:
Eerie ghost town comes up for air
Ore. smoke jumpers skydive into illegal pot garden
Does hair grow faster in summer?
Love content like this? Friend us on Facebook, follow us on Twitter and find us on Pinterest.
Photo: "Onement VI" by Barnett Newman is on display during a preview of Sotheby's Impressionist and Modern Art sales in New York on May 3, 2013 / EMMANUEL DUNAND/AFP/Getty Images
inspire: live a better life
Don't leave home without these must-have items.

Handshakes spread 20 times more germs, study says.

Drowning in debt? Maybe there's a silver lining.

"But it's not real life, you know. It's a vacation."

Our list of must-dos before hitting the road.

Vacations are relaxing, yet sometimes stressful.

Summer traditions can be great, but if you're on year six of packing the same people into the same car to go on the same vacation, it's time to switch things up. Surfing in Portugal, perhaps – or cycling through Northern Ireland. We've put together a list of 15 places well off the beaten path that you should go to when you're ready to try something new.

Grab a sleeping bag and head out to one of these amazing campsites.

A dozen adventures that are well worth the trip.

Paper downplays the significance of practice over raw talent.

Survey says American teens aren't great at complex or basic financial tasks.

Fear of Moving Away: How to conquer the latest cultural anxiety and embrace the unknown.