Barnett Newman painting auctioned for $43.8 million
The canvas is the last of 6 in the artist's Onement series.
NEW YORK (AP) — A large 1953 painting by abstract expressionist artist Barnett Newman has sold for $43.8 million at a New York City auction, setting an auction record for his work.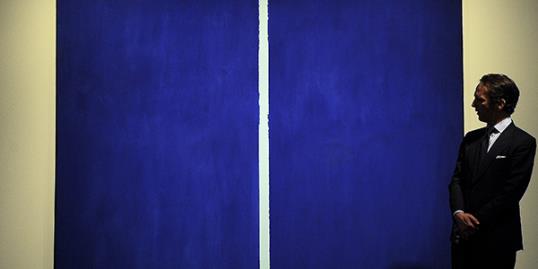 Sotheby's said Tuesday the record price for "Onement VI" includes the buyer's premium.
The painting is the last of six in Newman's Onement series. They're characterized by what's called the zip, a distinctive stripe running down the center of the canvas. Four are in museum collections.
Gallery: Live happier on the money you have
"Onement V" sold at auction last year for $22.4 million, the artist's previous auction record.
Bing: Most expensive paintings
Newman was an exhibitions organizer of the newly opened Betty Parson Gallery in 1946. He played a vital role in the careers of Mark Rothko, Jackson Pollock and others. He also influenced the next generation of artists, including Frank Stella.
Newman died in 1970.
Gallery: 5 fashion rules you should break
More from Daily Dose:
Eerie ghost town comes up for air
Ore. smoke jumpers skydive into illegal pot garden
Does hair grow faster in summer?
Love content like this? Friend us on Facebook, follow us on Twitter and find us on Pinterest.
Photo: "Onement VI" by Barnett Newman is on display during a preview of Sotheby's Impressionist and Modern Art sales in New York on May 3, 2013 / EMMANUEL DUNAND/AFP/Getty Images
inspire: live a better life
You may have a corner office, a big paycheck, or a political following, but these flubs will plummet your appeal--and fast track you to the front door.

Influence anyone with these sneaky tricks.

An investment in gratitude pays valuable dividends, especially when times are tough.

Scoring big in your career means being off-target more times than you hit the bull's-eye. Learn how to make all those misses lead to success.

Raise your hand if you've been here: It's Monday morning, and you've been up all night wiping your runny nose, coughing, and feeling achy all over.

5 proven tips to maximize your productivity.

These 'experts' underperform the markets year after year.

You love your friends—so why does it sting when one of them reaches a life-changing goal before you do? How to stop the comparathon.

It's the one resolution you must keep this year! Start by taking inventory of what matters to you and what makes you happy. Then, work on savoring those experiences! Here, four ways to create more delight each and every day from life consultant Michelle DeAngelis.

Print out all 27 mind and body pick-me-ups and keep them in a jar. In a meh mood emergency, dispense as needed.

If your New Year's resolution is to dust off your online dating profile and get some action on it, here's an important tip…

Three out of four of you say the most anxiety-inducing part of your job is your boss. Sound familiar?