Barnett Newman painting auctioned for $43.8 million
The canvas is the last of 6 in the artist's Onement series.
NEW YORK (AP) — A large 1953 painting by abstract expressionist artist Barnett Newman has sold for $43.8 million at a New York City auction, setting an auction record for his work.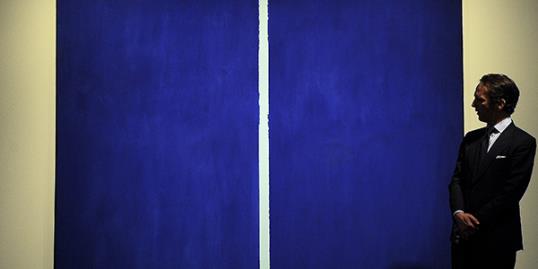 Sotheby's said Tuesday the record price for "Onement VI" includes the buyer's premium.
The painting is the last of six in Newman's Onement series. They're characterized by what's called the zip, a distinctive stripe running down the center of the canvas. Four are in museum collections.
Gallery: Live happier on the money you have
"Onement V" sold at auction last year for $22.4 million, the artist's previous auction record.
Bing: Most expensive paintings
Newman was an exhibitions organizer of the newly opened Betty Parson Gallery in 1946. He played a vital role in the careers of Mark Rothko, Jackson Pollock and others. He also influenced the next generation of artists, including Frank Stella.
Newman died in 1970.
Gallery: 5 fashion rules you should break
More from Daily Dose:
Eerie ghost town comes up for air
Ore. smoke jumpers skydive into illegal pot garden
Does hair grow faster in summer?
Love content like this? Friend us on Facebook, follow us on Twitter and find us on Pinterest.
Photo: "Onement VI" by Barnett Newman is on display during a preview of Sotheby's Impressionist and Modern Art sales in New York on May 3, 2013 / EMMANUEL DUNAND/AFP/Getty Images
inspire: live a better life
An effective team leader should have a strong and powerful set of skills. After all, taking charge isn't easy. Here are ten principles of power and leadership.

Hundreds of products hit our labs every year, from the inspired to the absurd (does anyone really need to be able to cook eggs on a stick?). These six measured up to our gold standard, offering ingenious solutions to everyday problems.

I was lucky enough to log into a webinar hosted by Ernst & Young Women Athletes Business Network, in which the panel included tennis legend Martina Navratilova and Olympic gold medalist and TV host Summer Sanders. (Not too shabby, yeah?)

And they're healthier for it, too.

Some say it's a small world. We beg to differ. Earth has so many wondrous places worth exploring, and most of us are lucky to see a handful of them. Here are 30 of the top trips of a lifetime.

Test your intellect with these unusual facts and find out how much you know about the luck of the Irish.

March 14 is Pi Day, a sacred celebration in which radius and circumference lovers rejoice over circular snacks and decimal-reciting contests.

Where in the world do you want to go? Somewhere unique? Any of the places described here are sure to make your next world-travel adventure truly memorable.

It's easy to lead, but it takes courage and conviction to be a truly great leader. Here are 10 inspiring leaders and what we can learn from them.

The semi-annual glitch in your daily routine is back this weekend.

You'll stave off credit card debt by the end of the year if you account for these often-forgotten expenses.

Are you ready for a change? If you can, you should take advantage of all life has to offer. Here are five ways to make a commitment to reinventing your life.