Barnett Newman painting auctioned for $43.8 million
The canvas is the last of 6 in the artist's Onement series.
NEW YORK (AP) — A large 1953 painting by abstract expressionist artist Barnett Newman has sold for $43.8 million at a New York City auction, setting an auction record for his work.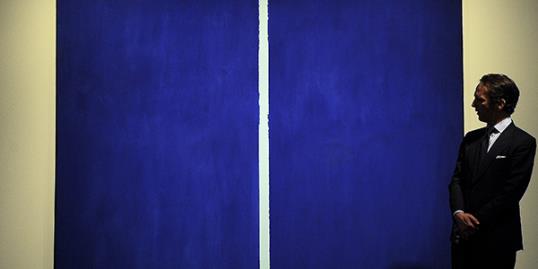 Sotheby's said Tuesday the record price for "Onement VI" includes the buyer's premium.
The painting is the last of six in Newman's Onement series. They're characterized by what's called the zip, a distinctive stripe running down the center of the canvas. Four are in museum collections.
Gallery: Live happier on the money you have
"Onement V" sold at auction last year for $22.4 million, the artist's previous auction record.
Bing: Most expensive paintings
Newman was an exhibitions organizer of the newly opened Betty Parson Gallery in 1946. He played a vital role in the careers of Mark Rothko, Jackson Pollock and others. He also influenced the next generation of artists, including Frank Stella.
Newman died in 1970.
Gallery: 5 fashion rules you should break
More from Daily Dose:
Eerie ghost town comes up for air
Ore. smoke jumpers skydive into illegal pot garden
Does hair grow faster in summer?
Love content like this? Friend us on Facebook, follow us on Twitter and find us on Pinterest.
Photo: "Onement VI" by Barnett Newman is on display during a preview of Sotheby's Impressionist and Modern Art sales in New York on May 3, 2013 / EMMANUEL DUNAND/AFP/Getty Images
inspire: live a better life
Here's some tips to get to happiness going forward in your life.

People 60 to 82 did best on cognitive tasks before 10:30am.

Lucille Ball was born in 1911, and though we lost her long ago, her legacy as America's favorite redhead lives on through the timeless classic, "I Love Lucy." People of all generations still enjoy Lucy's antics as much as they did over 60 years ago when the show first premiered.

Summer is coming to an end, and in a few weeks, kids will be forced to trade in their beach bags for backpacks. But just because the season is fading away doesn't mean the memories from the past few months have to disappear with it.

Confidence and perceived competence are key, study finds.

Features lead to assumptions about character, study says.

Great gear for an afternoon spent shoreside.

Read on for surefire strategies to boost your bliss.

Use these bucket-list ideas to enjoy the little time you have left.

Study points to benefits of improved living conditions.

Don't leave home without these must-have items.

Handshakes spread 20 times more germs, study says.