Is lying ever OK?
12 lies you should never tell.
Is it ever OK to tell a lie? Consider a few of the well-meaning fibs that will come up this holiday season.
"A fat elf in a red suit is watching you, and he won't bring any gifts if you're not good."
"Heavens, no, we didn't make out at the company's holiday party."
"Thank you — I love fruitcake!"
This past weekend, Huffington Post offered a list of  "12 Things You Should Never Lie About." The clear implication is that there's also a set of things you should or at least could lie about. But is it ever really OK? Lying always seems to exact its pound of flesh. A lie is a shark in the water — just when you think you are safe, it will come back to bite you.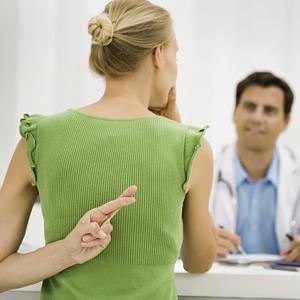 No doubt, it's challenging in both personal and professional settings to be unilaterally, unequivocally truthful. We call it being "brutally honest" because sometimes honesty really is brutal. As a UMass psychologist told US News & World Report, "We use lies to grease the wheels of social discourse. It's socially useful to tell lies."
More on MSN Living: Best sweater for your body type
Little lies might be told to protect another's feelings or to hide something no one else has a right to know, and sometimes it's just plain easier not to make waves. But in his landmark book Radical Honesty, therapist Brad Blanton suggests that consistently telling the truth can transform your life by freeing you from stress, strengthening your relationships, and recovering energy lost to maintaining compounded half-truths and deceptions.
More on MSN Living: 10 habits that keep marriages strong
The foundation of radically honest living is that even white lies add darkness to your life, and ultimately don't do good for your friends, relatives and co-workers, either.
Here are 12 things never to lie about, according to a post on HuffPo's Women section:
12. Not loving someone
11. Anything you say to your lawyer
10. Any information the government requests
9. Anything you tell your doctor
8. A mistake you made at work
7. Your credentials (e.g., when job-seeking)
6. What you need from another person
5. Your mental health
4. Whether you think a relationship has a future
3. Your physical appearance when you're dating online
2. Feeling sick at work
1. Having an orgasm
Bing: The worst lies ever told
Photo: PhotoAlto/Eric Audras/Getty Images
More from MSN Living:
Worst cringe-worthy style & beauty fashions of 2012
The best beauty and style looks of the year
Marriage counselors: The trickiest issues we've ever solved

i faked an orgasm the night before i called in sick on skype. i made myself look really bad. i don't think my future relationship with the company will last--there all idiots anyway. 
They call me a psychotic depressed whore--I just tell them I need a little time. I don't know why I was hired anyway they wanted a college grad and I don't even have my ged yet.
I'd never admit to any mistakes i make at work--they'd fire me and then i'd lose my healthcare copay. I need my valium to get my buzz on. My doctor thinks i'm stressed from the work load.
With a huge credit care debt that I write off every year along with reporting half my income my lawyer give me a great break on my retainer. I tell him I love him and give him a
****
...
Are you sure you want to delete this comment?
inspire: live a better life
Where in the world do you want to go? Somewhere unique? Any of the places described here are sure to make your next world-travel adventure truly memorable.

It's easy to lead, but it takes courage and conviction to be a truly great leader. Here are 10 inspiring leaders and what we can learn from them.

Some say it's a small world. We beg to differ. Earth has so many wondrous places worth exploring, and most of us are lucky to see a handful of them. Here are 30 of the top trips of a lifetime.

You'll stave off credit card debt by the end of the year if you account for these often-forgotten expenses.

Mark Zuckerberg has an even bigger effect on your life than you thought.

Take this advice to finally tackle that nagging to-do list.

The iconic storyteller would have been 110-years-old

Take the time to appreciate women's contributions to society. Here are some of the women who inspire us by their example.

Cast of the iconic TV show reunites for Florence Henderson's birthday

We couldn't be more excited to watch the best athletes in the world compete at the Winter Olympics in Sochi. This year, about 44 percent of the competitors are women according to the International Olympic Committee—which is awesome but wasn't always the case. Let's look back at some of the amazing women who paved the way with incredible, memorable feats of girl power.

Still pulling yourself out of holiday credit card debt? Ready to pool some funds for that beach vacation you've been dreaming about at your desk? We're with you 100 percent.

"FOMO, the fear of missing out, is a form of social anxiety," says psychiatrist Gail Saltz. "This type of fear tends to cause compulsive behaviors, like checking out other social situations even as you are in the middle of one currently."