Less stuff as a key to happiness
How much stuff is enough?
As everyone's heard and no one quite believes, money can't buy happiness. Conspicuously missing from this comforting adage is a model of someone who could afford everything but preferred to live with very little.
We don't mean a person who struck it rich and was still miserable — there's a long list of lottery winners to cite for that. We're talking about being able to buy virtually anything that can be purchased but just plain not wanting to. If there are wealthy people like that out there, it seems they're all hiding away on their private islands.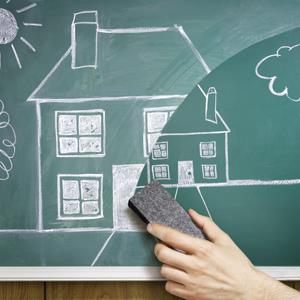 Then along comes Graham Hill. Writing in The New York Times ("Living With Less. A Lot Less"), this self-described "compulsive entrepreneur" cashed in big on his Internet company, TreeHugger.com, and went on to make millions more with new businesses of his own invention. Initially he indulged as so many others fantasize, buying a huge house and stuffing it with classy furniture, high-end appliances, great gadgets and a sharp car. When work took him across the country from Seattle to New York, he took on a second dwelling and filled his huge downtown loft with another set of stuff.
More from MSN Living: 25 ways technology has changed our lives
But soon Hill found that excess belongings added stress instead of satisfaction. And his conviction is that he's not alone in feeling that excess material possessions can complicate and add anxiety to a life unnecessarily.
He cites the work of U.C.L.A. researchers who found that all the mothers in a group of middle-class families experienced a spike in stress hormones during the time they spent dealing with their belongings. Three out of every four of the families couldn't even park their cars in their garages because they were so full of things.
Hill has since pared down his belongings to lead an austere but, by his account, immeasurably happier life. He now lives in a 420-square-foot studio apartment — and still has the space to host dinner for 12 and have 4 friends stay overnight (the NYT article serves his new venture, LifeEdited.com, quite well). He has no car, and runs his businesses from anywhere in the world with just the laptop he fits in his solar backpack. 
More from MSN Living: 20 things everyone should do at least once
Most of us have a basement, bedroom or at least a closet that would give Mr. Hill a twitch in his eye. We relate more easily to the subjects on "Hoarders," A&E's sad series about people buried in their own possessions. The clear message on that show is that material things can clutter not only a home, but a mind.
As Hill concludes, "after a certain point, material objects have a tendency to crowd out the emotional needs they are meant to support."
More from Daily Dose:
4 women who are changing the world
Daylight Saving Time: For or against?
2085: The year the gender gap closes
Love content like this? Friend us on Facebook, follow us on Twitter and find us on Pinterest
Photo: Jana Leon/Getty Images
inspire: live a better life
Miss Manners advises on how to respond when one gets unsolicited advice about weight issues.

Editor's note: We will now be publishing Miss Manners articles twice weekly, but you will only see one question and answer per article. You can expect to see these articles appear on Tuesdays and Thursdays going forward.

President Harry S. Truman was behind efforts to establish the first Armed Forces Day in 1950, and decades later the nation continues to set aside the third Saturday in May to recognize and thank members of the U.S. military for their patriotic service. With these five homecoming images, we salute all service members at home and abroad.

There's much to be desired about working from home: the stress-free commute, flexible hours, and improved work-life balance.

Wishing for the fountain of youth? You may not need it. We've rounded up real-women secrets, tried-and-true beauty tips, and the latest research to help you fight aging.

Experts weigh in on when to bite your tongue at the office.

Oh, the places you'll go — to get some "me" time, that is. REDBOOK readers confess all on Facebook.

How much money you make isn't nearly as important as how you use it, according to Elizabeth Dunn and Michael Norton, authors of the new book Happy Money.

Plus, how do you ask people to not bring gifts to a shower?

Looking for a career upgrade? Follow these tips for a foot in the door.

These tanning and skin cancer myths aren't just wrong — they can do serious harm. Wise up and head into a healthier future. P.S. You'll look a lot younger too.

It's possible to rejigger your brain circuitry and feel more joy, even on Monday mornings. Here's how.