Boxing Day is today, but what is it?
This public holiday that has become synonymous with shopping and sporting events, but its origins are a mystery even to many British expatriates.
Boxing Day typically falls the day after Christmas, on December 26. Celebrated across Britain and much of the Commonwealth, including Canada and New Zealand - Boxing Day is a public holiday that is commonly associated with shopping and sporting events. Beyond that, its origins – even for Brits – are a bit fuzzy.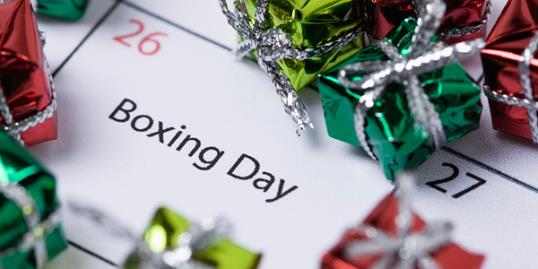 The story goes that Queen Victoria declared Boxing Day an official holiday in the mid-19th century. It functioned as the servants' day off, and it was custom among landholders to give presents and food - enclosed in boxes. But when it first was observed is unknown, reports Philly.com.
"The common thread, we were always told, was it began in the Middle Ages," Howard Silverstone, 52, a forensic accountant who moved to the United States from North London almost three decades ago was quoted in Philly.com. Something to do with "the way the land was owned, with the master and all the servants [who] worked on Christmas."
Bing: Origin of the Christmas tree
Other expats have different childhood memories. Former North Londoner, Chef Ben McNamara of The Dark Horse in Philadelphia, recalls Boxing Day as a chance for groups of family and friends to get together and finish off what they hadn't eaten or drunk the day before. It gave them an extra day to revel in the holiday spirit and one another's company, he told Philly.com.
More on MSN Living: 50 worst celebrity hairstyles of all time
Nick Perry, an engineer who grew up near Manchester, sees the holiday a tad differently.
More on MSN Living: Worst celeb fashions of the year
"It's just another day off to watch sporting events and get drunk, when the women go out and go shopping," the South Philadelphia resident was quoted in Philly.com.
Do you celebrate Boxing Day, and if so, how?
Photo: Vstock/Getty Images
More from The Daily Dose:
Unknown Hans Christian Andersen fairy tale found
Gender gaps in pay: Worst and best states
Gun ownership among women rising
Are you sure you want to delete this comment?
inspire: live a better life
From international roaming fees to skipping travel insurance, these mistakes can put a damper on your next vacation.

Where in the world do you want to go? Somewhere unique? Any of the places described here are sure to make your next world-travel adventure truly memorable.

It's easy to lead, but it takes courage and conviction to be a truly great leader. Here are 10 inspiring leaders and what we can learn from them.

Some say it's a small world. We beg to differ. Earth has so many wondrous places worth exploring, and most of us are lucky to see a handful of them. Here are 30 of the top trips of a lifetime.

The semi-annual glitch in your daily routine is back this weekend.

You'll stave off credit card debt by the end of the year if you account for these often-forgotten expenses.

Mark Zuckerberg has an even bigger effect on your life than you thought.

Take this advice to finally tackle that nagging to-do list.

The iconic storyteller would have been 110-years-old

Take the time to appreciate women's contributions to society. Here are some of the women who inspire us by their example.

Cast of the iconic TV show reunites for Florence Henderson's birthday

We couldn't be more excited to watch the best athletes in the world compete at the Winter Olympics in Sochi. This year, about 44 percent of the competitors are women according to the International Olympic Committee—which is awesome but wasn't always the case. Let's look back at some of the amazing women who paved the way with incredible, memorable feats of girl power.