Boxing Day is today, but what is it?
This public holiday that has become synonymous with shopping and sporting events, but its origins are a mystery even to many British expatriates.
Boxing Day typically falls the day after Christmas, on December 26. Celebrated across Britain and much of the Commonwealth, including Canada and New Zealand - Boxing Day is a public holiday that is commonly associated with shopping and sporting events. Beyond that, its origins – even for Brits – are a bit fuzzy.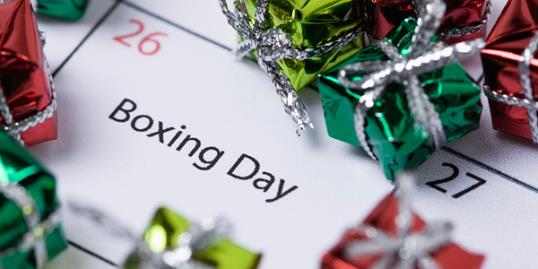 The story goes that Queen Victoria declared Boxing Day an official holiday in the mid-19th century. It functioned as the servants' day off, and it was custom among landholders to give presents and food - enclosed in boxes. But when it first was observed is unknown, reports Philly.com.
"The common thread, we were always told, was it began in the Middle Ages," Howard Silverstone, 52, a forensic accountant who moved to the United States from North London almost three decades ago was quoted in Philly.com. Something to do with "the way the land was owned, with the master and all the servants [who] worked on Christmas."
Bing: Origin of the Christmas tree
Other expats have different childhood memories. Former North Londoner, Chef Ben McNamara of The Dark Horse in Philadelphia, recalls Boxing Day as a chance for groups of family and friends to get together and finish off what they hadn't eaten or drunk the day before. It gave them an extra day to revel in the holiday spirit and one another's company, he told Philly.com.
More on MSN Living: 50 worst celebrity hairstyles of all time
Nick Perry, an engineer who grew up near Manchester, sees the holiday a tad differently.
More on MSN Living: Worst celeb fashions of the year
"It's just another day off to watch sporting events and get drunk, when the women go out and go shopping," the South Philadelphia resident was quoted in Philly.com.
Do you celebrate Boxing Day, and if so, how?
Photo: Vstock/Getty Images
More from The Daily Dose:
Unknown Hans Christian Andersen fairy tale found
Gender gaps in pay: Worst and best states
Gun ownership among women rising
Are you sure you want to delete this comment?
inspire: live a better life
For those who would rather pay it forward, proceeds from this gift guide go to deserving charities — and these presents happen to be pretty fabulous as well. Plus, shop more gifts for stylish women.

Miss Manners considers when to celebrate milestones

Miss Manners provides guidance on meeting others

No, money doesn't grow on Christmas trees, but you can green up your holiday with readers' savviest money-saving tips.

A look back on all of the tiny tasks that 30 years of technology has saved you from.

What sets you apart from everyone else looking for a new job or bigger paycheck? Your profile!

With all those deals you snagged on Black Friday, Small Business Saturday, and Cyber Monday, today is your chance to give back to those in need with #GivingTuesday.

Miss Manners provides guidance on how to handle a request for party contributions

Miss Manners instructs on why tit-for-tat never works

Miss Manners offers thoughts on guests who disregard dinner party instructions

Make big bucks, from home, having fun? These women got creative and figured out a way to have it all. You can too.