Boxing Day is today, but what is it?
This public holiday that has become synonymous with shopping and sporting events, but its origins are a mystery even to many British expatriates.
Boxing Day typically falls the day after Christmas, on December 26. Celebrated across Britain and much of the Commonwealth, including Canada and New Zealand - Boxing Day is a public holiday that is commonly associated with shopping and sporting events. Beyond that, its origins – even for Brits – are a bit fuzzy.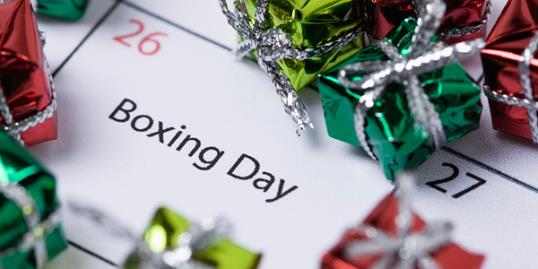 The story goes that Queen Victoria declared Boxing Day an official holiday in the mid-19th century. It functioned as the servants' day off, and it was custom among landholders to give presents and food - enclosed in boxes. But when it first was observed is unknown, reports Philly.com.
"The common thread, we were always told, was it began in the Middle Ages," Howard Silverstone, 52, a forensic accountant who moved to the United States from North London almost three decades ago was quoted in Philly.com. Something to do with "the way the land was owned, with the master and all the servants [who] worked on Christmas."
Bing: Origin of the Christmas tree
Other expats have different childhood memories. Former North Londoner, Chef Ben McNamara of The Dark Horse in Philadelphia, recalls Boxing Day as a chance for groups of family and friends to get together and finish off what they hadn't eaten or drunk the day before. It gave them an extra day to revel in the holiday spirit and one another's company, he told Philly.com.
More on MSN Living: 50 worst celebrity hairstyles of all time
Nick Perry, an engineer who grew up near Manchester, sees the holiday a tad differently.
More on MSN Living: Worst celeb fashions of the year
"It's just another day off to watch sporting events and get drunk, when the women go out and go shopping," the South Philadelphia resident was quoted in Philly.com.
Do you celebrate Boxing Day, and if so, how?
Photo: Vstock/Getty Images
More from The Daily Dose:
Unknown Hans Christian Andersen fairy tale found
Gender gaps in pay: Worst and best states
Gun ownership among women rising
Are you sure you want to delete this comment?
inspire: live a better life
Miss Manners advises on how to respond when one gets unsolicited advice about weight issues.

Editor's note: We will now be publishing Miss Manners articles twice weekly, but you will only see one question and answer per article. You can expect to see these articles appear on Tuesdays and Thursdays going forward.

President Harry S. Truman was behind efforts to establish the first Armed Forces Day in 1950, and decades later the nation continues to set aside the third Saturday in May to recognize and thank members of the U.S. military for their patriotic service. With these five homecoming images, we salute all service members at home and abroad.

There's much to be desired about working from home: the stress-free commute, flexible hours, and improved work-life balance.

Wishing for the fountain of youth? You may not need it. We've rounded up real-women secrets, tried-and-true beauty tips, and the latest research to help you fight aging.

Experts weigh in on when to bite your tongue at the office.

Oh, the places you'll go — to get some "me" time, that is. REDBOOK readers confess all on Facebook.

How much money you make isn't nearly as important as how you use it, according to Elizabeth Dunn and Michael Norton, authors of the new book Happy Money.

Plus, how do you ask people to not bring gifts to a shower?

Looking for a career upgrade? Follow these tips for a foot in the door.

These tanning and skin cancer myths aren't just wrong — they can do serious harm. Wise up and head into a healthier future. P.S. You'll look a lot younger too.

It's possible to rejigger your brain circuitry and feel more joy, even on Monday mornings. Here's how.