A Man Who Hears the Colors He Can't See
Reflections from a colorblind cyborg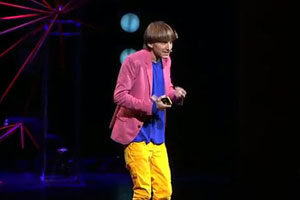 Neurologists don't yet understand synesthesia, a rare and fascinating condition in which the brain mixes up sensory perceptions. Depending on which senses are crossing wires, a synesthete will perceive sounds as different colors or register flavors as shapes. But never had synesthesia been deliberately engineered into the brain until a colorblind artist named Neil Harbisson turned himself into a sense-swapping cyborg.
Though he was born with complete colorblindness, a disorder known as achromatopsia, Harbisson is a very colorful character. Appearing onstage dressed in blinding yellow, blue, and pink — an outfit he "hears" as a happy C major chord — the artist delivered a TED Talk last month explaining how he and a colleague developed a visual sensor and software to convert color to sound. Light frequencies are changed to sound waves with the help of a camera mounted to his forehead and a chip embedded in his skull.
Harbisson doesn't think of his eyeborg as a device for overcoming a disability, but rather as a means to super-ability. In fact, he thinks you should get one. "I think we should all have this wish to perceive things we cannot perceive," he told the TED audience. That's why he founded the Cyborg Foundation, "to encourage people to extend their senses by using technology as part of the body."
To glimpse Harbisson's world, or perhaps we should say to eavesdrop on it, check out some of the creations on his site. One video shares how he hears a person's face: the lips are at a frequency 713.4067124 Hz and an eye sings at 744.275064 Hz. Once you're on his wavelength you'll see what's funny about the video "Annoying Colors," in which a couple dressed in clothing that really is best described as annoying, even without hearing it, are seen while a loud garbage truck passes. Then the girl noisily empties the air from a balloon into the guy's ear.
Amazingly, Harbisson's brain so readily adapted to the eyeborg that it effectively reverse-engineered the technology. Now he also has the ability to visualize sounds. A Justin Bieber song is a kaleidoscopic grid of pink and yellow squares. Visiting a grocery store, Harbisson says, is like walking into a nightclub. He has also recreated what he saw when he heard speeches by MLK and by Hitler (MLK is on the right).

Harbisson feels passionately that cyborg tech can improve our lives by expanding our minds. "Knowledge comes from our senses," he concludes, "so if we extend our senses we will consequently extend our knowledge."
Photo: © TEDtalksDirector, via YouTube, http://aka.ms/cojwce​
inspire: live a better life
Miss Manners advises on how to respond when one gets unsolicited advice about weight issues.

Editor's note: We will now be publishing Miss Manners articles twice weekly, but you will only see one question and answer per article. You can expect to see these articles appear on Tuesdays and Thursdays going forward.

President Harry S. Truman was behind efforts to establish the first Armed Forces Day in 1950, and decades later the nation continues to set aside the third Saturday in May to recognize and thank members of the U.S. military for their patriotic service. With these five homecoming images, we salute all service members at home and abroad.

There's much to be desired about working from home: the stress-free commute, flexible hours, and improved work-life balance.

Wishing for the fountain of youth? You may not need it. We've rounded up real-women secrets, tried-and-true beauty tips, and the latest research to help you fight aging.

Experts weigh in on when to bite your tongue at the office.

Oh, the places you'll go — to get some "me" time, that is. REDBOOK readers confess all on Facebook.

How much money you make isn't nearly as important as how you use it, according to Elizabeth Dunn and Michael Norton, authors of the new book Happy Money.

Plus, how do you ask people to not bring gifts to a shower?

Looking for a career upgrade? Follow these tips for a foot in the door.

These tanning and skin cancer myths aren't just wrong — they can do serious harm. Wise up and head into a healthier future. P.S. You'll look a lot younger too.

It's possible to rejigger your brain circuitry and feel more joy, even on Monday mornings. Here's how.