A Man Who Hears the Colors He Can't See
Reflections from a colorblind cyborg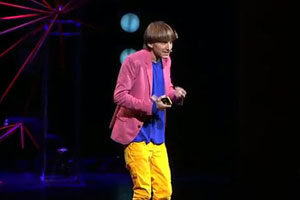 Neurologists don't yet understand synesthesia, a rare and fascinating condition in which the brain mixes up sensory perceptions. Depending on which senses are crossing wires, a synesthete will perceive sounds as different colors or register flavors as shapes. But never had synesthesia been deliberately engineered into the brain until a colorblind artist named Neil Harbisson turned himself into a sense-swapping cyborg.
Though he was born with complete colorblindness, a disorder known as achromatopsia, Harbisson is a very colorful character. Appearing onstage dressed in blinding yellow, blue, and pink — an outfit he "hears" as a happy C major chord — the artist delivered a TED Talk last month explaining how he and a colleague developed a visual sensor and software to convert color to sound. Light frequencies are changed to sound waves with the help of a camera mounted to his forehead and a chip embedded in his skull.
Harbisson doesn't think of his eyeborg as a device for overcoming a disability, but rather as a means to super-ability. In fact, he thinks you should get one. "I think we should all have this wish to perceive things we cannot perceive," he told the TED audience. That's why he founded the Cyborg Foundation, "to encourage people to extend their senses by using technology as part of the body."
To glimpse Harbisson's world, or perhaps we should say to eavesdrop on it, check out some of the creations on his site. One video shares how he hears a person's face: the lips are at a frequency 713.4067124 Hz and an eye sings at 744.275064 Hz. Once you're on his wavelength you'll see what's funny about the video "Annoying Colors," in which a couple dressed in clothing that really is best described as annoying, even without hearing it, are seen while a loud garbage truck passes. Then the girl noisily empties the air from a balloon into the guy's ear.
Amazingly, Harbisson's brain so readily adapted to the eyeborg that it effectively reverse-engineered the technology. Now he also has the ability to visualize sounds. A Justin Bieber song is a kaleidoscopic grid of pink and yellow squares. Visiting a grocery store, Harbisson says, is like walking into a nightclub. He has also recreated what he saw when he heard speeches by MLK and by Hitler (MLK is on the right).

Harbisson feels passionately that cyborg tech can improve our lives by expanding our minds. "Knowledge comes from our senses," he concludes, "so if we extend our senses we will consequently extend our knowledge."
Photo: © TEDtalksDirector, via YouTube, http://aka.ms/cojwce​
inspire: live a better life
No one looks forward to washing windows or storing the ski gear or the other chores associated with spring-cleaning. But this annual ritual does not have to be a drag, if you approach it in a slightly different way. "You've been cooped up with this cave-like mentality all winter; now it's time to break free and play," says R.D. Chin, a feng shui architect and consultant in New York City. "It's time to follow the cycle of nature, get rid of the clutter, and free up your mind." Here's our idea of what a truly effective spring-cleaning can look like.

American presidents garner most votes over celebrities in a poll ranking the 100 most significant citizens.

Heading to a world-class beach town is always a safe bet for a great vacation, but if you want something that tests your limits, consider a more extreme spot. Here are 10 places around the world that require a winter coat year-round and offer spectacular glaciers, ice features, and the best snow anywhere.

From the Grand Canyon to the Statue of Liberty, the U.S. boasts world-famous national parks, historical sites and landmarks. Beyond the well-known locations, there's a wealth of undiscovered destinations stretching from coast to coast worth visiting. From scenic sand dunes to wild mountains, here's 51 places within America that you've probably never heard of.

How much do you really know about the Earth? In honor of Earth Day, April 22, we explore some interesting and fun facts about the fifth-largest planet of our solar system.

Most of the stuff we worry about never happens.

You've written an email, and need to wrap it up. You could end with a simple "Sincerely," tack on your name, and then shoot it out the door, proving definitively that you suck at communication.

Here are nine of the most extreme trips on the planet -- and the outfitters that take adventurers over the edge and back again.

A true challenge is within your reach. All it takes is a few months to get in shape and a few days off work.

Think you got what it takes to be included in the pages of the Guinness Book of World Records? We consult one of the judges to help you on your quest.

Just a few years ago, the term "home automation" meant a bunch of blinking lights and a headache. But thanks to simpler interfaces and the rise of smartphones, new tech can transform your house into a safer, more comfortable, less wasteful place.

If you're like most people, flying around in a big metal tube in the sky isn't your idea of a fun time. From the terrible food to the cramped space, flying can be a miserable experience. Don't make the flight even more soul-sucking by breaking airplane etiquette. We've compiled a list of the worst-inflight offenders. by Rebecca Pattee