Roller coaster to reopen after fatal accident
Six Flags is welcoming visitors back to the Texas Giant. Want a ride?
Two months after a woman fell to her death from a roller coaster at Six Flags Over Texas, the amusement park is reopening its 153-foot-high New Texas Giant coaster this weekend.

But will visitors to Six Flags line up for the ride? Would you?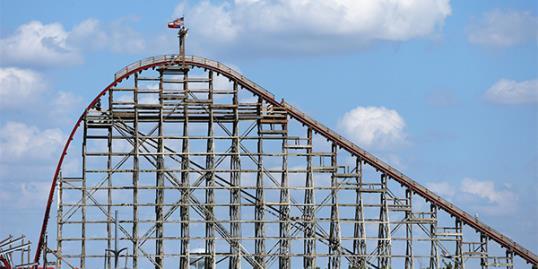 Fifty-two-year-old Rosa Esparza (also identified as Rosa Ayala-Goana) died on July 19 when she fell out of her seat on the roller coaster, where she was riding in the front car behind her daughter and son-in-law. According to reports, Esparza's daughter turned around to see her mother struggling to hold on to the safety bar while upside down, then saw her ejected. Six Flags currently faces a lawsuit filed by Esparza's family. 
Bing: Most terrifying roller coasters
After Esparza's death, tests conducted by Six Flags and by Gerstlauer Amusement Rides, the German maker of the coaster, found "inconsistences and intermittent failures" with the system. But the park says it has now concluded internal investigations of the accident and, after extensive testing, is ready to reopen the 15-story-high New Texas Giant this weekend. 
MSN Living: Risky business: 10 high-risk jobs for risk takers

New seat belts have been added to the ride as well as redesigned restraint-bar pads from Gerstlauer. Six Flags will also be providing a fixed coaster seat at the ride's entrance so potential riders can test whether they're a good fit, saying in a written statement that "guests with unique body shapes or sizes may not fit into the restraint system."
A project manager at the roller coaster manufacturer says the company has never had problems with car safety bars on any of the roughly 50 coasters it has built around the world over the past 30 years. 
Roller coaster accidents are uncommon. According to the National Safety Council, there were just over 1,200 amusement-ride injuries in 2011, about 4 percent of which caused serious personal harm. Roller coasters were responsible for about 28 percent of all incidents. 
Fatalities are exceedingly rare. Statistically, you are less likely to die on a roller coaster than traveling in a car or plane or swimming in the ocean. More people are killed by lightning every year than on roller coasters.
Still, you're even safer if you never get on the ride.
More from Daily Dose:
007 'submarine car' sells for $865,000
Why majority of Americans oppose action in Syria
Ohio man who threatened police holds 'idiot' sign
Subscribe to the Daily Dose | Friend us on Facebook, follow us on Twitter and find us on Pinterest.
Photo: ​The Texas Giant roller coaster at Six Flags Over Texas (Ronald Martinez/Getty Images)

The Giant is safe, but as with many rides there is a question if you fit in the seat. It is not just a weight thing it is a body bulk thing. If you are 275 pounds and 6 foot chances are your body mass is spread out and the restraints will secure you. If you are 5 foot and 275 body mass it is mostly in the middle and the restraints will not secure. I am in the second group and I know when to ride and when I cant. 
Are you sure you want to delete this comment?
inspire: live a better life
Summer traditions can be great, but if you're on year six of packing the same people into the same car to go on the same vacation, it's time to switch things up. Surfing in Portugal, perhaps – or cycling through Northern Ireland. We've put together a list of 15 places well off the beaten path that you should go to when you're ready to try something new.

Grab a sleeping bag and head out to one of these amazing campsites.

A dozen adventures that are well worth the trip.

Paper downplays the significance of practice over raw talent.

Survey says American teens aren't great at complex or basic financial tasks.

Fear of Moving Away: How to conquer the latest cultural anxiety and embrace the unknown.

Adulthood has no eureka moment.

Just like your body, your brain needs a regular workout too.

Being a winner is a good feeling to have — especially in life. Winning doesn't solely relate to competitions or Charlie Sheen's coining of the term back in 2011. From achieving success to maintaining a work-life balance, find out what characteristics mean your life is going the way it should be. You may just even find an inspiration or two that you'll want to incorporate into your daily routine!

Sometimes it seems like you need a vacation from your vacation.

That'll get you and your 2 kids a house, SUV, and more, per a 'USA Today' analysis.

While most of us associate the Fourth of July with fireworks and barbecue (and taking a long weekend off from work), it's also an important day to give thanks to the people who help keep us safe.