Nobel Prizes handed out today
What's so great about a Nobel, anyway?
In a day and age when every kid on every team gets an award just for showing up, it's nice to consider that there are still a few awards that recognize outstanding achievement, significant accomplishment, merit, and excellence  —  you know, doing something.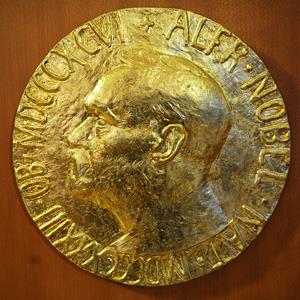 The one award that rises high above all others for sheer prestige — the one that proves you've done something really extraordinary — is the Nobel Prize. Given every year since 1901, they are awarded for Peace, Economic Sciences, Chemistry, Medicine/Physiology,​ Literature, and Physics. And while it's nice to get the attention that comes with the award — Nobel Laureates are presented with a medal and diploma by King Carl XVI Gustaf of Sweden — it's accompanied by some serious prize money: each winner is given 8 million Swedish kronor, or the equivalent of $1.2 million in U.S. cash.
More on MSN Living: Break the rules for a better romance
The prize was created by Alfred Nobel, a chemist who is otherwise remembered as the inventor of dynamite. Nobel made a fortune building a military arms company, but when a newspaper referred to him as the "merchant of death" he was appalled that such a moniker might be his legacy. So his will stated that his fortune be used to recognize people whose work benefitted mankind.
The award is given each year on Dec. 10, Nobel's birthday (he died in 1896). Who picks the winners? The Peace Prize is given by a committee overseen by the Norwegian Parliament, while the other recipients are selected by the Royal Swedish Academy of Sciences, The Swedish Academy, and Sweden's Karolinska Institute (this odd Scandinavian division comes about because both countries were united under a common monarch when Nobel was alive).
More on MSN Living: World's greatest body shapers
The ceremonies are held in Oslo, where the Nobel Peace Prize is given, and in Stockholm, where the other awards and the honorees' banquet are held. You can watch the live broadcasts of the various ceremonies online today at the official website of the Nobel Prize.
And maybe, just maybe, it'll inspire you to go for your own gold. It sure beats that trophy for "team spirit" that you and the twenty other kids on your T-ball team got.
Photo: REX Features
Bing: Where is Oslo on a map?
More from MSN Living:
Instant classic: Pinup suits
10 ways to feel good every day
What your engagement ring says about you
inspire: live a better life
Summer traditions can be great, but if you're on year six of packing the same people into the same car to go on the same vacation, it's time to switch things up. Surfing in Portugal, perhaps – or cycling through Northern Ireland. We've put together a list of 15 places well off the beaten path that you should go to when you're ready to try something new.

Grab a sleeping bag and head out to one of these amazing campsites.

A dozen adventures that are well worth the trip.

Paper downplays the significance of practice over raw talent.

Survey says American teens aren't great at complex or basic financial tasks.

Fear of Moving Away: How to conquer the latest cultural anxiety and embrace the unknown.

Adulthood has no eureka moment.

Just like your body, your brain needs a regular workout too.

Being a winner is a good feeling to have — especially in life. Winning doesn't solely relate to competitions or Charlie Sheen's coining of the term back in 2011. From achieving success to maintaining a work-life balance, find out what characteristics mean your life is going the way it should be. You may just even find an inspiration or two that you'll want to incorporate into your daily routine!

Sometimes it seems like you need a vacation from your vacation.

That'll get you and your 2 kids a house, SUV, and more, per a 'USA Today' analysis.

While most of us associate the Fourth of July with fireworks and barbecue (and taking a long weekend off from work), it's also an important day to give thanks to the people who help keep us safe.