Nobel Prizes handed out today
What's so great about a Nobel, anyway?
In a day and age when every kid on every team gets an award just for showing up, it's nice to consider that there are still a few awards that recognize outstanding achievement, significant accomplishment, merit, and excellence  —  you know, doing something.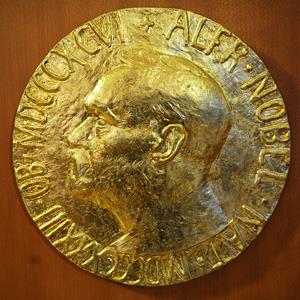 The one award that rises high above all others for sheer prestige — the one that proves you've done something really extraordinary — is the Nobel Prize. Given every year since 1901, they are awarded for Peace, Economic Sciences, Chemistry, Medicine/Physiology,​ Literature, and Physics. And while it's nice to get the attention that comes with the award — Nobel Laureates are presented with a medal and diploma by King Carl XVI Gustaf of Sweden — it's accompanied by some serious prize money: each winner is given 8 million Swedish kronor, or the equivalent of $1.2 million in U.S. cash.
More on MSN Living: Break the rules for a better romance
The prize was created by Alfred Nobel, a chemist who is otherwise remembered as the inventor of dynamite. Nobel made a fortune building a military arms company, but when a newspaper referred to him as the "merchant of death" he was appalled that such a moniker might be his legacy. So his will stated that his fortune be used to recognize people whose work benefitted mankind.
The award is given each year on Dec. 10, Nobel's birthday (he died in 1896). Who picks the winners? The Peace Prize is given by a committee overseen by the Norwegian Parliament, while the other recipients are selected by the Royal Swedish Academy of Sciences, The Swedish Academy, and Sweden's Karolinska Institute (this odd Scandinavian division comes about because both countries were united under a common monarch when Nobel was alive).
More on MSN Living: World's greatest body shapers
The ceremonies are held in Oslo, where the Nobel Peace Prize is given, and in Stockholm, where the other awards and the honorees' banquet are held. You can watch the live broadcasts of the various ceremonies online today at the official website of the Nobel Prize.
And maybe, just maybe, it'll inspire you to go for your own gold. It sure beats that trophy for "team spirit" that you and the twenty other kids on your T-ball team got.
Photo: REX Features
Bing: Where is Oslo on a map?
More from MSN Living:
Instant classic: Pinup suits
10 ways to feel good every day
What your engagement ring says about you
inspire: live a better life
Research could mean more effective treatment for human disorders.

An entry a day might keep the doctor away (or at least the shrink).

One woman's shout-outs to daily moments of joy — and how to cultivate them.

Volunteering (and these other rituals) might be just as good as exercise when it comes to extending your life.

Use these tricks to set a better tone for the rest of the week.

In September, I'll turn 38. I'm at the age now where, when people ask how old I am, it takes me a minute to remember. I don't know if that's because I've already been 37 different ages and it's hard to keep straight which one I am now, or if it's because I'm in denial, or if it's because I am going senile. Maybe a combination of all of the above. Regardless, my 30s have flown by and soon they will be but a memory. So, in an effort to preserve the memory I have left (or at least keep a record of it), and to celebrate what has been an amazing decade so far, here are 30 things that have happened to me in my 30s (and will probably happen to you too):

Our best health and fitness tips including the one move that tones all, berry news, and more.

Who just wants to stand around and watch the red and gold leaves slowly fall from their tree branches to the ground as we move from summer to fall? Instead, take in the changing seasons while you're on the move.

Here's some tips to get to happiness going forward in your life.

People 60 to 82 did best on cognitive tasks before 10:30am.

Lucille Ball was born in 1911, and though we lost her long ago, her legacy as America's favorite redhead lives on through the timeless classic, "I Love Lucy." People of all generations still enjoy Lucy's antics as much as they did over 60 years ago when the show first premiered.