Nobel Prizes handed out today
What's so great about a Nobel, anyway?
In a day and age when every kid on every team gets an award just for showing up, it's nice to consider that there are still a few awards that recognize outstanding achievement, significant accomplishment, merit, and excellence  —  you know, doing something.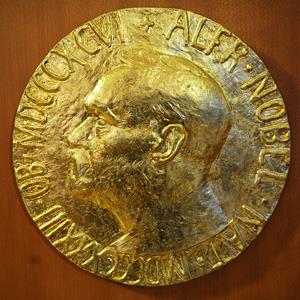 The one award that rises high above all others for sheer prestige — the one that proves you've done something really extraordinary — is the Nobel Prize. Given every year since 1901, they are awarded for Peace, Economic Sciences, Chemistry, Medicine/Physiology,​ Literature, and Physics. And while it's nice to get the attention that comes with the award — Nobel Laureates are presented with a medal and diploma by King Carl XVI Gustaf of Sweden — it's accompanied by some serious prize money: each winner is given 8 million Swedish kronor, or the equivalent of $1.2 million in U.S. cash.
More on MSN Living: Break the rules for a better romance
The prize was created by Alfred Nobel, a chemist who is otherwise remembered as the inventor of dynamite. Nobel made a fortune building a military arms company, but when a newspaper referred to him as the "merchant of death" he was appalled that such a moniker might be his legacy. So his will stated that his fortune be used to recognize people whose work benefitted mankind.
The award is given each year on Dec. 10, Nobel's birthday (he died in 1896). Who picks the winners? The Peace Prize is given by a committee overseen by the Norwegian Parliament, while the other recipients are selected by the Royal Swedish Academy of Sciences, The Swedish Academy, and Sweden's Karolinska Institute (this odd Scandinavian division comes about because both countries were united under a common monarch when Nobel was alive).
More on MSN Living: World's greatest body shapers
The ceremonies are held in Oslo, where the Nobel Peace Prize is given, and in Stockholm, where the other awards and the honorees' banquet are held. You can watch the live broadcasts of the various ceremonies online today at the official website of the Nobel Prize.
And maybe, just maybe, it'll inspire you to go for your own gold. It sure beats that trophy for "team spirit" that you and the twenty other kids on your T-ball team got.
Photo: REX Features
Bing: Where is Oslo on a map?
More from MSN Living:
Instant classic: Pinup suits
10 ways to feel good every day
What your engagement ring says about you
inspire: live a better life
For those who would rather pay it forward, proceeds from this gift guide go to deserving charities — and these presents happen to be pretty fabulous as well. Plus, shop more gifts for stylish women.

Miss Manners considers when to celebrate milestones

Miss Manners provides guidance on meeting others

No, money doesn't grow on Christmas trees, but you can green up your holiday with readers' savviest money-saving tips.

A look back on all of the tiny tasks that 30 years of technology has saved you from.

What sets you apart from everyone else looking for a new job or bigger paycheck? Your profile!

With all those deals you snagged on Black Friday, Small Business Saturday, and Cyber Monday, today is your chance to give back to those in need with #GivingTuesday.

Miss Manners provides guidance on how to handle a request for party contributions

Miss Manners instructs on why tit-for-tat never works

Miss Manners offers thoughts on guests who disregard dinner party instructions

Make big bucks, from home, having fun? These women got creative and figured out a way to have it all. You can too.