Wait — TV can be good for you?
Television today requires some serious attention span.
Despite decades of warnings about the boob tube frying our brains, good television requires a longer attention span and deeper thinking than our other daily digital interactions.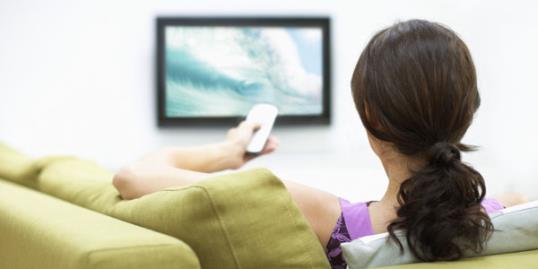 The texts, tweets, emails, and YouTube clips that call for our eyes, ears, and thumbs tally up enormous swatches of our time, but each of these micro communiqués flares and fades faster than a matchstick. The best television dramas today are slow burning. Consider the television dramas nominated for Golden Globes, from Homeland, Damages, and Downton Abby to Breaking Bad, Boardwalk Empire, and Mad Men.
More from MSN TV: 2013 Golden Globe Awards
Unexpectedly, and contrary to most of TV history, the draw of these shows is in their long narratives, unpredictable characters, and complex storylines. They demand sensitivity to nuance, and pique thought even when the screen is off between airtimes.
Who would have guessed television would require attention span?
Viewers are strung from one episode to the next not by cheap-trick cliffhangers but by the development of characters as they evolve through season-long plot lines, often teaching lessons along the way.
More from MSN TV: TV's "it" girls
In Newsroom, another cast of hyper-intelligent Aaron Sorkin characters can explain the debt ceiling while being witty and flirty (preferably, while walking somewhere), and between the lines begs a re-evaluation of modern news ethics. In Showtime's The Big C, Laura Linney's character has been on a journey to find meaning and humor in the face of death. Soul-searching questions with no simple answers have even been at the heart of shows in the comedy genre. In a series that's proven as gut-busting as it is mind-expanding, Louie CK has invited viewers to consider a character on an imaginative albeit troubled path to fulfillment that's nothing less than spiritual.
The best television shows of today run more like novels and "provide a kind of through-line that's missing from our fragmented lives," said author Alissa Quart in a New York Times editorial ("The Thinking Person's Entertainment") yesterday.
Fragmentation isn't always the culture-killing, neuron-frying phenomenon it's feared to be, by the way. It gets a bad name from those concerned we'll become incapable of putting together a thought more than 140 characters long, but cutting up media and communications into smaller pieces has demanded that we get things right in fewer words and less time. Text can be a blessing when you just want to tell a talkative friend "c u @ 8:30," and if more albums were worth listening to from front to back we wouldn't need to cherrypick individual songs for $0.99. Besides, 140 characters is all you can take of some people.
But byte-sliced life is not conducive to long thoughts, and interacting in the well-wired world leaves many of us with what Quart calls "a shared hunger for continuing, connected conversation and communication." Shows that we anticipate and think about can be enjoyed in extended, uninterrupted sittings, much in the same way we read a book chapter. We can sit down and absorb them at a time of our choosing thanks to streaming, DVR's, and TiVo.  If you do your watching on a tablet or other portable screen, you might just as easily pluck a TV show off a virtual bookshelf as an eBook. When the content is high quality,  the distinction between media starts to vanish.
So put on your thinking cap, and flip on the tube.
Photo: Newton Daly/Getty Images
Love content like this? Friend us on Facebook, follow us on Twitter and find us on Pinterest
inspire: live a better life
Editor's note: We will now be publishing Miss Manners articles twice weekly, but you will only see one question and answer per article. You can expect to see these articles appear on Tuesdays and Thursdays going forward.

President Harry S. Truman was behind efforts to establish the first Armed Forces Day in 1950, and decades later the nation continues to set aside the third Saturday in May to recognize and thank members of the U.S. military for their patriotic service. With these five homecoming images, we salute all service members at home and abroad.

There's much to be desired about working from home: the stress-free commute, flexible hours, and improved work-life balance.

Wishing for the fountain of youth? You may not need it. We've rounded up real-women secrets, tried-and-true beauty tips, and the latest research to help you fight aging.

Experts weigh in on when to bite your tongue at the office.

Oh, the places you'll go — to get some "me" time, that is. REDBOOK readers confess all on Facebook.

How much money you make isn't nearly as important as how you use it, according to Elizabeth Dunn and Michael Norton, authors of the new book Happy Money.

Plus, how do you ask people to not bring gifts to a shower?

Looking for a career upgrade? Follow these tips for a foot in the door.

These tanning and skin cancer myths aren't just wrong — they can do serious harm. Wise up and head into a healthier future. P.S. You'll look a lot younger too.

It's possible to rejigger your brain circuitry and feel more joy, even on Monday mornings. Here's how.

Inner peace just got easier. You don't need quiet, incense or hours to meditate, and you can scrap the chanting. Better: Ninety-five percent of you say you're calmer after a single 10-minute session. Whatever your excuse (see ours), get your om on and reap the rewards.