The Blue Moon, Back for an Encore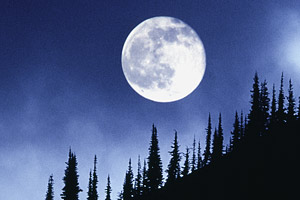 If skies are clear where you are tonight, you'll have a second and final chance to glimpse this season's Blue Moon. The Daily Dose put some misconceptions to bed when we wrote about Blue Moons back on the first night of the month.
This August is a Blue Moon month, guaranteed to send sky-gazers outdoors to view a spectacular, rare sight – and then back indoors to search for an explanation of what went wrong. Before you angrily type Why isn't the blue moon blue?! into your browser, read on.
Untangling Blue Moon folklore entails an understanding of Farmers' Almanacs, seasonal lunar patterns, the duration of winter solstice, longitude and latitude, and the musings of some earnest but sorely mistaken amateur astronomers. In short, to define the historical meaning of a Blue Moon is to cross that thin line between theoretical complexity and eyelid-slamming boredom. Let us just explain that it boils down to two competing definitions.
By the Maine Farmers' Almanac rule, a Blue Moon occurs when there are four rather than the usual three full moons in any single season. Though some maintain the Blue Moon is the third moon in such a season, prevailing wisdom is that it's the second. No one knows why it's characterized as "blue," though maybe it's sad to be upstaged by not only one but two full lunar faces. (For a full explanation, see Sky & Telescope, which gallantly accepts blame for some long-held misconceptions.)
By popular rule, on the other hand, a Blue Moon is the second full moon in a single month. Such is the case this August of 2012, when the month enters on a full moon August 1 and closes with another on August 31. According to this definition, it's the first of its kind since December 2009 and the last until July 2015. Despite the colloquial meaning of "once in a Blue Moon," you can see that truly uncommon and unlikely events might be better conveyed with the phrase "when Hell freezes over" or the slightly less delicate "when monkeys fly out of my butt."
Does the moon ever actually appear to be blue? NASA explains that airborne particulates from volcanic ash will sometimes filter red light but allow other colors to pass, such that white moonbeams shining through ashy clouds can appear blue. Enormous and very smoky forest fires will occasionally produce the same effect; however, it's more common for ash and dust caused by fires to scatter blue light and cause the moon to appear red.
Barring the ravages of a volcano or wildfire, the full moon on August 31st won't be blue any more than it will be made of cheese or jumped over by a cow. If that makes you blue, we apologize.
Photo: Steve Satushek/Getty Images
More on MSN Living:
Relationship Violence Victims: Yes, It Happened To Them
7 New Gadgets to Look Out For
The Little Move That Screws With Your Confidence
inspire: live a better life
Happify shares their results of a recent study on how money affects our happiness.

A top exec reveals the company's secret code

Pro tips from the guy who's done it four times

Not all mistakes are as blatant as posting party pics when you're 'sick' at home.

Everyone struggles through weekday drudgery to reach their weekend fun. But what if you could reclaim every day of your life?

Zooming up the ladder is great, but questioning yourself 24/7 is no way to succeed. Manage your stressed self with these surefire tips.

Forget trying to control every little detail. Life is lots more fun (and less stressful) when you let go from the get-go.

So, what exactly is this thing we call "happiness" and how do we get it?

Mark Zuckerberg has an even bigger effect on your life than you thought.

Everyone makes mistakes, but some mistakes can be devastating. Here are 10 icons who fell from grace, and what they can do to redeem themselves.

Twitter turns eight years old today.

Try these anything-but-ordinary ideas for a healthier, more productive mid-day break.