The Blue Moon, Back for an Encore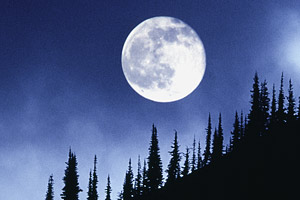 If skies are clear where you are tonight, you'll have a second and final chance to glimpse this season's Blue Moon. The Daily Dose put some misconceptions to bed when we wrote about Blue Moons back on the first night of the month.
This August is a Blue Moon month, guaranteed to send sky-gazers outdoors to view a spectacular, rare sight – and then back indoors to search for an explanation of what went wrong. Before you angrily type Why isn't the blue moon blue?! into your browser, read on.
Untangling Blue Moon folklore entails an understanding of Farmers' Almanacs, seasonal lunar patterns, the duration of winter solstice, longitude and latitude, and the musings of some earnest but sorely mistaken amateur astronomers. In short, to define the historical meaning of a Blue Moon is to cross that thin line between theoretical complexity and eyelid-slamming boredom. Let us just explain that it boils down to two competing definitions.
By the Maine Farmers' Almanac rule, a Blue Moon occurs when there are four rather than the usual three full moons in any single season. Though some maintain the Blue Moon is the third moon in such a season, prevailing wisdom is that it's the second. No one knows why it's characterized as "blue," though maybe it's sad to be upstaged by not only one but two full lunar faces. (For a full explanation, see Sky & Telescope, which gallantly accepts blame for some long-held misconceptions.)
By popular rule, on the other hand, a Blue Moon is the second full moon in a single month. Such is the case this August of 2012, when the month enters on a full moon August 1 and closes with another on August 31. According to this definition, it's the first of its kind since December 2009 and the last until July 2015. Despite the colloquial meaning of "once in a Blue Moon," you can see that truly uncommon and unlikely events might be better conveyed with the phrase "when Hell freezes over" or the slightly less delicate "when monkeys fly out of my butt."
Does the moon ever actually appear to be blue? NASA explains that airborne particulates from volcanic ash will sometimes filter red light but allow other colors to pass, such that white moonbeams shining through ashy clouds can appear blue. Enormous and very smoky forest fires will occasionally produce the same effect; however, it's more common for ash and dust caused by fires to scatter blue light and cause the moon to appear red.
Barring the ravages of a volcano or wildfire, the full moon on August 31st won't be blue any more than it will be made of cheese or jumped over by a cow. If that makes you blue, we apologize.
Photo: Steve Satushek/Getty Images
More on MSN Living:
Relationship Violence Victims: Yes, It Happened To Them
7 New Gadgets to Look Out For
The Little Move That Screws With Your Confidence
inspire: live a better life
Summer and winter tend to hog all the glory when it comes to travel high seasons. Sure, you want to soak up all the time at the beach you can during the summer, and you just want to escape the cold during the last months of the year.

Who just wants to stand around and watch the red and gold leaves slowly fall from their tree branches to the ground as we move from summer to fall? Instead, take in the changing seasons while you're on the move.

In September, I'll turn 38. I'm at the age now where, when people ask how old I am, it takes me a minute to remember. I don't know if that's because I've already been 37 different ages and it's hard to keep straight which one I am now, or if it's because I'm in denial, or if it's because I am going senile. Maybe a combination of all of the above. Regardless, my 30s have flown by and soon they will be but a memory. So, in an effort to preserve the memory I have left (or at least keep a record of it), and to celebrate what has been an amazing decade so far, here are 30 things that have happened to me in my 30s (and will probably happen to you too):

Traveling doesn't have to be stressful. And what you can fit in your carry-on can make all the difference (and not just a fresh pair of socks), especially when you get that low battery signal.

Volunteering (and these other rituals) might be just as good as exercise when it comes to extending your life.

Use these tricks to set a better tone for the rest of the week.

Whether it involves a food fight, mermaids or a torch-lit procession, people the world over know how to have a good time. Here are some of the biggest, boldest, booziest celebrations around, along with some tips to get the full experience.

Research could mean more effective treatment for human disorders.

An entry a day might keep the doctor away (or at least the shrink).

One woman's shout-outs to daily moments of joy — and how to cultivate them.

Our best health and fitness tips including the one move that tones all, berry news, and more.