Poll: Why majority of Americans oppose action in Syria
Survey finds most believe Syria's conflict is not our concern.
As President Barack Obama and Congress weigh military action against Syria for allegedly deploying chemical weapons, a poll reveals that Americans who oppose action believe that events in Syria are not the United States' concern.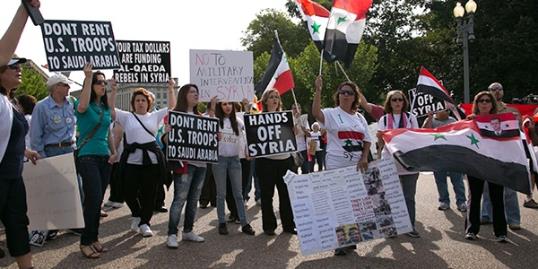 The poll conducted by Gallup surveyed 1,021 residents in all 50 states last week and found that 51 percent oppose action while 36 percent favor military involvement to reduce Syria's ability to use chemical weapons.

The leading reason given by those opposing action was that Syria's concerns are none of the United States' business. Twenty-four percent of respondents against military action said the U.S. should mind its own affairs and leave Syria's civil war to the Syrians. Another 19 percent felt the U.S. does not need to be involved in another war, is already over-involved, and needs to stop policing the world. 

Secondary justifications for nonintervention were led by the belief that action would not yield the intended result. Ten percent felt military action would not do any good, was not well planned out, and/or that the Syrian people "don't even like us."

Additional rationale included a fear of retaliation (8 percent) and concerns for the safety of American military (7 percent). Another 10 percent cited the economy, noting that the U.S. is already in debt. Seven percent flatly oppose all wars and military involvement on moral grounds.

The 36 percent of Gallup respondents in favor of action generally agree with President Obama's rationale concerning the unacceptability of chemical weapons use. Twenty-six percent supported action on the basis that it would help prevent future chemical attacks and terrorism. A quarter of those in favor believe action is justified given the Syrian government's treatment of its own people. 

Other leading reasons given for supporting military action were that chemical weapons should never be used (17 percent) and that strikes would help protect U.S. interests and keep America safe. In smaller numbers, supporters cited humanitarian and moral justifications (5 percent); concerns about the impact of Syria's conflict on the Middle Eastern region and/or the international community (5 percent); an obligation by the U.S. to step in as a leading world power (4 percent); and support for the military, including the commander-in-chief (4 percent).

More from Daily Dose:
Ohio man who threatened police holds 'idiot' sign
New cat token hits the Monopoly board
98% cite rudeness at work

Subscribe to the Daily Dose | Friend us on Facebook, follow us on Twitter and find us on Pinterest. 
Photo: The Syrian American Forum holds a rally in front of the White House on Monday, Sept. 9 to protest a strike on Syria (REX/Alyson Fligg)
inspire: live a better life
Grab a sleeping bag and head out to one of these amazing campsites.

A dozen adventures that are well worth the trip.

Paper downplays the significance of practice over raw talent.

Survey says American teens aren't great at complex or basic financial tasks.

Fear of Moving Away: How to conquer the latest cultural anxiety and embrace the unknown.

Adulthood has no eureka moment.

Just like your body, your brain needs a regular workout too.

Being a winner is a good feeling to have — especially in life. Winning doesn't solely relate to competitions or Charlie Sheen's coining of the term back in 2011. From achieving success to maintaining a work-life balance, find out what characteristics mean your life is going the way it should be. You may just even find an inspiration or two that you'll want to incorporate into your daily routine!

Sometimes it seems like you need a vacation from your vacation.

That'll get you and your 2 kids a house, SUV, and more, per a 'USA Today' analysis.

While most of us associate the Fourth of July with fireworks and barbecue (and taking a long weekend off from work), it's also an important day to give thanks to the people who help keep us safe.

For a truly out-of-the-box vacation, skip traditional hotels and opt for unique lodging.