Poll: Why majority of Americans oppose action in Syria
Survey finds most believe Syria's conflict is not our concern.
As President Barack Obama and Congress weigh military action against Syria for allegedly deploying chemical weapons, a poll reveals that Americans who oppose action believe that events in Syria are not the United States' concern.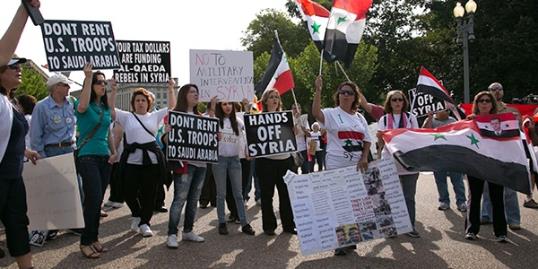 The poll conducted by Gallup surveyed 1,021 residents in all 50 states last week and found that 51 percent oppose action while 36 percent favor military involvement to reduce Syria's ability to use chemical weapons.

The leading reason given by those opposing action was that Syria's concerns are none of the United States' business. Twenty-four percent of respondents against military action said the U.S. should mind its own affairs and leave Syria's civil war to the Syrians. Another 19 percent felt the U.S. does not need to be involved in another war, is already over-involved, and needs to stop policing the world. 

Secondary justifications for nonintervention were led by the belief that action would not yield the intended result. Ten percent felt military action would not do any good, was not well planned out, and/or that the Syrian people "don't even like us."

Additional rationale included a fear of retaliation (8 percent) and concerns for the safety of American military (7 percent). Another 10 percent cited the economy, noting that the U.S. is already in debt. Seven percent flatly oppose all wars and military involvement on moral grounds.

The 36 percent of Gallup respondents in favor of action generally agree with President Obama's rationale concerning the unacceptability of chemical weapons use. Twenty-six percent supported action on the basis that it would help prevent future chemical attacks and terrorism. A quarter of those in favor believe action is justified given the Syrian government's treatment of its own people. 

Other leading reasons given for supporting military action were that chemical weapons should never be used (17 percent) and that strikes would help protect U.S. interests and keep America safe. In smaller numbers, supporters cited humanitarian and moral justifications (5 percent); concerns about the impact of Syria's conflict on the Middle Eastern region and/or the international community (5 percent); an obligation by the U.S. to step in as a leading world power (4 percent); and support for the military, including the commander-in-chief (4 percent).

More from Daily Dose:
Ohio man who threatened police holds 'idiot' sign
New cat token hits the Monopoly board
98% cite rudeness at work

Subscribe to the Daily Dose | Friend us on Facebook, follow us on Twitter and find us on Pinterest. 
Photo: The Syrian American Forum holds a rally in front of the White House on Monday, Sept. 9 to protest a strike on Syria (REX/Alyson Fligg)
inspire: live a better life
Summer and winter tend to hog all the glory when it comes to travel high seasons. Sure, you want to soak up all the time at the beach you can during the summer, and you just want to escape the cold during the last months of the year.

Who just wants to stand around and watch the red and gold leaves slowly fall from their tree branches to the ground as we move from summer to fall? Instead, take in the changing seasons while you're on the move.

In September, I'll turn 38. I'm at the age now where, when people ask how old I am, it takes me a minute to remember. I don't know if that's because I've already been 37 different ages and it's hard to keep straight which one I am now, or if it's because I'm in denial, or if it's because I am going senile. Maybe a combination of all of the above. Regardless, my 30s have flown by and soon they will be but a memory. So, in an effort to preserve the memory I have left (or at least keep a record of it), and to celebrate what has been an amazing decade so far, here are 30 things that have happened to me in my 30s (and will probably happen to you too):

Traveling doesn't have to be stressful. And what you can fit in your carry-on can make all the difference (and not just a fresh pair of socks), especially when you get that low battery signal.

Volunteering (and these other rituals) might be just as good as exercise when it comes to extending your life.

Use these tricks to set a better tone for the rest of the week.

Whether it involves a food fight, mermaids or a torch-lit procession, people the world over know how to have a good time. Here are some of the biggest, boldest, booziest celebrations around, along with some tips to get the full experience.

Research could mean more effective treatment for human disorders.

An entry a day might keep the doctor away (or at least the shrink).

One woman's shout-outs to daily moments of joy — and how to cultivate them.

Our best health and fitness tips including the one move that tones all, berry news, and more.