Keeping Teen Drivers Alive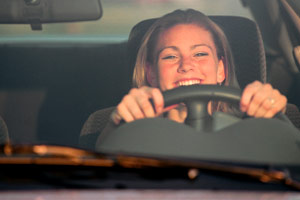 Teenagers find safety in numbers. Roving bundles of hormonal chaos move through the country's shopping malls, movie theaters and fast-food joints. Whether bound together by being cool or uncool, athletic or artistic, goth or geek, the species naturally drifts into groups. Even virtual teen lives are conducted en masse as experiences are shared in online social circles.
But when it comes to auto safety, traveling in numbers is what puts teenagers at risk. The statistics are distressing. According to the National Highway Traffic Safety Administration, more than 5,000 teens ages 16 to 20 are killed in passenger vehicles each year — with two-thirds of those fatalities occurring in a car driven by another teenager. Relative to all other drivers, three times as many teens are involved in fatal accidents. Car crashes are the leading cause of death for teenagers in America.
New driving laws regulating how many kids can pack together in automobiles are aimed squarely at reducing the number of lives lost and families destroyed.
Graduated Driver Licensing (.pdf file) systems, already adopted by all 50 states, are designed to increase driving privileges in phases as young drivers become more experienced and improve their skills. While safety guidelines have buckled down on seatbelt use and nighttime driving, there's a new push to more significantly limit teenagers from driving with other teens in the car. Teens are prohibited from driving their contemporaries altogether in 15 states, plus Washington, D.C., and only seven states still allow a single teen passenger to travel in a vehicle operated by a teenage driver.

The long-term romance between American teenagers and cars is the backdrop for a front-page feature in the New York Times this week. In Youth Driving Laws Limit Even the Double Date, writer Kate Zernike notes the support and the resistance to new laws while nodding nostalgically at the car culture of our past, as depicted in films such as American Graffiti.
Today's teens will indeed miss out on piling in for a late-night run to the diner or cruising the strip together, flirting car to car. Their parents will have to shuttle them to school and practice and parties rather than allowing them to enjoy those first delicious tastes of independence together. But when laws restricting the number of teens in cars save the lives of drivers and passengers, a long and open road stretches out for them ahead.
inspire: live a better life
Grab a sleeping bag and head out to one of these amazing campsites.

A dozen adventures that are well worth the trip.

Paper downplays the significance of practice over raw talent.

Survey says American teens aren't great at complex or basic financial tasks.

Fear of Moving Away: How to conquer the latest cultural anxiety and embrace the unknown.

Adulthood has no eureka moment.

Just like your body, your brain needs a regular workout too.

Being a winner is a good feeling to have — especially in life. Winning doesn't solely relate to competitions or Charlie Sheen's coining of the term back in 2011. From achieving success to maintaining a work-life balance, find out what characteristics mean your life is going the way it should be. You may just even find an inspiration or two that you'll want to incorporate into your daily routine!

Sometimes it seems like you need a vacation from your vacation.

That'll get you and your 2 kids a house, SUV, and more, per a 'USA Today' analysis.

While most of us associate the Fourth of July with fireworks and barbecue (and taking a long weekend off from work), it's also an important day to give thanks to the people who help keep us safe.

For a truly out-of-the-box vacation, skip traditional hotels and opt for unique lodging.