Keeping Teen Drivers Alive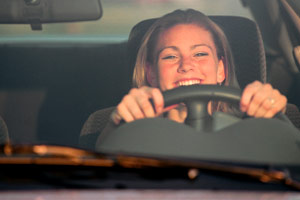 Teenagers find safety in numbers. Roving bundles of hormonal chaos move through the country's shopping malls, movie theaters and fast-food joints. Whether bound together by being cool or uncool, athletic or artistic, goth or geek, the species naturally drifts into groups. Even virtual teen lives are conducted en masse as experiences are shared in online social circles.
But when it comes to auto safety, traveling in numbers is what puts teenagers at risk. The statistics are distressing. According to the National Highway Traffic Safety Administration, more than 5,000 teens ages 16 to 20 are killed in passenger vehicles each year — with two-thirds of those fatalities occurring in a car driven by another teenager. Relative to all other drivers, three times as many teens are involved in fatal accidents. Car crashes are the leading cause of death for teenagers in America.
New driving laws regulating how many kids can pack together in automobiles are aimed squarely at reducing the number of lives lost and families destroyed.
Graduated Driver Licensing (.pdf file) systems, already adopted by all 50 states, are designed to increase driving privileges in phases as young drivers become more experienced and improve their skills. While safety guidelines have buckled down on seatbelt use and nighttime driving, there's a new push to more significantly limit teenagers from driving with other teens in the car. Teens are prohibited from driving their contemporaries altogether in 15 states, plus Washington, D.C., and only seven states still allow a single teen passenger to travel in a vehicle operated by a teenage driver.

The long-term romance between American teenagers and cars is the backdrop for a front-page feature in the New York Times this week. In Youth Driving Laws Limit Even the Double Date, writer Kate Zernike notes the support and the resistance to new laws while nodding nostalgically at the car culture of our past, as depicted in films such as American Graffiti.
Today's teens will indeed miss out on piling in for a late-night run to the diner or cruising the strip together, flirting car to car. Their parents will have to shuttle them to school and practice and parties rather than allowing them to enjoy those first delicious tastes of independence together. But when laws restricting the number of teens in cars save the lives of drivers and passengers, a long and open road stretches out for them ahead.
inspire: live a better life
How much do you really know about the Earth? In honor of Earth Day, April 22, we explore some interesting and fun facts about the fifth-largest planet of our solar system.

Happify shares their results of a recent study on how money affects our happiness.

A top exec reveals the company's secret code

Pro tips from the guy who's done it four times

Not all mistakes are as blatant as posting party pics when you're 'sick' at home.

Everyone struggles through weekday drudgery to reach their weekend fun. But what if you could reclaim every day of your life?

Zooming up the ladder is great, but questioning yourself 24/7 is no way to succeed. Manage your stressed self with these surefire tips.

Forget trying to control every little detail. Life is lots more fun (and less stressful) when you let go from the get-go.

So, what exactly is this thing we call "happiness" and how do we get it?

Mark Zuckerberg has an even bigger effect on your life than you thought.

Everyone makes mistakes, but some mistakes can be devastating. Here are 10 icons who fell from grace, and what they can do to redeem themselves.

Twitter turns eight years old today.