Jamestown colony settlers turned to cannibalism
Newly discovered human bones prove that settlers in America's first permanent English colony turned to cannibalism over the winter of 1609-10, Smithsonian researchers say.
Last year, the four-century-old skull and tibia of a teenage girl was excavated from a dump in James Fort, Va., reports the BBC. Numerous chops and cuts found on the skull were consistent with those of butchering meat.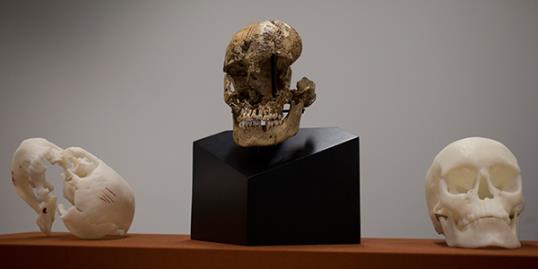 Gallery: 20 animals that are going extinct
Founded in 1607, James Fort was the earliest part of the Jamestown colony.
"The evidence is absolutely consistent with dismemberment and de-fleshing of this body," Doug Owsley, a forensic anthropologist at the Smithsonian National Museum of Natural History in Washington, D.C., told the BBC.
Gallery: 50 Facebook do's and don'ts
Previously written documents had suggested that during the harsh winter of 1609-10, known as the Starving Time, colonists resorted to cannibalism. It is believed that the 14-year-old girl became sustenance for a starving community with insufficient food sources.
"The clear intent was to remove the facial tissue and the brain for consumption," Owsley said. "These people were in dire circumstances. So any flesh that was available would have been used."
It is reported that 60 of the original 300 settlers survived the brutal winter.
Read the entire BBC story here.
Tell us: What do you think of this story?
Bing: Bizarre acts of cannibalism
More from Daily Dose:
Anti-drug ads may have encouraged teen drug use
Promiscuous women blamed for earthquakes
Airline sued for asking men to change clothes
Love content like this? Friend us on Facebook, follow us on Twitter and find us on Pinterest.
Photo: The skull of "Jane of Jamestown" with models at the National Museum of Natural History on May 1 (Carolyn Kaster/AP)
inspire: live a better life
Where in the world do you want to go? Somewhere unique? Any of the places described here are sure to make your next world-travel adventure truly memorable.

It's easy to lead, but it takes courage and conviction to be a truly great leader. Here are 10 inspiring leaders and what we can learn from them.

Some say it's a small world. We beg to differ. Earth has so many wondrous places worth exploring, and most of us are lucky to see a handful of them. Here are 30 of the top trips of a lifetime.

You'll stave off credit card debt by the end of the year if you account for these often-forgotten expenses.

Mark Zuckerberg has an even bigger effect on your life than you thought.

Take this advice to finally tackle that nagging to-do list.

The iconic storyteller would have been 110-years-old

Take the time to appreciate women's contributions to society. Here are some of the women who inspire us by their example.

Cast of the iconic TV show reunites for Florence Henderson's birthday

We couldn't be more excited to watch the best athletes in the world compete at the Winter Olympics in Sochi. This year, about 44 percent of the competitors are women according to the International Olympic Committee—which is awesome but wasn't always the case. Let's look back at some of the amazing women who paved the way with incredible, memorable feats of girl power.

Still pulling yourself out of holiday credit card debt? Ready to pool some funds for that beach vacation you've been dreaming about at your desk? We're with you 100 percent.

"FOMO, the fear of missing out, is a form of social anxiety," says psychiatrist Gail Saltz. "This type of fear tends to cause compulsive behaviors, like checking out other social situations even as you are in the middle of one currently."