Jamestown colony settlers turned to cannibalism
Newly discovered human bones prove that settlers in America's first permanent English colony turned to cannibalism over the winter of 1609-10, Smithsonian researchers say.
Last year, the four-century-old skull and tibia of a teenage girl was excavated from a dump in James Fort, Va., reports the BBC. Numerous chops and cuts found on the skull were consistent with those of butchering meat.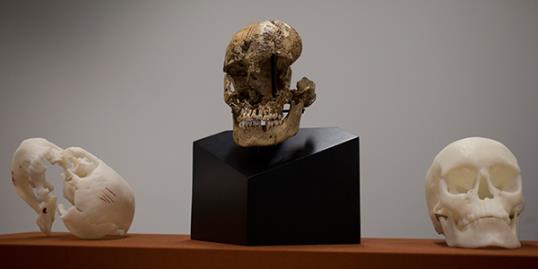 Gallery: 20 animals that are going extinct
Founded in 1607, James Fort was the earliest part of the Jamestown colony.
"The evidence is absolutely consistent with dismemberment and de-fleshing of this body," Doug Owsley, a forensic anthropologist at the Smithsonian National Museum of Natural History in Washington, D.C., told the BBC.
Gallery: 50 Facebook do's and don'ts
Previously written documents had suggested that during the harsh winter of 1609-10, known as the Starving Time, colonists resorted to cannibalism. It is believed that the 14-year-old girl became sustenance for a starving community with insufficient food sources.
"The clear intent was to remove the facial tissue and the brain for consumption," Owsley said. "These people were in dire circumstances. So any flesh that was available would have been used."
It is reported that 60 of the original 300 settlers survived the brutal winter.
Read the entire BBC story here.
Tell us: What do you think of this story?
Bing: Bizarre acts of cannibalism
More from Daily Dose:
Anti-drug ads may have encouraged teen drug use
Promiscuous women blamed for earthquakes
Airline sued for asking men to change clothes
Love content like this? Friend us on Facebook, follow us on Twitter and find us on Pinterest.
Photo: The skull of "Jane of Jamestown" with models at the National Museum of Natural History on May 1 (Carolyn Kaster/AP)
inspire: live a better life
Research could mean more effective treatment for human disorders.

An entry a day might keep the doctor away (or at least the shrink).

One woman's shout-outs to daily moments of joy — and how to cultivate them.

Volunteering (and these other rituals) might be just as good as exercise when it comes to extending your life.

Use these tricks to set a better tone for the rest of the week.

In September, I'll turn 38. I'm at the age now where, when people ask how old I am, it takes me a minute to remember. I don't know if that's because I've already been 37 different ages and it's hard to keep straight which one I am now, or if it's because I'm in denial, or if it's because I am going senile. Maybe a combination of all of the above. Regardless, my 30s have flown by and soon they will be but a memory. So, in an effort to preserve the memory I have left (or at least keep a record of it), and to celebrate what has been an amazing decade so far, here are 30 things that have happened to me in my 30s (and will probably happen to you too):

Our best health and fitness tips including the one move that tones all, berry news, and more.

Who just wants to stand around and watch the red and gold leaves slowly fall from their tree branches to the ground as we move from summer to fall? Instead, take in the changing seasons while you're on the move.

Here's some tips to get to happiness going forward in your life.

People 60 to 82 did best on cognitive tasks before 10:30am.

Lucille Ball was born in 1911, and though we lost her long ago, her legacy as America's favorite redhead lives on through the timeless classic, "I Love Lucy." People of all generations still enjoy Lucy's antics as much as they did over 60 years ago when the show first premiered.