Jamestown colony settlers turned to cannibalism
Newly discovered human bones prove that settlers in America's first permanent English colony turned to cannibalism over the winter of 1609-10, Smithsonian researchers say.
Last year, the four-century-old skull and tibia of a teenage girl was excavated from a dump in James Fort, Va., reports the BBC. Numerous chops and cuts found on the skull were consistent with those of butchering meat.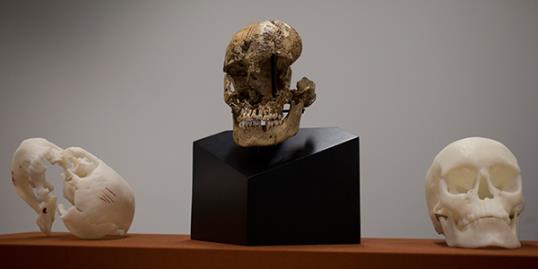 Gallery: 20 animals that are going extinct
Founded in 1607, James Fort was the earliest part of the Jamestown colony.
"The evidence is absolutely consistent with dismemberment and de-fleshing of this body," Doug Owsley, a forensic anthropologist at the Smithsonian National Museum of Natural History in Washington, D.C., told the BBC.
Gallery: 50 Facebook do's and don'ts
Previously written documents had suggested that during the harsh winter of 1609-10, known as the Starving Time, colonists resorted to cannibalism. It is believed that the 14-year-old girl became sustenance for a starving community with insufficient food sources.
"The clear intent was to remove the facial tissue and the brain for consumption," Owsley said. "These people were in dire circumstances. So any flesh that was available would have been used."
It is reported that 60 of the original 300 settlers survived the brutal winter.
Read the entire BBC story here.
Tell us: What do you think of this story?
Bing: Bizarre acts of cannibalism
More from Daily Dose:
Anti-drug ads may have encouraged teen drug use
Promiscuous women blamed for earthquakes
Airline sued for asking men to change clothes
Love content like this? Friend us on Facebook, follow us on Twitter and find us on Pinterest.
Photo: The skull of "Jane of Jamestown" with models at the National Museum of Natural History on May 1 (Carolyn Kaster/AP)
inspire: live a better life
A look back on all of the tiny tasks that 30 years of technology has saved you from.

What sets you apart from everyone else looking for a new job or bigger paycheck? Your profile!

With all those deals you snagged on Black Friday, Small Business Saturday, and Cyber Monday, today is your chance to give back to those in need with #GivingTuesday.

Miss Manners provides guidance on how to handle a request for party contributions

Miss Manners instructs on why tit-for-tat never works

Miss Manners offers thoughts on guests who disregard dinner party instructions

Make big bucks, from home, having fun? These women got creative and figured out a way to have it all. You can too.

Your boss. You might like her, you probably respect her, but do you know how to approach someone who seems so different from you? (Spoiler: She's actually not.)

Over the weekend, Oprah decluttered her Montecito mansion and three other properties in a Santa Barbara yard sale that brought in more than $600,000(!). (Proceeds will benefit her girls' leadership academy in South Africa, and not half of a Crate and Barrel chair, the traditional end goal of yard-sale proceeds.)

Exclusively for MSN, we bring you a six-part series from the new book: MISS MANNERS MINDS YOUR BUSINESS by Judith and Nicholas Ivor Martin.

Miss Manners weighs in on the financial burdens of remote weddings