Jamestown colony settlers turned to cannibalism
Newly discovered human bones prove that settlers in America's first permanent English colony turned to cannibalism over the winter of 1609-10, Smithsonian researchers say.
Last year, the four-century-old skull and tibia of a teenage girl was excavated from a dump in James Fort, Va., reports the BBC. Numerous chops and cuts found on the skull were consistent with those of butchering meat.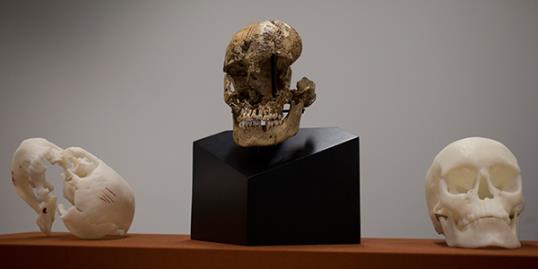 Gallery: 20 animals that are going extinct
Founded in 1607, James Fort was the earliest part of the Jamestown colony.
"The evidence is absolutely consistent with dismemberment and de-fleshing of this body," Doug Owsley, a forensic anthropologist at the Smithsonian National Museum of Natural History in Washington, D.C., told the BBC.
Gallery: 50 Facebook do's and don'ts
Previously written documents had suggested that during the harsh winter of 1609-10, known as the Starving Time, colonists resorted to cannibalism. It is believed that the 14-year-old girl became sustenance for a starving community with insufficient food sources.
"The clear intent was to remove the facial tissue and the brain for consumption," Owsley said. "These people were in dire circumstances. So any flesh that was available would have been used."
It is reported that 60 of the original 300 settlers survived the brutal winter.
Read the entire BBC story here.
Tell us: What do you think of this story?
Bing: Bizarre acts of cannibalism
More from Daily Dose:
Anti-drug ads may have encouraged teen drug use
Promiscuous women blamed for earthquakes
Airline sued for asking men to change clothes
Love content like this? Friend us on Facebook, follow us on Twitter and find us on Pinterest.
Photo: The skull of "Jane of Jamestown" with models at the National Museum of Natural History on May 1 (Carolyn Kaster/AP)
inspire: live a better life
Drowning in debt? Maybe there's a silver lining.

"But it's not real life, you know. It's a vacation."

Our list of must-dos before hitting the road.

Summer traditions can be great, but if you're on year six of packing the same people into the same car to go on the same vacation, it's time to switch things up. Surfing in Portugal, perhaps – or cycling through Northern Ireland. We've put together a list of 15 places well off the beaten path that you should go to when you're ready to try something new.

Grab a sleeping bag and head out to one of these amazing campsites.

A dozen adventures that are well worth the trip.

Paper downplays the significance of practice over raw talent.

Survey says American teens aren't great at complex or basic financial tasks.

Fear of Moving Away: How to conquer the latest cultural anxiety and embrace the unknown.

Adulthood has no eureka moment.

Just like your body, your brain needs a regular workout too.

Being a winner is a good feeling to have — especially in life. Winning doesn't solely relate to competitions or Charlie Sheen's coining of the term back in 2011. From achieving success to maintaining a work-life balance, find out what characteristics mean your life is going the way it should be. You may just even find an inspiration or two that you'll want to incorporate into your daily routine!