Jamestown colony settlers turned to cannibalism
Newly discovered human bones prove that settlers in America's first permanent English colony turned to cannibalism over the winter of 1609-10, Smithsonian researchers say.
Last year, the four-century-old skull and tibia of a teenage girl was excavated from a dump in James Fort, Va., reports the BBC. Numerous chops and cuts found on the skull were consistent with those of butchering meat.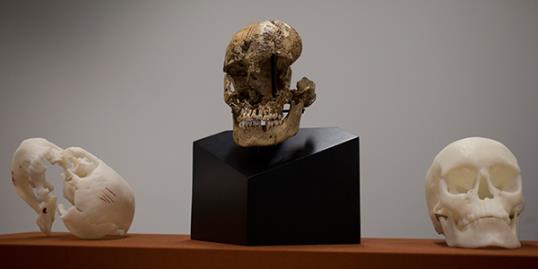 Gallery: 20 animals that are going extinct
Founded in 1607, James Fort was the earliest part of the Jamestown colony.
"The evidence is absolutely consistent with dismemberment and de-fleshing of this body," Doug Owsley, a forensic anthropologist at the Smithsonian National Museum of Natural History in Washington, D.C., told the BBC.
Gallery: 50 Facebook do's and don'ts
Previously written documents had suggested that during the harsh winter of 1609-10, known as the Starving Time, colonists resorted to cannibalism. It is believed that the 14-year-old girl became sustenance for a starving community with insufficient food sources.
"The clear intent was to remove the facial tissue and the brain for consumption," Owsley said. "These people were in dire circumstances. So any flesh that was available would have been used."
It is reported that 60 of the original 300 settlers survived the brutal winter.
Read the entire BBC story here.
Tell us: What do you think of this story?
Bing: Bizarre acts of cannibalism
More from Daily Dose:
Anti-drug ads may have encouraged teen drug use
Promiscuous women blamed for earthquakes
Airline sued for asking men to change clothes
Love content like this? Friend us on Facebook, follow us on Twitter and find us on Pinterest.
Photo: The skull of "Jane of Jamestown" with models at the National Museum of Natural History on May 1 (Carolyn Kaster/AP)
inspire: live a better life
How much do you really know about the Earth? In honor of Earth Day, April 22, we explore some interesting and fun facts about the fifth-largest planet of our solar system.

Happify shares their results of a recent study on how money affects our happiness.

A top exec reveals the company's secret code

Pro tips from the guy who's done it four times

Not all mistakes are as blatant as posting party pics when you're 'sick' at home.

Everyone struggles through weekday drudgery to reach their weekend fun. But what if you could reclaim every day of your life?

Zooming up the ladder is great, but questioning yourself 24/7 is no way to succeed. Manage your stressed self with these surefire tips.

Forget trying to control every little detail. Life is lots more fun (and less stressful) when you let go from the get-go.

So, what exactly is this thing we call "happiness" and how do we get it?

Mark Zuckerberg has an even bigger effect on your life than you thought.

Everyone makes mistakes, but some mistakes can be devastating. Here are 10 icons who fell from grace, and what they can do to redeem themselves.

Twitter turns eight years old today.