Say 'omm': Aug. 15 is National Relaxation Day
Can't slip away to a spa or exotic destination? No problem. In true island style, Tommy Bahama shares 10 relaxation tips. Umbrella cocktails optional.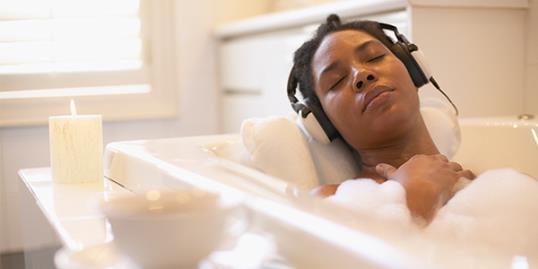 When Tommy Bahama launched as a lifestyle brand, its mantra was "Relax in Style." Two decades later, the island-inspired fashion and home furnishings retailer still defines that kick-back-and-relax spirit of aloha.
More on MSN Living: The top 10 most relaxing resort spas in the U.S.
Since there's a holiday for pretty much everything, let's celebrate our right to relax this Thursday, Aug. 15 on National Relaxation Day. Take a deep breath, throw on a Hawaiian shirt and sing a Jimmy Buffet tune. Heck, go scarf down a cheeseburger if that's your idea of paradise. I'm even listening to virtual ocean waves lap a shoreline and letting phone calls go straight to voicemail as I type this. OK, that's not entirely true, but you get the idea. This holiday is your official hall pass to do absolutely nothing.
Sound good? Here are 10 tips from Tommy Bahama that will help you "Relax in Style":
Quiet your mind: When you catch yourself thinking about your work schedule, your project due dates or your never-ending list of phone calls to return, try to quiet the noise by focusing on only one issue at a time.
Bing: Music for deep relaxation
Picture yourself relaxed: It could be a favorite beach, a far-away tropical island or a cabin in the woods.
Breathing deeply makes scents: Experts say that fruit or vanilla scents can also help to clear and relax your mind.
Focus on the now: Mindfulness is the here-and-now approach to living. Appreciate the moment, because it does slip away quickly.
Make a tea time: If you're a coffee drinker, consider switching to green or chamomile tea instead.
Read a book: Pick up a book that you can't put down and let your imagination take you on a journey.
Get a massage: When your muscles are tense, take the time to visit a pro, relax and travel straight to Zen-land.
Call a time-out: Grown-ups need time-outs, too. So if you feel an adult-sized temper tantrum coming on, find a place to quiet your mind and remember: Time is always on your side, so relax. The stress can wait.
Turn on the tunes: When the going gets rough, turn on the tunes and take a musical stress detour. Research shows that listening to 30 minutes of music may produce calming effects equivalent to a 30-minute nap.
Take a walk: A long walk on the beach isn't just for romance. When you head for the door, bring along your favorite beverage.
More on MSN Living: Not your average ways to relax
Once you've mastered these 10 tips, Tommy Bahama says you're ready to "Make life one long weekend." Relax, have fun and be sure to get the most out of National Relaxation Day.
Tell us: How do YOU relax?
More from Daily Dose:
Man vows to find Amazon.com package thief
Witnesses tackle man who runs from bank with cash
Cardboard officer cuts crime at Mass. subway stop
Subscribe to the Daily Dose | Friend us on Facebook, follow us on Twitter and find us on Pinterest.
Photo: LWA/Stephen Welstead/Getty Images
inspire: live a better life
Summer and winter tend to hog all the glory when it comes to travel high seasons. Sure, you want to soak up all the time at the beach you can during the summer, and you just want to escape the cold during the last months of the year.

Who just wants to stand around and watch the red and gold leaves slowly fall from their tree branches to the ground as we move from summer to fall? Instead, take in the changing seasons while you're on the move.

In September, I'll turn 38. I'm at the age now where, when people ask how old I am, it takes me a minute to remember. I don't know if that's because I've already been 37 different ages and it's hard to keep straight which one I am now, or if it's because I'm in denial, or if it's because I am going senile. Maybe a combination of all of the above. Regardless, my 30s have flown by and soon they will be but a memory. So, in an effort to preserve the memory I have left (or at least keep a record of it), and to celebrate what has been an amazing decade so far, here are 30 things that have happened to me in my 30s (and will probably happen to you too):

Traveling doesn't have to be stressful. And what you can fit in your carry-on can make all the difference (and not just a fresh pair of socks), especially when you get that low battery signal.

Volunteering (and these other rituals) might be just as good as exercise when it comes to extending your life.

Use these tricks to set a better tone for the rest of the week.

Whether it involves a food fight, mermaids or a torch-lit procession, people the world over know how to have a good time. Here are some of the biggest, boldest, booziest celebrations around, along with some tips to get the full experience.

Research could mean more effective treatment for human disorders.

An entry a day might keep the doctor away (or at least the shrink).

One woman's shout-outs to daily moments of joy — and how to cultivate them.

Our best health and fitness tips including the one move that tones all, berry news, and more.