Sex on the Back Nine
Getting frisky in the second half of life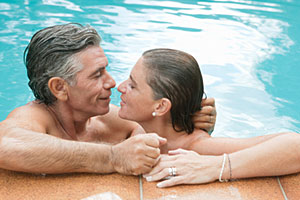 They're thinking about sex over at Harvard University. Not just the students, mind you, but the faculty and researchers. In this week's HealthBeat newsletter, experts from Harvard Med pull back the covers on sex in the second half of life.
Older people were considered irrelevant in studies of sexual behavior, Harvard says, until a study out of University of Chicago focused on people between the ages of 57 and 85. Whether it provides encouragement about your future or just makes you squirm thinking about your folks, it turns out that there's quite a bit of activity out on the second nine holes of life's golf course, at least when the putters are still putting. A related report from Indiana University says that nearly a third of long-lived Americans are sexually active into their 80s, giving way to at least two conclusions: (a) false assumptions have been made about sexual activity and age; and (b) seniors interested in Continuing Ed courses should seriously consider Indiana U.
Some thoughts crossing our minds as we peruse Harvard's conclusions:
Sexual activity tapers off with age.  It's one of mother nature's cruelest tricks. Interest in sex drops off as levels of testosterone and estrogen, which swirl in deep pools during youth, diminish with the years. Like a hobbyist tinkering with a cool convertible, by the time you finally understand how to make an engine rev the parts stop working and you'd rather be in a sedan anyway.
Older women are less sexually active than older men.  So, wait a second. Who are the older men having sex with?
Masturbation is common.   Ohhhh.
A sizable minority of the men (43%) and women (36%) in the Indiana study reported that their most recent partnered sexual activity was with someone other than a spouse or long-time partner.   Now we have it. The older set is not only getting busy, they're stepping out. Why is there no reality show about this yet?  It's Big Brother at the Sunset Pavilion.   Interior, Morning, Bedroom 1: Gloria and George awaken among rumpled sheets, pleasantly surprised to find they are together.   Interior, Kitchen: Louis stirs some Mylanta.

Many men take something to improve sexual function. Young men do this as well. They take beer, they take advice, they take out any girls willing to go. They take out college loans.
Harvard also surprises with the data that over half of Americans remain sexually active well into their 70s. Not to be skeptical about the findings but maybe it's not until around age 60 that men, at least, start providing accurate polling data. Would a 25-year-old dare tell someone taking a survey that he had sex only once in the past six months? Not if he stood a shot at dating the pollster. His answer: 20, maybe 30 times — what say we make it 31?
Photo: Cultura/Maria Teijeiro/Getty Images
inspire: live a better life
Summer and winter tend to hog all the glory when it comes to travel high seasons. Sure, you want to soak up all the time at the beach you can during the summer, and you just want to escape the cold during the last months of the year.

Who just wants to stand around and watch the red and gold leaves slowly fall from their tree branches to the ground as we move from summer to fall? Instead, take in the changing seasons while you're on the move.

In September, I'll turn 38. I'm at the age now where, when people ask how old I am, it takes me a minute to remember. I don't know if that's because I've already been 37 different ages and it's hard to keep straight which one I am now, or if it's because I'm in denial, or if it's because I am going senile. Maybe a combination of all of the above. Regardless, my 30s have flown by and soon they will be but a memory. So, in an effort to preserve the memory I have left (or at least keep a record of it), and to celebrate what has been an amazing decade so far, here are 30 things that have happened to me in my 30s (and will probably happen to you too):

Traveling doesn't have to be stressful. And what you can fit in your carry-on can make all the difference (and not just a fresh pair of socks), especially when you get that low battery signal.

Volunteering (and these other rituals) might be just as good as exercise when it comes to extending your life.

Use these tricks to set a better tone for the rest of the week.

Whether it involves a food fight, mermaids or a torch-lit procession, people the world over know how to have a good time. Here are some of the biggest, boldest, booziest celebrations around, along with some tips to get the full experience.

Research could mean more effective treatment for human disorders.

An entry a day might keep the doctor away (or at least the shrink).

One woman's shout-outs to daily moments of joy — and how to cultivate them.

Our best health and fitness tips including the one move that tones all, berry news, and more.