Sex on the Back Nine
Getting frisky in the second half of life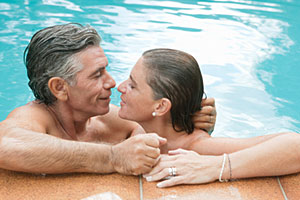 They're thinking about sex over at Harvard University. Not just the students, mind you, but the faculty and researchers. In this week's HealthBeat newsletter, experts from Harvard Med pull back the covers on sex in the second half of life.
Older people were considered irrelevant in studies of sexual behavior, Harvard says, until a study out of University of Chicago focused on people between the ages of 57 and 85. Whether it provides encouragement about your future or just makes you squirm thinking about your folks, it turns out that there's quite a bit of activity out on the second nine holes of life's golf course, at least when the putters are still putting. A related report from Indiana University says that nearly a third of long-lived Americans are sexually active into their 80s, giving way to at least two conclusions: (a) false assumptions have been made about sexual activity and age; and (b) seniors interested in Continuing Ed courses should seriously consider Indiana U.
Some thoughts crossing our minds as we peruse Harvard's conclusions:
Sexual activity tapers off with age.  It's one of mother nature's cruelest tricks. Interest in sex drops off as levels of testosterone and estrogen, which swirl in deep pools during youth, diminish with the years. Like a hobbyist tinkering with a cool convertible, by the time you finally understand how to make an engine rev the parts stop working and you'd rather be in a sedan anyway.
Older women are less sexually active than older men.  So, wait a second. Who are the older men having sex with?
Masturbation is common.   Ohhhh.
A sizable minority of the men (43%) and women (36%) in the Indiana study reported that their most recent partnered sexual activity was with someone other than a spouse or long-time partner.   Now we have it. The older set is not only getting busy, they're stepping out. Why is there no reality show about this yet?  It's Big Brother at the Sunset Pavilion.   Interior, Morning, Bedroom 1: Gloria and George awaken among rumpled sheets, pleasantly surprised to find they are together.   Interior, Kitchen: Louis stirs some Mylanta.

Many men take something to improve sexual function. Young men do this as well. They take beer, they take advice, they take out any girls willing to go. They take out college loans.
Harvard also surprises with the data that over half of Americans remain sexually active well into their 70s. Not to be skeptical about the findings but maybe it's not until around age 60 that men, at least, start providing accurate polling data. Would a 25-year-old dare tell someone taking a survey that he had sex only once in the past six months? Not if he stood a shot at dating the pollster. His answer: 20, maybe 30 times — what say we make it 31?
Photo: Cultura/Maria Teijeiro/Getty Images
inspire: live a better life
You'll stave off credit card debt by the end of the year if you account for these often-forgotten expenses.

Mark Zuckerberg has an even bigger effect on your life than you thought.

Take this advice to finally tackle that nagging to-do list.

The iconic storyteller would have been 110-years-old

Take the time to appreciate women's contributions to society. Here are some of the women who inspire us by their example.

Cast of the iconic TV show reunites for Florence Henderson's birthday

We couldn't be more excited to watch the best athletes in the world compete at the Winter Olympics in Sochi. This year, about 44 percent of the competitors are women according to the International Olympic Committee—which is awesome but wasn't always the case. Let's look back at some of the amazing women who paved the way with incredible, memorable feats of girl power.

Still pulling yourself out of holiday credit card debt? Ready to pool some funds for that beach vacation you've been dreaming about at your desk? We're with you 100 percent.

"FOMO, the fear of missing out, is a form of social anxiety," says psychiatrist Gail Saltz. "This type of fear tends to cause compulsive behaviors, like checking out other social situations even as you are in the middle of one currently."

When The Shriver Report was released in early January, we shared some of the more interesting statistics about income equality, the wage gap, and other issues confronting women.

Clay Aiken to run for public office.

Here's how to boost your joy — and put more cash in your pocket.