Sex on the Back Nine
Getting frisky in the second half of life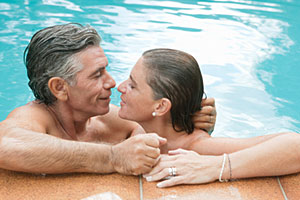 They're thinking about sex over at Harvard University. Not just the students, mind you, but the faculty and researchers. In this week's HealthBeat newsletter, experts from Harvard Med pull back the covers on sex in the second half of life.
Older people were considered irrelevant in studies of sexual behavior, Harvard says, until a study out of University of Chicago focused on people between the ages of 57 and 85. Whether it provides encouragement about your future or just makes you squirm thinking about your folks, it turns out that there's quite a bit of activity out on the second nine holes of life's golf course, at least when the putters are still putting. A related report from Indiana University says that nearly a third of long-lived Americans are sexually active into their 80s, giving way to at least two conclusions: (a) false assumptions have been made about sexual activity and age; and (b) seniors interested in Continuing Ed courses should seriously consider Indiana U.
Some thoughts crossing our minds as we peruse Harvard's conclusions:
Sexual activity tapers off with age.  It's one of mother nature's cruelest tricks. Interest in sex drops off as levels of testosterone and estrogen, which swirl in deep pools during youth, diminish with the years. Like a hobbyist tinkering with a cool convertible, by the time you finally understand how to make an engine rev the parts stop working and you'd rather be in a sedan anyway.
Older women are less sexually active than older men.  So, wait a second. Who are the older men having sex with?
Masturbation is common.   Ohhhh.
A sizable minority of the men (43%) and women (36%) in the Indiana study reported that their most recent partnered sexual activity was with someone other than a spouse or long-time partner.   Now we have it. The older set is not only getting busy, they're stepping out. Why is there no reality show about this yet?  It's Big Brother at the Sunset Pavilion.   Interior, Morning, Bedroom 1: Gloria and George awaken among rumpled sheets, pleasantly surprised to find they are together.   Interior, Kitchen: Louis stirs some Mylanta.

Many men take something to improve sexual function. Young men do this as well. They take beer, they take advice, they take out any girls willing to go. They take out college loans.
Harvard also surprises with the data that over half of Americans remain sexually active well into their 70s. Not to be skeptical about the findings but maybe it's not until around age 60 that men, at least, start providing accurate polling data. Would a 25-year-old dare tell someone taking a survey that he had sex only once in the past six months? Not if he stood a shot at dating the pollster. His answer: 20, maybe 30 times — what say we make it 31?
Photo: Cultura/Maria Teijeiro/Getty Images
inspire: live a better life
With all those deals you snagged on Black Friday, Small Business Saturday, and Cyber Monday, today is your chance to give back to those in need with #GivingTuesday.

Miss Manners provides guidance on how to handle a request for party contributions

Miss Manners instructs on why tit-for-tat never works

Miss Manners offers thoughts on guests who disregard dinner party instructions

Make big bucks, from home, having fun? These women got creative and figured out a way to have it all. You can too.

Your boss. You might like her, you probably respect her, but do you know how to approach someone who seems so different from you? (Spoiler: She's actually not.)

Over the weekend, Oprah decluttered her Montecito mansion and three other properties in a Santa Barbara yard sale that brought in more than $600,000(!). (Proceeds will benefit her girls' leadership academy in South Africa, and not half of a Crate and Barrel chair, the traditional end goal of yard-sale proceeds.)

Exclusively for MSN, we bring you a six-part series from the new book: MISS MANNERS MINDS YOUR BUSINESS by Judith and Nicholas Ivor Martin.

Miss Manners weighs in on the financial burdens of remote weddings

How Miss Manners suggests dealing with out of town guest who want tour guide services

Exclusively for MSN, we bring you a six-part series from the new book: MISS MANNERS MINDS YOUR BUSINESS by Judith and Nicholas Ivor Martin.