Sex on the Back Nine
Getting frisky in the second half of life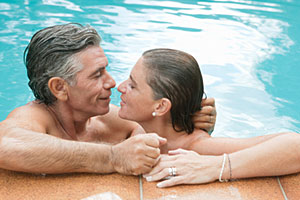 They're thinking about sex over at Harvard University. Not just the students, mind you, but the faculty and researchers. In this week's HealthBeat newsletter, experts from Harvard Med pull back the covers on sex in the second half of life.
Older people were considered irrelevant in studies of sexual behavior, Harvard says, until a study out of University of Chicago focused on people between the ages of 57 and 85. Whether it provides encouragement about your future or just makes you squirm thinking about your folks, it turns out that there's quite a bit of activity out on the second nine holes of life's golf course, at least when the putters are still putting. A related report from Indiana University says that nearly a third of long-lived Americans are sexually active into their 80s, giving way to at least two conclusions: (a) false assumptions have been made about sexual activity and age; and (b) seniors interested in Continuing Ed courses should seriously consider Indiana U.
Some thoughts crossing our minds as we peruse Harvard's conclusions:
Sexual activity tapers off with age.  It's one of mother nature's cruelest tricks. Interest in sex drops off as levels of testosterone and estrogen, which swirl in deep pools during youth, diminish with the years. Like a hobbyist tinkering with a cool convertible, by the time you finally understand how to make an engine rev the parts stop working and you'd rather be in a sedan anyway.
Older women are less sexually active than older men.  So, wait a second. Who are the older men having sex with?
Masturbation is common.   Ohhhh.
A sizable minority of the men (43%) and women (36%) in the Indiana study reported that their most recent partnered sexual activity was with someone other than a spouse or long-time partner.   Now we have it. The older set is not only getting busy, they're stepping out. Why is there no reality show about this yet?  It's Big Brother at the Sunset Pavilion.   Interior, Morning, Bedroom 1: Gloria and George awaken among rumpled sheets, pleasantly surprised to find they are together.   Interior, Kitchen: Louis stirs some Mylanta.

Many men take something to improve sexual function. Young men do this as well. They take beer, they take advice, they take out any girls willing to go. They take out college loans.
Harvard also surprises with the data that over half of Americans remain sexually active well into their 70s. Not to be skeptical about the findings but maybe it's not until around age 60 that men, at least, start providing accurate polling data. Would a 25-year-old dare tell someone taking a survey that he had sex only once in the past six months? Not if he stood a shot at dating the pollster. His answer: 20, maybe 30 times — what say we make it 31?
Photo: Cultura/Maria Teijeiro/Getty Images
inspire: live a better life
No one looks forward to washing windows or storing the ski gear or the other chores associated with spring-cleaning. But this annual ritual does not have to be a drag, if you approach it in a slightly different way. "You've been cooped up with this cave-like mentality all winter; now it's time to break free and play," says R.D. Chin, a feng shui architect and consultant in New York City. "It's time to follow the cycle of nature, get rid of the clutter, and free up your mind." Here's our idea of what a truly effective spring-cleaning can look like.

American presidents garner most votes over celebrities in a poll ranking the 100 most significant citizens.

Heading to a world-class beach town is always a safe bet for a great vacation, but if you want something that tests your limits, consider a more extreme spot. Here are 10 places around the world that require a winter coat year-round and offer spectacular glaciers, ice features, and the best snow anywhere.

From the Grand Canyon to the Statue of Liberty, the U.S. boasts world-famous national parks, historical sites and landmarks. Beyond the well-known locations, there's a wealth of undiscovered destinations stretching from coast to coast worth visiting. From scenic sand dunes to wild mountains, here's 51 places within America that you've probably never heard of.

How much do you really know about the Earth? In honor of Earth Day, April 22, we explore some interesting and fun facts about the fifth-largest planet of our solar system.

Most of the stuff we worry about never happens.

You've written an email, and need to wrap it up. You could end with a simple "Sincerely," tack on your name, and then shoot it out the door, proving definitively that you suck at communication.

Here are nine of the most extreme trips on the planet -- and the outfitters that take adventurers over the edge and back again.

A true challenge is within your reach. All it takes is a few months to get in shape and a few days off work.

Think you got what it takes to be included in the pages of the Guinness Book of World Records? We consult one of the judges to help you on your quest.

Just a few years ago, the term "home automation" meant a bunch of blinking lights and a headache. But thanks to simpler interfaces and the rise of smartphones, new tech can transform your house into a safer, more comfortable, less wasteful place.

If you're like most people, flying around in a big metal tube in the sky isn't your idea of a fun time. From the terrible food to the cramped space, flying can be a miserable experience. Don't make the flight even more soul-sucking by breaking airplane etiquette. We've compiled a list of the worst-inflight offenders. by Rebecca Pattee