Why mistletoe and poinsettias are everywhere this time of year
Pagan and Christian traditions combine in the stories of these seasonal plants.
During the holiday season, you will likely encounter (or dodge) a bushel of mistletoe and a pot of poinsettias. These festive plants feature in many Christmas displays, but why?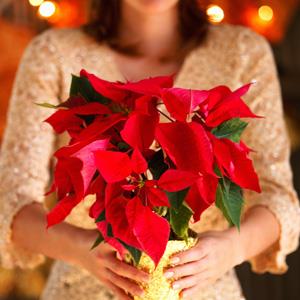 A hemi-parasitic plant, mistletoe attaches to another botanic species, absorbing nutrients from its host. The mistletoe cluster that forms is called a haustorium. Europeans call these structures "witches' brooms." Navajo refer to them as "baskets on high."
Pliny the Elder tells us that the Gallic Druids believed that the plant "falls from heaven upon the oak." The critic and poet Robert Graves writes that cutting the mistletoe from the oak tree symbolized the "emasculation of the old king by his successor" in Druid culture, "the mistletoe being a prime phallic emblem." The plant's white berries may have been associated with semen. So how does that transfer to Christmas, you ask?  
Well, according to Pliny, the Druid word for mistletoe meant "all-heal in their language." Indeed, they used the plant as a poison antidote (the plant itself is poisonous) and a fertility philter for animals. Because of its associations with fertility and vitality, mistletoe became an ornament during the winter solstice. It may have served as a charm to ensure the reemergence of fecundity following the dormant winter months. (Holly and ivy were also pagan fertility tokens.)
More from Daily Dose: Top Tweets of 2012
The tradition of kissing beneath mistletoe is first attested to in the 16th century. Through this romantic gesture, mistletoe maintains associations with fertility.
Many continue to explore its healing properties, too. Herbalists use mistletoe for respiratory and circulatory disorders. And Suzanne Sommers famously opted for mistletoe supplements instead of chemotherapy after breast cancer treatment.
The poinsettia, or Euphoriba pulcherrima, meaning "very beautiful," is native to Mexico and Central America. Joel Roberts Poinsett, a botanist, physician, congressman and the first United States Minister to Mexico, introduced the poinsettia flower to the United States in 1825.
More from Daily Dose: Seismologists reveal earthquake hotspots
The flora's association with Christmas comes from a Mexican folk story propagated by the Ecke family, one of the U.S.'s major suppliers of the plant. As the tale goes, in the 16th century a young Mexican girl was walking to Christmas Eve mass. Distressed because she had no gift to offer to Jesus, she plucked a handful of weeds from the roadside that she fashioned into a bouquet. As she set the weeds before the nativity, they transformed into brilliant red flowers. Today the poinsettia is known as "Noche Buena," or Christmas Eve, in Mexico.
Bing: Get Christmas cookie recipes?
It is believed that the plant's star shape represents the Star of Bethlehem. The crimson color recalls the blood of Christ's crucifixion. Once a symbol of Aztec sacrifices, Montezuma is said to have decorated his palace with the flower. The Aztecs derived a red dye from the plant's petals.
In the 1994 indie movie "Reality Bites," Janeane Garofalo's character claims that her manager at the Gap tried to kill herself by eating a pot of poinsettias. Urban legends overstate the flower's toxicity, however. Although the poinsettia is toxic, an adult would have to consume thousands of leaves for the plant to be dangerous.
Photo: Burke/Triolo Productions/Getty Images
More from Daily Dose:
Do employers hire drinking buddies?
10 trends to watch in 2013
Merriam-Webster Dictionary's top 10 words for 2012
inspire: live a better life
How much do you really know about the Earth? In honor of Earth Day, April 22, we explore some interesting and fun facts about the fifth-largest planet of our solar system.

Happify shares their results of a recent study on how money affects our happiness.

A top exec reveals the company's secret code

Pro tips from the guy who's done it four times

Not all mistakes are as blatant as posting party pics when you're 'sick' at home.

Everyone struggles through weekday drudgery to reach their weekend fun. But what if you could reclaim every day of your life?

Zooming up the ladder is great, but questioning yourself 24/7 is no way to succeed. Manage your stressed self with these surefire tips.

Forget trying to control every little detail. Life is lots more fun (and less stressful) when you let go from the get-go.

So, what exactly is this thing we call "happiness" and how do we get it?

Mark Zuckerberg has an even bigger effect on your life than you thought.

Everyone makes mistakes, but some mistakes can be devastating. Here are 10 icons who fell from grace, and what they can do to redeem themselves.

Twitter turns eight years old today.