New cat token hits the Monopoly board
Feline is in, iron is out.
Monopoly boards with the new cat token are now being shipped. After 78 years traveling around the Monopoly board, the game's tiny iron playing piece is being retired. Taking its place, by popular vote, will be a cat token.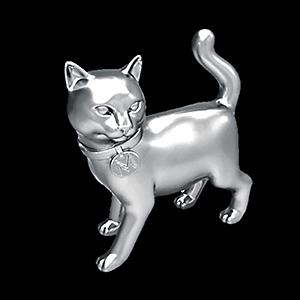 The Hasbro gaming company made the decision following a month-long voting campaign conducted online earlier this year.
Other options in the running to replace the iron had included a guitar, a helicopter, a robot, and a diamond ring — most of which would have nudged the game's iconography a little closer to the 21st century. But participants in Hasbro's "Save Your Token" campaign, who were asked to vote one token on and one token off the board, elected the feline figurine. The iron was beaten flat out in a contest that at times looked bad for the wheelbarrow and the shoe.
The turnover of Monopoly pieces is not entirely new. More than 20 tokens have been cast since the game was formally introduced by Parker Brothers in 1935. Back in the early 1950s, the lantern, purse and rocking horse were removed. Other retired pieces include a money sack and a howitzer.
The current cast of eight: cat, race car, Scottie dog, wheelbarrow, shoe, top hat, thimble and battleship.
A two-story statue of the Monopoly cat, with a red "M" on its collar, was positioned in various locations around London last month to celebrate the new addition. Purists can take to Monopoly's Facebook page to mourn the iron.
A Hasbro executive said in February, "We know that cat lovers around the world will be happy to welcome the new cat token into the Monopoly game. While we're a bit sad to see the iron go, the cat token is a fantastic choice by the fans and we have no doubt it will become just as iconic as the original tokens."
More than 275 million Monopoly boards have been sold, according to Hasbro. The game is currently available in 43 languages and 111 countries.
More from Daily Dose:
Stats show Americans not that into driving anymore
98% cite rudeness at work
Why do haters hate?
Subscribe to the Daily Dose | Friend us on Facebook, follow us on Twitter and find us on Pinterest.
Photo: Hasbro/REX Features
inspire: live a better life
Summer and winter tend to hog all the glory when it comes to travel high seasons. Sure, you want to soak up all the time at the beach you can during the summer, and you just want to escape the cold during the last months of the year.

Who just wants to stand around and watch the red and gold leaves slowly fall from their tree branches to the ground as we move from summer to fall? Instead, take in the changing seasons while you're on the move.

In September, I'll turn 38. I'm at the age now where, when people ask how old I am, it takes me a minute to remember. I don't know if that's because I've already been 37 different ages and it's hard to keep straight which one I am now, or if it's because I'm in denial, or if it's because I am going senile. Maybe a combination of all of the above. Regardless, my 30s have flown by and soon they will be but a memory. So, in an effort to preserve the memory I have left (or at least keep a record of it), and to celebrate what has been an amazing decade so far, here are 30 things that have happened to me in my 30s (and will probably happen to you too):

Traveling doesn't have to be stressful. And what you can fit in your carry-on can make all the difference (and not just a fresh pair of socks), especially when you get that low battery signal.

Volunteering (and these other rituals) might be just as good as exercise when it comes to extending your life.

Use these tricks to set a better tone for the rest of the week.

Whether it involves a food fight, mermaids or a torch-lit procession, people the world over know how to have a good time. Here are some of the biggest, boldest, booziest celebrations around, along with some tips to get the full experience.

Research could mean more effective treatment for human disorders.

An entry a day might keep the doctor away (or at least the shrink).

One woman's shout-outs to daily moments of joy — and how to cultivate them.

Our best health and fitness tips including the one move that tones all, berry news, and more.