New cat token hits the Monopoly board
Feline is in, iron is out.
Monopoly boards with the new cat token are now being shipped. After 78 years traveling around the Monopoly board, the game's tiny iron playing piece is being retired. Taking its place, by popular vote, will be a cat token.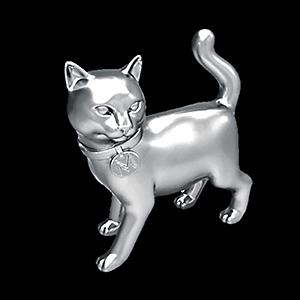 The Hasbro gaming company made the decision following a month-long voting campaign conducted online earlier this year.
Other options in the running to replace the iron had included a guitar, a helicopter, a robot, and a diamond ring — most of which would have nudged the game's iconography a little closer to the 21st century. But participants in Hasbro's "Save Your Token" campaign, who were asked to vote one token on and one token off the board, elected the feline figurine. The iron was beaten flat out in a contest that at times looked bad for the wheelbarrow and the shoe.
The turnover of Monopoly pieces is not entirely new. More than 20 tokens have been cast since the game was formally introduced by Parker Brothers in 1935. Back in the early 1950s, the lantern, purse and rocking horse were removed. Other retired pieces include a money sack and a howitzer.
The current cast of eight: cat, race car, Scottie dog, wheelbarrow, shoe, top hat, thimble and battleship.
A two-story statue of the Monopoly cat, with a red "M" on its collar, was positioned in various locations around London last month to celebrate the new addition. Purists can take to Monopoly's Facebook page to mourn the iron.
A Hasbro executive said in February, "We know that cat lovers around the world will be happy to welcome the new cat token into the Monopoly game. While we're a bit sad to see the iron go, the cat token is a fantastic choice by the fans and we have no doubt it will become just as iconic as the original tokens."
More than 275 million Monopoly boards have been sold, according to Hasbro. The game is currently available in 43 languages and 111 countries.
More from Daily Dose:
Stats show Americans not that into driving anymore
98% cite rudeness at work
Why do haters hate?
Subscribe to the Daily Dose | Friend us on Facebook, follow us on Twitter and find us on Pinterest.
Photo: Hasbro/REX Features
inspire: live a better life
How much do you really know about the Earth? In honor of Earth Day, April 22, we explore some interesting and fun facts about the fifth-largest planet of our solar system.

Happify shares their results of a recent study on how money affects our happiness.

A top exec reveals the company's secret code

Pro tips from the guy who's done it four times

Not all mistakes are as blatant as posting party pics when you're 'sick' at home.

Everyone struggles through weekday drudgery to reach their weekend fun. But what if you could reclaim every day of your life?

Zooming up the ladder is great, but questioning yourself 24/7 is no way to succeed. Manage your stressed self with these surefire tips.

Forget trying to control every little detail. Life is lots more fun (and less stressful) when you let go from the get-go.

So, what exactly is this thing we call "happiness" and how do we get it?

Mark Zuckerberg has an even bigger effect on your life than you thought.

Everyone makes mistakes, but some mistakes can be devastating. Here are 10 icons who fell from grace, and what they can do to redeem themselves.

Twitter turns eight years old today.