98% cite rudeness at work
Are employers responsible for civility — and can they really enforce it?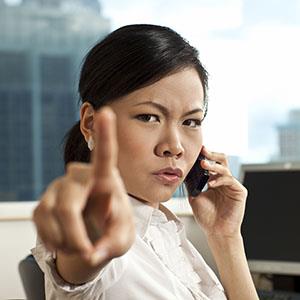 As the state of the economy leaves fewer employees doing more work for less money, with a reduction in resources to boot, the prevalence of rudeness in the workplace appears to be on the rise. Findings from an ongoing study indicate that a full 98 percent of workers report experiences of uncivil behavior at work.
Two researchers from Georgetown University's McDonough School of Business have been studying the impact of growing incivility in the workplace for 15 years and have surveyed thousands of people. With a long-term window on workplace histories, they've tracked a downward spiral of decency and friendliness. Back in 1998, for example, a quarter of all surveyed subjects said they were treated rudely at least once a week; in 2011, half of all workers lodged the same complaint.
Bing: Toxic colleagues — the ones to watch out for
Workplace rudeness is rampant today, say professors Christine Porath and Christine Pearson, and takes all shapes. It's the boss who belittles his employees' efforts and blames them for poor results. It's the foul-mouthed oaf spoiling lunch hour, and the surly assistant with an acid tongue. It's evident in passive-aggressive emails and in water-cooler snubs.
MSN Living: 10 phrases to avoid at work
Porath and Pearson conclude that incivility hurts not only feelings, but productivity and ultimately the organization's bottom line.
"We know two things for certain," the researchers write. "Incivility is expensive, and few organizations recognize or take action to curtail it."
Among their findings:
• 47 percent of workers on the receiving end of incivility intentionally decreased the time spent at work, and 38 percent intentionally decreased quality
• 63 percent lost work time avoiding the offender
• 78 percent said their commitment to the organization declined
• 25 percent admitted taking their frustration out on customers.
Is civility the responsibility of an employer — and if so, can managers or a human resource department really enforce it?
In an attempt to reverse rudeness trends, some companies are adding new guidelines to employee manuals. Citing the work of the Georgetown researchers, The Wall Street Journal posted 10 tips for keeping the peace at work — several of which read like rules for a kindergarten class. While it certainly seems childish, some colleagues need to work on fundamental interpersonal skills, starting with the Golden Rule. Tips include:
• In the presence of co-workers practice the 10/5 rule: Within 10 feet, acknowledge the person, and within five feet say hello.
• Instead of pointing the finger when you've contributed to a mistake, take responsibility — especially if you're the leader.
• Don't criticize people behind their backs. Never say or write anything you wouldn't be proud to sign.
• When someone is talking to you, pay attention and listen fully; don't half tune in or fidget with your gadget.
• Address performance or other issues in private.
• Never cut off or finish someone's sentences (even to make a point or decision); instead, be patient and listen fully before jumping in.
• Be careful taking too much credit for collaborative work; share recognition for work well done.
More from Daily Dose:
Why do haters hate?
Study: Race relations in the U.S. improving
Government admits existence of Area 51
Subscribe to the Daily Dose | Friend us on Facebook, follow us on Twitter and find us on Pinterest.
inspire: live a better life
Research could mean more effective treatment for human disorders.

An entry a day might keep the doctor away (or at least the shrink).

One woman's shout-outs to daily moments of joy — and how to cultivate them.

Volunteering (and these other rituals) might be just as good as exercise when it comes to extending your life.

Use these tricks to set a better tone for the rest of the week.

In September, I'll turn 38. I'm at the age now where, when people ask how old I am, it takes me a minute to remember. I don't know if that's because I've already been 37 different ages and it's hard to keep straight which one I am now, or if it's because I'm in denial, or if it's because I am going senile. Maybe a combination of all of the above. Regardless, my 30s have flown by and soon they will be but a memory. So, in an effort to preserve the memory I have left (or at least keep a record of it), and to celebrate what has been an amazing decade so far, here are 30 things that have happened to me in my 30s (and will probably happen to you too):

Our best health and fitness tips including the one move that tones all, berry news, and more.

Who just wants to stand around and watch the red and gold leaves slowly fall from their tree branches to the ground as we move from summer to fall? Instead, take in the changing seasons while you're on the move.

Here's some tips to get to happiness going forward in your life.

People 60 to 82 did best on cognitive tasks before 10:30am.

Lucille Ball was born in 1911, and though we lost her long ago, her legacy as America's favorite redhead lives on through the timeless classic, "I Love Lucy." People of all generations still enjoy Lucy's antics as much as they did over 60 years ago when the show first premiered.