3 remarkable kidnap survival stories
Escape and reunion after years in captivity.
As details in the dramatic recovery of three young Ohio women kidnapped a decade ago come to light, we're reminded of other kidnapping victims with exceptional stories of survival and resolve.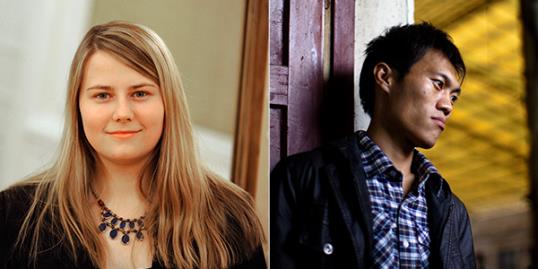 Natascha Kampusch:  Kidnapped in March 1998 at age 10, Natascha Kampusch was held captive for 8½ years in a secret, windowless cellar beneath the Vienna, Austria, home of her abductor and abuser. As a teenager, Natascha was allowed into the house's garden, and at 18 years old she seized an opportunity to run away to the safety of a neighbor. Her captor, Wolfgang Přiklopil, threw himself under a train after her escape. Authorities later sold Přiklopil's house to Kampusch at a knock-down price. At last report, Kampusch was regularly visiting the house and paying the required utility bills and taxes.
Gallery: 11 great Mother's Day gifts
Zhou Chengliang: In October 1988, 6-year-old Zhou Chengliang and his older brother Zhou Yong were walking home from school in the southwestern Chinese city of Zunyi. Poor and hungry, the boys were lured by a couple offering food and claiming to know their family. But the couple separated the boys, took Zhou Chengliang across the country and sold him to a family in a faraway province. The family took care of the boy and raised him as their own, even paying for his education. But the Zhou family never stopped looking for their boy. In 2011, after more than two decades of searching through official channels, they posted their son's information online — and within three hours he was found with the help of a service that reunites families. Now a grown man with a job and a family of his own, Zhou Chengliang had posted his own information online in hope of finding his birth family after his daughter was born. The Zhou family has been in touch with the kidnappers and thanked them for taking care of their son.
Steven Stayner: In 1972, at the age of 7, Steven Stayner was abducted while walking home from school in Merced, Calif. The boy was held and sexually abused through the age of 14 while being forced to live as the foster son of his abductor, a serial child rapist named Kenneth Parnell. In 1980, Parnell kidnapped another, younger child, 5-year-old Timmy White. Not wanting the boy to suffer the same fate he had, Steven escaped with Timmy while Parnell was at his night job. The boys hitchhiked in the night, and Steven took Timmy to a police station. Parnell was later convicted. Steven Stayner was married and had two children when he died in a 1989 motorcycle accident. Fourteen-year-old Timmy White was a pallbearer at his funeral.
Gallery: 'Staycation' ideas for parents
More from Daily Dose:
Nazi-themed opera creates scandal in Germany
Utah cabin had uninvited guests: 60,000 bees
Floridians encouraged to report neighbors who 'hate government'
Love content like this? Friend us on Facebook, follow us on Twitter and find us on Pinterest.
Photo: Fabian Bimmer/dapd; Michael Christopher Brown/Photographed for Time Magazine/Corbis

inspire: live a better life
From international roaming fees to skipping travel insurance, these mistakes can put a damper on your next vacation.

Where in the world do you want to go? Somewhere unique? Any of the places described here are sure to make your next world-travel adventure truly memorable.

It's easy to lead, but it takes courage and conviction to be a truly great leader. Here are 10 inspiring leaders and what we can learn from them.

Some say it's a small world. We beg to differ. Earth has so many wondrous places worth exploring, and most of us are lucky to see a handful of them. Here are 30 of the top trips of a lifetime.

The semi-annual glitch in your daily routine is back this weekend.

You'll stave off credit card debt by the end of the year if you account for these often-forgotten expenses.

Mark Zuckerberg has an even bigger effect on your life than you thought.

Take this advice to finally tackle that nagging to-do list.

The iconic storyteller would have been 110-years-old

Take the time to appreciate women's contributions to society. Here are some of the women who inspire us by their example.

Cast of the iconic TV show reunites for Florence Henderson's birthday

We couldn't be more excited to watch the best athletes in the world compete at the Winter Olympics in Sochi. This year, about 44 percent of the competitors are women according to the International Olympic Committee—which is awesome but wasn't always the case. Let's look back at some of the amazing women who paved the way with incredible, memorable feats of girl power.