The Nice Person Gene
Is there a genetic component to kindness?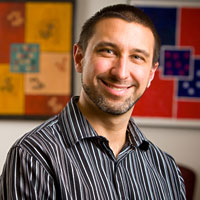 A new study published in Psychological Science suggests that niceness may be programmed into your DNA. Do you have the makeup to be nice, or are your genes all mean?
Researchers from the University of New York at Buffalo and the University of California, Irvine, examined how genes affect the receptors for two hormones associated with "prosocial" behavior. The hormones oxytocin (more widely known for its role in maternal behavior) and vasopressin have previously been shown to have an influence on high moral functions including the inclination to be kind and selfless. Whether or not you have a gene allowing you to receive those hormones may impact how nice a person you are, according to the study.
Lead researcher Dr. Michael Poulin, who looks like he has a good oxytocin flow, has been interested in why people engage in behaviors that benefit others when there is no obvious, self-serving benefit to being nice. He's also been studying what makes a person care for others when in a stressful or threatening circumstance, such as in moments of grief or in the heat of battle.
Subjects for the study were each asked a series of questions to determine how they felt about charitable acts such as donating blood, what their perspective was on civic duties like reporting crimes, and what their general views were about people being good or evil. Poulin and his team then took saliva samples from 711 of the subjects to see whether or not they had the receptors for oxytocin and vasopressin.
According to Poulin, "study participants who found the world threatening were less likely to help others — unless they had versions of the receptor genes that are generally associated with niceness."
We can't exclusively credit those gentler genes for determining who would help an old lady cross the street versus who would kick her in the shins. From what scientists understand, the influence of genetic makeup on personality doesn't work quite that way. Environmental factors ranging from the way we're raised to what we eat certainly have an influence on personality, and the researchers emphasize that the connections between DNA and social behavior are complex. The gene doesn't flip a switch that turns niceness on or off. But in combination with a positive world view, it appears to make an important contribution. 
The prospect of being genetically predisposed to kindness raises questions for all personality types. Is genetic makeup responsible for the personalities of people who are too nice, putting other people ahead of themselves to their own detriment? Is it possible they just can't help themselves? On the flipside, of course, are those who are not so nice at all. Is it possible that the kid who laughed when you smashed your head had a deficit of oxytocin and vasopressin receptor genes — and was not, as you had suspected, just a plain old jerk? 
Most intriguingly, if we're not pre-wired to be nice, can we change?
Photo: Courtesy of the University of Buffalo

inspire: live a better life
From international roaming fees to skipping travel insurance, these mistakes can put a damper on your next vacation.

Where in the world do you want to go? Somewhere unique? Any of the places described here are sure to make your next world-travel adventure truly memorable.

It's easy to lead, but it takes courage and conviction to be a truly great leader. Here are 10 inspiring leaders and what we can learn from them.

Some say it's a small world. We beg to differ. Earth has so many wondrous places worth exploring, and most of us are lucky to see a handful of them. Here are 30 of the top trips of a lifetime.

The semi-annual glitch in your daily routine is back this weekend.

You'll stave off credit card debt by the end of the year if you account for these often-forgotten expenses.

Mark Zuckerberg has an even bigger effect on your life than you thought.

Take this advice to finally tackle that nagging to-do list.

The iconic storyteller would have been 110-years-old

Take the time to appreciate women's contributions to society. Here are some of the women who inspire us by their example.

Cast of the iconic TV show reunites for Florence Henderson's birthday

We couldn't be more excited to watch the best athletes in the world compete at the Winter Olympics in Sochi. This year, about 44 percent of the competitors are women according to the International Olympic Committee—which is awesome but wasn't always the case. Let's look back at some of the amazing women who paved the way with incredible, memorable feats of girl power.