The Nice Person Gene
Is there a genetic component to kindness?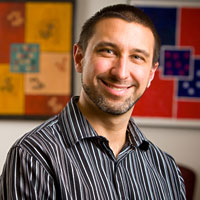 A new study published in Psychological Science suggests that niceness may be programmed into your DNA. Do you have the makeup to be nice, or are your genes all mean?
Researchers from the University of New York at Buffalo and the University of California, Irvine, examined how genes affect the receptors for two hormones associated with "prosocial" behavior. The hormones oxytocin (more widely known for its role in maternal behavior) and vasopressin have previously been shown to have an influence on high moral functions including the inclination to be kind and selfless. Whether or not you have a gene allowing you to receive those hormones may impact how nice a person you are, according to the study.
Lead researcher Dr. Michael Poulin, who looks like he has a good oxytocin flow, has been interested in why people engage in behaviors that benefit others when there is no obvious, self-serving benefit to being nice. He's also been studying what makes a person care for others when in a stressful or threatening circumstance, such as in moments of grief or in the heat of battle.
Subjects for the study were each asked a series of questions to determine how they felt about charitable acts such as donating blood, what their perspective was on civic duties like reporting crimes, and what their general views were about people being good or evil. Poulin and his team then took saliva samples from 711 of the subjects to see whether or not they had the receptors for oxytocin and vasopressin.
According to Poulin, "study participants who found the world threatening were less likely to help others — unless they had versions of the receptor genes that are generally associated with niceness."
We can't exclusively credit those gentler genes for determining who would help an old lady cross the street versus who would kick her in the shins. From what scientists understand, the influence of genetic makeup on personality doesn't work quite that way. Environmental factors ranging from the way we're raised to what we eat certainly have an influence on personality, and the researchers emphasize that the connections between DNA and social behavior are complex. The gene doesn't flip a switch that turns niceness on or off. But in combination with a positive world view, it appears to make an important contribution. 
The prospect of being genetically predisposed to kindness raises questions for all personality types. Is genetic makeup responsible for the personalities of people who are too nice, putting other people ahead of themselves to their own detriment? Is it possible they just can't help themselves? On the flipside, of course, are those who are not so nice at all. Is it possible that the kid who laughed when you smashed your head had a deficit of oxytocin and vasopressin receptor genes — and was not, as you had suspected, just a plain old jerk? 
Most intriguingly, if we're not pre-wired to be nice, can we change?
Photo: Courtesy of the University of Buffalo

inspire: live a better life
With all those deals you snagged on Black Friday, Small Business Saturday, and Cyber Monday, today is your chance to give back to those in need with #GivingTuesday.

Miss Manners provides guidance on how to handle a request for party contributions

Miss Manners instructs on why tit-for-tat never works

Miss Manners offers thoughts on guests who disregard dinner party instructions

Make big bucks, from home, having fun? These women got creative and figured out a way to have it all. You can too.

Your boss. You might like her, you probably respect her, but do you know how to approach someone who seems so different from you? (Spoiler: She's actually not.)

Over the weekend, Oprah decluttered her Montecito mansion and three other properties in a Santa Barbara yard sale that brought in more than $600,000(!). (Proceeds will benefit her girls' leadership academy in South Africa, and not half of a Crate and Barrel chair, the traditional end goal of yard-sale proceeds.)

Exclusively for MSN, we bring you a six-part series from the new book: MISS MANNERS MINDS YOUR BUSINESS by Judith and Nicholas Ivor Martin.

Miss Manners weighs in on the financial burdens of remote weddings

How Miss Manners suggests dealing with out of town guest who want tour guide services

Exclusively for MSN, we bring you a six-part series from the new book: MISS MANNERS MINDS YOUR BUSINESS by Judith and Nicholas Ivor Martin.