Seattle launches new gun buyback program
In the wake of Sandy Hook Elementary school shootings, city leaders want to do something immediate to get guns off the street.
In an effort to remove illegal guns from city streets, Seattle is hosting its first gun buyback since 1992 on Saturday, Jan. 26. Seattle and King County leaders said they've raised $100,000 to launch the program. Anyone who turns in weapons will receive up to a $100 gift card in exchange for handguns, shotguns and rifles, and a $200 gift card in exchange for assault weapons, reports The Seattle Times.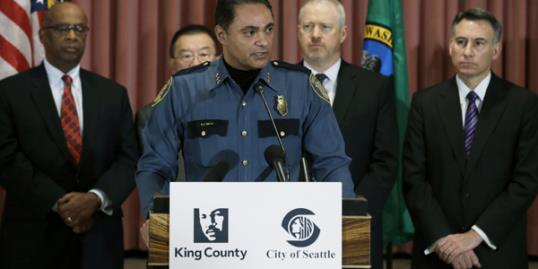 The effectiveness of such programs has been highly debated by both pro- and anti-gun groups.
More on MSN Living: 100 ways to save money in 2013
A 2004 report by the National Academies' Committee on Law and Justice cites, "Those who are either using guns to carry out crimes or as protection in the course of engaging in other illegal activities, such as drug selling, have actively acquired their guns and are unlikely to want to participate in such programs."
The report cites the following three main flaws in gun buyback programs:
1.      Guns that are typically surrendered in gun buy-backs are those that are least likely to be used in criminal activities. They tend to be either old, malfunctioning guns whose resale value is less than the reward offered in buy-back programs or guns owned by individuals who derive little value from the possession of the guns (e.g., those who have inherited guns).
2.     Replacement guns are relatively easily obtained, the actual decline in the number of guns on the street may be smaller than the number of guns that are turned in.
3.     The likelihood that any particular gun will be used in a crime in a given year is low.
More on MSN Living: 50 best celebrity makeovers of all time
Participants need not worry about being arrested, reports SFGate.com. Police won't take photos or record license plates. They will run serial numbers to see if the weapons have been stolen; if so, ballistics tests will be performed and officers will try to return the weapons to their legal owners, said Seattle Police Deputy Chief Nick Metz.
"This isn't a trick, and this isn't a sting. Whether you're turning an anti-tank missile launcher you 'found' in your basement, or your Gammie's old .45, the buyback is anonymous with no questions asked," the police department said in a statement.
The 1992 buyback netted 1,700 handguns, despite an estimated 1.8 million guns in King County. Seattle had 27 homicides last year, but 23 of them were in the first five months.
Bing: Will gun buyback programs end violence?
"I want to be clear. This is just one tool in the toolbox. This isn't going to solve our problems," Seattle Mayor Mike McGinn said at a news conference at Mount Zion Baptist Church.
"If the program averted one gun tragedy, it was worthwhile," McGinn was quoted.
Do gun buyback programs make a difference? Why or why not?
More from MSN Living:
Mansion made from trash
2012's worst words
10 facts about guns in America
Photo: Ted S. Warren/AP

More feel good politically correct Seattle and King County politics. People who would commit crimes or gun violence will not be the ones who turn in guns. If you wish to curb gun violence you must make the sentence for using a gun to commit a crime have at least double the time in jail and enforce it. Jail needs to be a place of punsihment not a scum bag social club.
Are you sure you want to delete this comment?
inspire: live a better life
Here's some tips to get to happiness going forward in your life.

People 60 to 82 did best on cognitive tasks before 10:30am.

Lucille Ball was born in 1911, and though we lost her long ago, her legacy as America's favorite redhead lives on through the timeless classic, "I Love Lucy." People of all generations still enjoy Lucy's antics as much as they did over 60 years ago when the show first premiered.

Summer is coming to an end, and in a few weeks, kids will be forced to trade in their beach bags for backpacks. But just because the season is fading away doesn't mean the memories from the past few months have to disappear with it.

Confidence and perceived competence are key, study finds.

Features lead to assumptions about character, study says.

Great gear for an afternoon spent shoreside.

Read on for surefire strategies to boost your bliss.

Use these bucket-list ideas to enjoy the little time you have left.

Study points to benefits of improved living conditions.

Don't leave home without these must-have items.

Handshakes spread 20 times more germs, study says.