Stocks are up, humanity down
The very best and very worst of the news week ending Feb 1.
Every week, the Daily Dose reviews the news to select three very best and three very worst stories to come across our desk.
 — The Very Best —
•There hasn't been a day since the election that the media doesn't bring news about the plummeting stock market or slower-than-expected​ market growth. The reality, for those paying attention, is that the stock market had its best January in 16 years. Yes, the best since 1997. Doomsayers are encouraged to check their facts before reporting on the demise of all things American.
• A toast to justice: The Justice Department has stepped in to prevent the merger of Anheuser Busch InBev, maker of Budweiser, with Grupo Modelo, maker of Corona. It's not that the JD prefers a beer with more hops but that combining the beer makers into one company would probably constitute a monopoly, with 46 percent of the U.S. market to its name.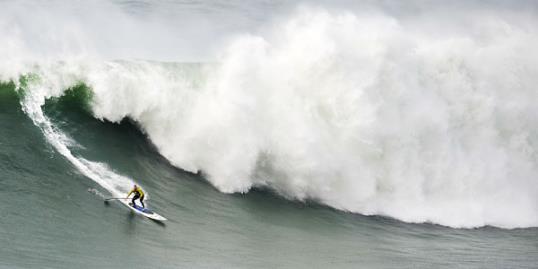 • Garrett McNamara, known for surfing waves that are higher than most buildings, may have broken his own record — and everybody else's — when he caught a wave estimated to be 100 feet high off the coast of Nazare, Portugal. This means that McNamara rode a wave higher than the Lincoln Memorial. For that kind of ride, he deserves his own memorial. 
More from MSN Living: Crazy dating trends we hope go away
 — The Very Worst —
•  It's hard to say who would deserve a Very Worst more: pro-gun lobbyists accused of heckling Neil Heslin, father of a 6-year-old boy killed in the Newtown massacre — or whoever edited the raw footage making it appear as though the lobbyists were heckling Heslin. Footage initially released from a Connecticut public forum on gun control was later revealed to have collapsed the time between Heslin memorializing his son and a question he had raised to the room about assault-style weapons.
More from MSN Living: The truth behind Seen on TV products
•  In yet another nightclub disaster, 245 people were killed in Brazil when pyrotechnics caused a fire inside the Kiss club in Santa Maria. With only one exit and entrance, there was no way for the college-aged partiers to escape the toxic fumes that filled the building. How is that club owners still haven't learned that combining flammable insulation and fireworks with a crowd of people in a confined space is a formula for tragedy? 
•  A 65-year old survivalist kidnapped a 5-year old boy off a schoolbus in Alabama after killing driver Charles Poland, 66, who tried to protect the children on his bus. Jimmy Lee Dykes brandished a gun, grabbed the child at random, and then retreated to his hideout — a 6x8 underground bunker. As of this writing, Dykes has been in a stand-off with police for three days, though Dykes may have enough supplies in his doomsday bunker to remain there for weeks. Dykes accepted medications passed through a PVC pipe for the boy, who is believed to be unharmed.
Bing: The latest top stories
More from Daily Dose:
Can animals predict weather?
Life found above Earth
Facebook can't get you fired
Love content like this? Friend us on Facebook, follow us on Twitter and find us on Pinterest
Photo: Patricia De Melo Moreira/Getty Images

inspire: live a better life
Our best health and fitness tips including the one move that tones all, berry news, and more.

Who just wants to stand around and watch the red and gold leaves slowly fall from their tree branches to the ground as we move from summer to fall? Instead, take in the changing seasons while you're on the move.

Here's some tips to get to happiness going forward in your life.

People 60 to 82 did best on cognitive tasks before 10:30am.

Lucille Ball was born in 1911, and though we lost her long ago, her legacy as America's favorite redhead lives on through the timeless classic, "I Love Lucy." People of all generations still enjoy Lucy's antics as much as they did over 60 years ago when the show first premiered.

Summer is coming to an end, and in a few weeks, kids will be forced to trade in their beach bags for backpacks. But just because the season is fading away doesn't mean the memories from the past few months have to disappear with it.

Confidence and perceived competence are key, study finds.

Features lead to assumptions about character, study says.

Great gear for an afternoon spent shoreside.

Use these bucket-list ideas to enjoy the little time you have left.

Study points to benefits of improved living conditions.