Stocks are up, humanity down
The very best and very worst of the news week ending Feb 1.
Every week, the Daily Dose reviews the news to select three very best and three very worst stories to come across our desk.
 — The Very Best —
•There hasn't been a day since the election that the media doesn't bring news about the plummeting stock market or slower-than-expected​ market growth. The reality, for those paying attention, is that the stock market had its best January in 16 years. Yes, the best since 1997. Doomsayers are encouraged to check their facts before reporting on the demise of all things American.
• A toast to justice: The Justice Department has stepped in to prevent the merger of Anheuser Busch InBev, maker of Budweiser, with Grupo Modelo, maker of Corona. It's not that the JD prefers a beer with more hops but that combining the beer makers into one company would probably constitute a monopoly, with 46 percent of the U.S. market to its name.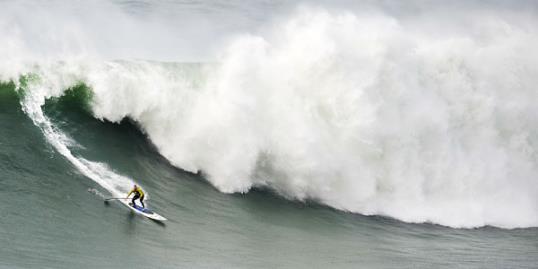 • Garrett McNamara, known for surfing waves that are higher than most buildings, may have broken his own record — and everybody else's — when he caught a wave estimated to be 100 feet high off the coast of Nazare, Portugal. This means that McNamara rode a wave higher than the Lincoln Memorial. For that kind of ride, he deserves his own memorial. 
More from MSN Living: Crazy dating trends we hope go away
 — The Very Worst —
•  It's hard to say who would deserve a Very Worst more: pro-gun lobbyists accused of heckling Neil Heslin, father of a 6-year-old boy killed in the Newtown massacre — or whoever edited the raw footage making it appear as though the lobbyists were heckling Heslin. Footage initially released from a Connecticut public forum on gun control was later revealed to have collapsed the time between Heslin memorializing his son and a question he had raised to the room about assault-style weapons.
More from MSN Living: The truth behind Seen on TV products
•  In yet another nightclub disaster, 245 people were killed in Brazil when pyrotechnics caused a fire inside the Kiss club in Santa Maria. With only one exit and entrance, there was no way for the college-aged partiers to escape the toxic fumes that filled the building. How is that club owners still haven't learned that combining flammable insulation and fireworks with a crowd of people in a confined space is a formula for tragedy? 
•  A 65-year old survivalist kidnapped a 5-year old boy off a schoolbus in Alabama after killing driver Charles Poland, 66, who tried to protect the children on his bus. Jimmy Lee Dykes brandished a gun, grabbed the child at random, and then retreated to his hideout — a 6x8 underground bunker. As of this writing, Dykes has been in a stand-off with police for three days, though Dykes may have enough supplies in his doomsday bunker to remain there for weeks. Dykes accepted medications passed through a PVC pipe for the boy, who is believed to be unharmed.
Bing: The latest top stories
More from Daily Dose:
Can animals predict weather?
Life found above Earth
Facebook can't get you fired
Love content like this? Friend us on Facebook, follow us on Twitter and find us on Pinterest
Photo: Patricia De Melo Moreira/Getty Images

inspire: live a better life
Editor's note: We will now be publishing Miss Manners articles twice weekly, but you will only see one question and answer per article. You can expect to see these articles appear on Tuesdays and Thursdays going forward.

President Harry S. Truman was behind efforts to establish the first Armed Forces Day in 1950, and decades later the nation continues to set aside the third Saturday in May to recognize and thank members of the U.S. military for their patriotic service. With these five homecoming images, we salute all service members at home and abroad.

There's much to be desired about working from home: the stress-free commute, flexible hours, and improved work-life balance.

Wishing for the fountain of youth? You may not need it. We've rounded up real-women secrets, tried-and-true beauty tips, and the latest research to help you fight aging.

Experts weigh in on when to bite your tongue at the office.

Oh, the places you'll go — to get some "me" time, that is. REDBOOK readers confess all on Facebook.

How much money you make isn't nearly as important as how you use it, according to Elizabeth Dunn and Michael Norton, authors of the new book Happy Money.

Plus, how do you ask people to not bring gifts to a shower?

Looking for a career upgrade? Follow these tips for a foot in the door.

These tanning and skin cancer myths aren't just wrong — they can do serious harm. Wise up and head into a healthier future. P.S. You'll look a lot younger too.

It's possible to rejigger your brain circuitry and feel more joy, even on Monday mornings. Here's how.

Inner peace just got easier. You don't need quiet, incense or hours to meditate, and you can scrap the chanting. Better: Ninety-five percent of you say you're calmer after a single 10-minute session. Whatever your excuse (see ours), get your om on and reap the rewards.