5 signs of hope for the environment
On Earth Day, a few rays of hope shine through a grim environmental outlook.
Good news about the environment is not easy to come by.
The acceleration of global consumerism is far outpacing our capability to protect our planet, let alone undo the damage done. The current rate of mass extinction among animal and plant species is unprecedented. Massive ice sheets are melting at incredible rates, with the potential to drive up the sea level catastrophically.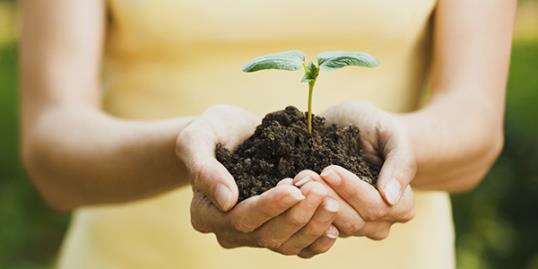 Environmental scientists believe many of nature's systems are speeding toward a "tipping point," meaning that environmental factors that appear to be stable today may suddenly and irreversibly collapse.
More from MSN Living: 20 animals that are going extinct
But on Earth Day 2013, a few rays of hope do cut through the carbon-filled clouds. While we caution against seeing a green future through rose-colored glasses, here are five signs of hope for the environment.
The Gulf of Mexico has been rebounding after the largest accidental oil spill in history. After the explosion of BP's Deepwater Horizon, an estimated 206 million gallons of crude oil gushed into the gulf. Scientists have been surprised that their worst fears have so far not been realized. High levels of hydrocarbons were expected but not found in some sea life, and shore environments are clearer than predicted by this time. Researchers are optimistic, though the short-term effects were devastating and the long-term effects are yet to be seen.
More from MSN Living: 10 interesting facts about the Earth
Acid rain is decreasing.  Concentrations of acid ions in rainwater, a result of sulfur and nitrogen compounds being released when fossil fuels are burned, have been dropping. Acid rain remains a very real threat, but a long-term study covering 1984 to 2009 indicated that regulations on emissions have had a positive impact on reducing pollutants in rain.
More waste is being recycled.  Recycling rates have been inching higher. In the Environmental Protection Agency's last report (dated 2010) on waste generation and recycling in the U.S., the agency said the country had recycled 82 million tons of its 243 million total tons of annual waste, or about a third. The recovery of recyclable plastics is still low, due largely to lack of curbside programs and increased use of bottled water.
More from MSN Living: Should we abolish Earth Day?
More environmental initiatives are being embraced around the globe.  Last year, the European Commission laid out a plan to phase out conventionally fueled cars by 2050. China, the world's largest emitter of greenhouse gases — its coal consumption nearly matches the entire globe's — has announced it will begin levying a per-ton tax on carbon emissions to encourage companies to reduce their carbon footprints. The cost of producing and using solar energy is rapidly declining. Green initiatives still need to become more cost-effective and universally accepted, but some people predict a new economy built on the back of environmentally savvy businesses.
Bing: Earth Day in the news
Environmental awareness is up.  With green education standards established in nearly every state, the nation's schools are producing the most environmentally literate generation in history. Experts still cite a major disconnect between awareness and meaningful action, but tomorrow's consumers, scientists and entrepreneurs may be better equipped and more highly motivated to heal our damaged planet.
Primary sources: Reuters, EPA, NPR, TerraDaily, University of California, Los Angeles
More from Daily Dose:
Airline sued for asking men to change clothes
War vet arrested and disarmed while hiking
'Frog whisperer' helps de-croak neighborhoods
Love content like this? Friend us on Facebook, follow us on Twitter and find us on Pinterest.
Photo: Signs of hope Earth Day / PBNJ Productions/Getty Images
inspire: live a better life
Where in the world do you want to go? Somewhere unique? Any of the places described here are sure to make your next world-travel adventure truly memorable.

It's easy to lead, but it takes courage and conviction to be a truly great leader. Here are 10 inspiring leaders and what we can learn from them.

Some say it's a small world. We beg to differ. Earth has so many wondrous places worth exploring, and most of us are lucky to see a handful of them. Here are 30 of the top trips of a lifetime.

You'll stave off credit card debt by the end of the year if you account for these often-forgotten expenses.

Mark Zuckerberg has an even bigger effect on your life than you thought.

Take this advice to finally tackle that nagging to-do list.

The iconic storyteller would have been 110-years-old

Take the time to appreciate women's contributions to society. Here are some of the women who inspire us by their example.

Cast of the iconic TV show reunites for Florence Henderson's birthday

We couldn't be more excited to watch the best athletes in the world compete at the Winter Olympics in Sochi. This year, about 44 percent of the competitors are women according to the International Olympic Committee—which is awesome but wasn't always the case. Let's look back at some of the amazing women who paved the way with incredible, memorable feats of girl power.

Still pulling yourself out of holiday credit card debt? Ready to pool some funds for that beach vacation you've been dreaming about at your desk? We're with you 100 percent.

"FOMO, the fear of missing out, is a form of social anxiety," says psychiatrist Gail Saltz. "This type of fear tends to cause compulsive behaviors, like checking out other social situations even as you are in the middle of one currently."