Gun ownership among women steadily rising
A shift in firearm purchases, and in attitude.
According to national polls and reports on firearm retailers, gun ownership among women in the U.S. has been steadily rising. The trend is coming to light following information provided by authorities that Nancy Lanza, who was shot by her son prior to his rampage on the Sandy Hook School in Newtown, CT, owned the weapons used to kill her, 20 elementary schoolchildren, and six adults.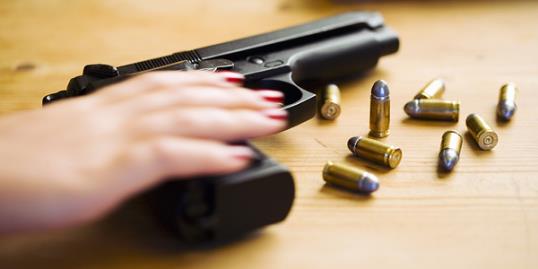 Nancy Lanza has been linked to the two handguns and the semiautomatic rifle Adam Lanza took to the school, and to two additional hunting rifles.
NBC News reported in March that, according to the National Shooting Sports Foundation, gun-store owners have recorded a 73 percent increase in female customers in recent years (dates not specified).The number of women buying guns specifically for personal defense has climbed by more than 83 percent. 
The use of firearms for sport among women has likewise seen a substantial rise. According to the National Sporting Goods Association, female participation in target shooting rose from 3.3 million in 2001 to 5 million in 2011, a 51 percent increase. Female participation in hunting lept 42 percent from 1.8 million to nearly 2.6 million over the same period, reports the Scripps Howard News Service this week.
Related: A global view on American gun violence
A Gallup poll released in October 2011 also contained insights into women's changing relationship with firearms. A record-high 43 percent of American women self-reported a gun in their home or somewhere on their property (compared to 52 percent of men), up 7 percent from the prior year.
Asked about ownership, 20 percent of women surveyed said a gun is owned by another household member and 23 percent said they personally own a gun (compared to 46 percent of men). Fifty-five percent of respondents reported no gun in the household.
Related: Newtown to the media: 'Enough is enough'
The subject of the poll was America's waning support of stricter gun laws. Gallup found the number of women favoring stricter laws on the sale of firearms fell 26 percent in 10 years, from 76 percent in favor of stricter laws in 1991 to 50 percent in 2011.
Women in favor of a ban on handguns fell from 51 percent to 31 percent over the same period. The decline followed a national shift in attitude from a majority to a minority favoring gun bans and stricter laws.
Bing: Obama calls for action on gun violence now.
Photo: David Sutherland/Getty Images
More from MSN Living:
Mom of mentally ill son asks for help
Whether - and what - to tell your kids about this tragedy
How to help your kids feel safe
inspire: live a better life
No one looks forward to washing windows or storing the ski gear or the other chores associated with spring-cleaning. But this annual ritual does not have to be a drag, if you approach it in a slightly different way. "You've been cooped up with this cave-like mentality all winter; now it's time to break free and play," says R.D. Chin, a feng shui architect and consultant in New York City. "It's time to follow the cycle of nature, get rid of the clutter, and free up your mind." Here's our idea of what a truly effective spring-cleaning can look like.

American presidents garner most votes over celebrities in a poll ranking the 100 most significant citizens.

Heading to a world-class beach town is always a safe bet for a great vacation, but if you want something that tests your limits, consider a more extreme spot. Here are 10 places around the world that require a winter coat year-round and offer spectacular glaciers, ice features, and the best snow anywhere.

From the Grand Canyon to the Statue of Liberty, the U.S. boasts world-famous national parks, historical sites and landmarks. Beyond the well-known locations, there's a wealth of undiscovered destinations stretching from coast to coast worth visiting. From scenic sand dunes to wild mountains, here's 51 places within America that you've probably never heard of.

How much do you really know about the Earth? In honor of Earth Day, April 22, we explore some interesting and fun facts about the fifth-largest planet of our solar system.

Most of the stuff we worry about never happens.

You've written an email, and need to wrap it up. You could end with a simple "Sincerely," tack on your name, and then shoot it out the door, proving definitively that you suck at communication.

Here are nine of the most extreme trips on the planet -- and the outfitters that take adventurers over the edge and back again.

A true challenge is within your reach. All it takes is a few months to get in shape and a few days off work.

Think you got what it takes to be included in the pages of the Guinness Book of World Records? We consult one of the judges to help you on your quest.

Just a few years ago, the term "home automation" meant a bunch of blinking lights and a headache. But thanks to simpler interfaces and the rise of smartphones, new tech can transform your house into a safer, more comfortable, less wasteful place.

If you're like most people, flying around in a big metal tube in the sky isn't your idea of a fun time. From the terrible food to the cramped space, flying can be a miserable experience. Don't make the flight even more soul-sucking by breaking airplane etiquette. We've compiled a list of the worst-inflight offenders. by Rebecca Pattee