Gun ownership among women steadily rising
A shift in firearm purchases, and in attitude.
According to national polls and reports on firearm retailers, gun ownership among women in the U.S. has been steadily rising. The trend is coming to light following information provided by authorities that Nancy Lanza, who was shot by her son prior to his rampage on the Sandy Hook School in Newtown, CT, owned the weapons used to kill her, 20 elementary schoolchildren, and six adults.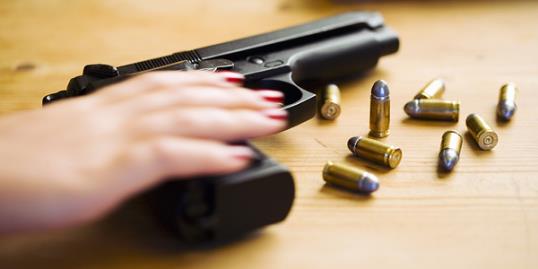 Nancy Lanza has been linked to the two handguns and the semiautomatic rifle Adam Lanza took to the school, and to two additional hunting rifles.
NBC News reported in March that, according to the National Shooting Sports Foundation, gun-store owners have recorded a 73 percent increase in female customers in recent years (dates not specified).The number of women buying guns specifically for personal defense has climbed by more than 83 percent. 
The use of firearms for sport among women has likewise seen a substantial rise. According to the National Sporting Goods Association, female participation in target shooting rose from 3.3 million in 2001 to 5 million in 2011, a 51 percent increase. Female participation in hunting lept 42 percent from 1.8 million to nearly 2.6 million over the same period, reports the Scripps Howard News Service this week.
Related: A global view on American gun violence
A Gallup poll released in October 2011 also contained insights into women's changing relationship with firearms. A record-high 43 percent of American women self-reported a gun in their home or somewhere on their property (compared to 52 percent of men), up 7 percent from the prior year.
Asked about ownership, 20 percent of women surveyed said a gun is owned by another household member and 23 percent said they personally own a gun (compared to 46 percent of men). Fifty-five percent of respondents reported no gun in the household.
Related: Newtown to the media: 'Enough is enough'
The subject of the poll was America's waning support of stricter gun laws. Gallup found the number of women favoring stricter laws on the sale of firearms fell 26 percent in 10 years, from 76 percent in favor of stricter laws in 1991 to 50 percent in 2011.
Women in favor of a ban on handguns fell from 51 percent to 31 percent over the same period. The decline followed a national shift in attitude from a majority to a minority favoring gun bans and stricter laws.
Bing: Obama calls for action on gun violence now.
Photo: David Sutherland/Getty Images
More from MSN Living:
Mom of mentally ill son asks for help
Whether - and what - to tell your kids about this tragedy
How to help your kids feel safe
inspire: live a better life
Summer and winter tend to hog all the glory when it comes to travel high seasons. Sure, you want to soak up all the time at the beach you can during the summer, and you just want to escape the cold during the last months of the year.

Who just wants to stand around and watch the red and gold leaves slowly fall from their tree branches to the ground as we move from summer to fall? Instead, take in the changing seasons while you're on the move.

In September, I'll turn 38. I'm at the age now where, when people ask how old I am, it takes me a minute to remember. I don't know if that's because I've already been 37 different ages and it's hard to keep straight which one I am now, or if it's because I'm in denial, or if it's because I am going senile. Maybe a combination of all of the above. Regardless, my 30s have flown by and soon they will be but a memory. So, in an effort to preserve the memory I have left (or at least keep a record of it), and to celebrate what has been an amazing decade so far, here are 30 things that have happened to me in my 30s (and will probably happen to you too):

Traveling doesn't have to be stressful. And what you can fit in your carry-on can make all the difference (and not just a fresh pair of socks), especially when you get that low battery signal.

Volunteering (and these other rituals) might be just as good as exercise when it comes to extending your life.

Use these tricks to set a better tone for the rest of the week.

Whether it involves a food fight, mermaids or a torch-lit procession, people the world over know how to have a good time. Here are some of the biggest, boldest, booziest celebrations around, along with some tips to get the full experience.

Research could mean more effective treatment for human disorders.

An entry a day might keep the doctor away (or at least the shrink).

One woman's shout-outs to daily moments of joy — and how to cultivate them.

Our best health and fitness tips including the one move that tones all, berry news, and more.