Gun ownership among women steadily rising
A shift in firearm purchases, and in attitude.
According to national polls and reports on firearm retailers, gun ownership among women in the U.S. has been steadily rising. The trend is coming to light following information provided by authorities that Nancy Lanza, who was shot by her son prior to his rampage on the Sandy Hook School in Newtown, CT, owned the weapons used to kill her, 20 elementary schoolchildren, and six adults.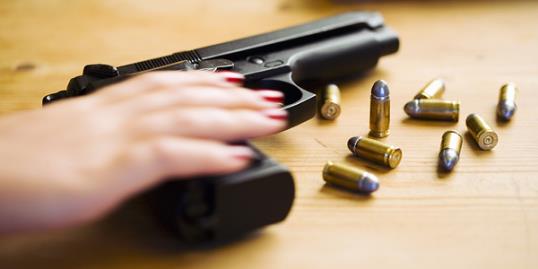 Nancy Lanza has been linked to the two handguns and the semiautomatic rifle Adam Lanza took to the school, and to two additional hunting rifles.
NBC News reported in March that, according to the National Shooting Sports Foundation, gun-store owners have recorded a 73 percent increase in female customers in recent years (dates not specified).The number of women buying guns specifically for personal defense has climbed by more than 83 percent. 
The use of firearms for sport among women has likewise seen a substantial rise. According to the National Sporting Goods Association, female participation in target shooting rose from 3.3 million in 2001 to 5 million in 2011, a 51 percent increase. Female participation in hunting lept 42 percent from 1.8 million to nearly 2.6 million over the same period, reports the Scripps Howard News Service this week.
Related: A global view on American gun violence
A Gallup poll released in October 2011 also contained insights into women's changing relationship with firearms. A record-high 43 percent of American women self-reported a gun in their home or somewhere on their property (compared to 52 percent of men), up 7 percent from the prior year.
Asked about ownership, 20 percent of women surveyed said a gun is owned by another household member and 23 percent said they personally own a gun (compared to 46 percent of men). Fifty-five percent of respondents reported no gun in the household.
Related: Newtown to the media: 'Enough is enough'
The subject of the poll was America's waning support of stricter gun laws. Gallup found the number of women favoring stricter laws on the sale of firearms fell 26 percent in 10 years, from 76 percent in favor of stricter laws in 1991 to 50 percent in 2011.
Women in favor of a ban on handguns fell from 51 percent to 31 percent over the same period. The decline followed a national shift in attitude from a majority to a minority favoring gun bans and stricter laws.
Bing: Obama calls for action on gun violence now.
Photo: David Sutherland/Getty Images
More from MSN Living:
Mom of mentally ill son asks for help
Whether - and what - to tell your kids about this tragedy
How to help your kids feel safe

I am a woman who lives in a state where citizens may only carry guns if they carry money or valuables for a business, so although I have a gun I keep at home, I may not carry it for self-protection. And we have one of the highest rape and car-jacking rates in the world here. And I drive isolated roads at night due to family and work responsibilities. I do carry it when I'm in a state that allows me to do so. I am trained, and I have a bedside safe, so if kids are present, I keep it there. I really do see guns as tools, and I think totalitarians pushing to limit access to or ban them are misguided and responding to the horror of emotional trauma when a tragedy occurs. They jump to make knee-jerk decisions. We need to stop reacting to the CT shooting before we end up making sweeping changes that could destroy women's ability to defend ourselves.
We spend Billions on forcing democracy to the people in the middle east and Asia. At home we hate to help our fellow Americans with good medicals and protection from fire and guns. We have Homeland Security from Terrorists and allow gun terror to our citizens.
In the USA, NRA wants everyone armed, in Pakistan and the tribes in Afghanistan they all carry weapons. It looks to me we are becoming just like the people we are fighting overseas. I guess the American Taliban are winning, and the civilized people are loosing.
Guns in school, guns shopping, guns on the beach, guns in church, guns, guns, guns. We spend about 700 Billion on our Armed forces to protect us and buy AR 15 for $700 to protect ourselves from our Government. So who are the stupid?

I'm a woman and I own and carry a gun.  A carry gun is my tool, my weapon is my mind.  I have also taken many self-defense courses and would rip an attacker's throat out with my bare teeth if that's what it takes to keep me and/or my kids safe.  Before my kids were of a certain mentality (not age) I kept a flail for protection, still have it at hand, and a dog trained to bite.  It's about not being a victim. It's why the first time my ex threw a punch at me it was the last, period.  The stats in this article say I'm at greater risk because I have a gun in my home.  How many of those stats included a man holding the gun?  How many times was a woman not willing and ready to use it? How many women weren't honest about the mental state of other family members?  i.e. Adam Lanza.  I pray everyday I will never shoot anyone.  I pray no one will give me cause.  I have pulled my gun to investigate noises in my house.   I have neighbors that have had me do it for them too.  Thankfully it's never resulted in anyone getting shot, I have trained with police to not hesitate to take the shot if there's no other way.  I'll live with my choice.  I have to be right only once, maybe.  Victims have to be unmolested everyday.  Because the bad guys have a hard distinguishing me from you keeps you safer.  Police response where I live is 45 minutes.  They have told me their job is to "draw chalk outlines, not take bullets for a few 10k a year." 
"If there's one thing to say about mankind, there's nothing kind about man."
Tom Waits
Are you sure you want to delete this comment?
inspire: live a better life
Miss Manners advises on how to respond when one gets unsolicited advice about weight issues.

Editor's note: We will now be publishing Miss Manners articles twice weekly, but you will only see one question and answer per article. You can expect to see these articles appear on Tuesdays and Thursdays going forward.

President Harry S. Truman was behind efforts to establish the first Armed Forces Day in 1950, and decades later the nation continues to set aside the third Saturday in May to recognize and thank members of the U.S. military for their patriotic service. With these five homecoming images, we salute all service members at home and abroad.

There's much to be desired about working from home: the stress-free commute, flexible hours, and improved work-life balance.

Wishing for the fountain of youth? You may not need it. We've rounded up real-women secrets, tried-and-true beauty tips, and the latest research to help you fight aging.

Experts weigh in on when to bite your tongue at the office.

Oh, the places you'll go — to get some "me" time, that is. REDBOOK readers confess all on Facebook.

How much money you make isn't nearly as important as how you use it, according to Elizabeth Dunn and Michael Norton, authors of the new book Happy Money.

Plus, how do you ask people to not bring gifts to a shower?

Looking for a career upgrade? Follow these tips for a foot in the door.

These tanning and skin cancer myths aren't just wrong — they can do serious harm. Wise up and head into a healthier future. P.S. You'll look a lot younger too.

It's possible to rejigger your brain circuitry and feel more joy, even on Monday mornings. Here's how.