Gun ownership among women steadily rising
A shift in firearm purchases, and in attitude.
According to national polls and reports on firearm retailers, gun ownership among women in the U.S. has been steadily rising. The trend is coming to light following information provided by authorities that Nancy Lanza, who was shot by her son prior to his rampage on the Sandy Hook School in Newtown, CT, owned the weapons used to kill her, 20 elementary schoolchildren, and six adults.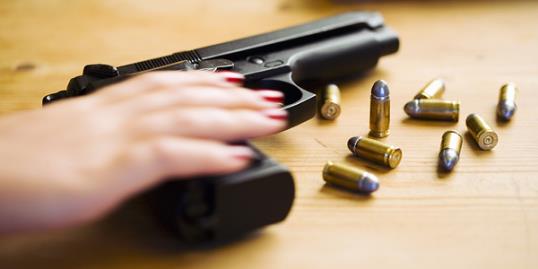 Nancy Lanza has been linked to the two handguns and the semiautomatic rifle Adam Lanza took to the school, and to two additional hunting rifles.
NBC News reported in March that, according to the National Shooting Sports Foundation, gun-store owners have recorded a 73 percent increase in female customers in recent years (dates not specified).The number of women buying guns specifically for personal defense has climbed by more than 83 percent. 
The use of firearms for sport among women has likewise seen a substantial rise. According to the National Sporting Goods Association, female participation in target shooting rose from 3.3 million in 2001 to 5 million in 2011, a 51 percent increase. Female participation in hunting lept 42 percent from 1.8 million to nearly 2.6 million over the same period, reports the Scripps Howard News Service this week.
Related: A global view on American gun violence
A Gallup poll released in October 2011 also contained insights into women's changing relationship with firearms. A record-high 43 percent of American women self-reported a gun in their home or somewhere on their property (compared to 52 percent of men), up 7 percent from the prior year.
Asked about ownership, 20 percent of women surveyed said a gun is owned by another household member and 23 percent said they personally own a gun (compared to 46 percent of men). Fifty-five percent of respondents reported no gun in the household.
Related: Newtown to the media: 'Enough is enough'
The subject of the poll was America's waning support of stricter gun laws. Gallup found the number of women favoring stricter laws on the sale of firearms fell 26 percent in 10 years, from 76 percent in favor of stricter laws in 1991 to 50 percent in 2011.
Women in favor of a ban on handguns fell from 51 percent to 31 percent over the same period. The decline followed a national shift in attitude from a majority to a minority favoring gun bans and stricter laws.
Bing: Obama calls for action on gun violence now.
Photo: David Sutherland/Getty Images
More from MSN Living:
Mom of mentally ill son asks for help
Whether - and what - to tell your kids about this tragedy
How to help your kids feel safe
inspire: live a better life
With all those deals you snagged on Black Friday, Small Business Saturday, and Cyber Monday, today is your chance to give back to those in need with #GivingTuesday.

Miss Manners provides guidance on how to handle a request for party contributions

Miss Manners instructs on why tit-for-tat never works

Miss Manners offers thoughts on guests who disregard dinner party instructions

Make big bucks, from home, having fun? These women got creative and figured out a way to have it all. You can too.

Your boss. You might like her, you probably respect her, but do you know how to approach someone who seems so different from you? (Spoiler: She's actually not.)

Over the weekend, Oprah decluttered her Montecito mansion and three other properties in a Santa Barbara yard sale that brought in more than $600,000(!). (Proceeds will benefit her girls' leadership academy in South Africa, and not half of a Crate and Barrel chair, the traditional end goal of yard-sale proceeds.)

Exclusively for MSN, we bring you a six-part series from the new book: MISS MANNERS MINDS YOUR BUSINESS by Judith and Nicholas Ivor Martin.

Miss Manners weighs in on the financial burdens of remote weddings

How Miss Manners suggests dealing with out of town guest who want tour guide services

Exclusively for MSN, we bring you a six-part series from the new book: MISS MANNERS MINDS YOUR BUSINESS by Judith and Nicholas Ivor Martin.