Gun ownership among women steadily rising
A shift in firearm purchases, and in attitude.
According to national polls and reports on firearm retailers, gun ownership among women in the U.S. has been steadily rising. The trend is coming to light following information provided by authorities that Nancy Lanza, who was shot by her son prior to his rampage on the Sandy Hook School in Newtown, CT, owned the weapons used to kill her, 20 elementary schoolchildren, and six adults.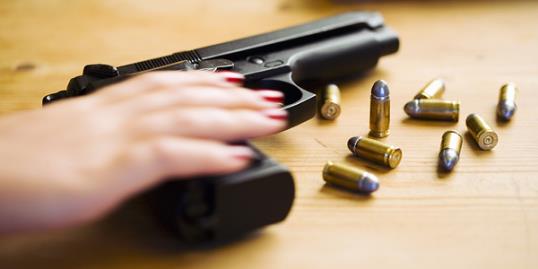 Nancy Lanza has been linked to the two handguns and the semiautomatic rifle Adam Lanza took to the school, and to two additional hunting rifles.
NBC News reported in March that, according to the National Shooting Sports Foundation, gun-store owners have recorded a 73 percent increase in female customers in recent years (dates not specified).The number of women buying guns specifically for personal defense has climbed by more than 83 percent. 
The use of firearms for sport among women has likewise seen a substantial rise. According to the National Sporting Goods Association, female participation in target shooting rose from 3.3 million in 2001 to 5 million in 2011, a 51 percent increase. Female participation in hunting lept 42 percent from 1.8 million to nearly 2.6 million over the same period, reports the Scripps Howard News Service this week.
Related: A global view on American gun violence
A Gallup poll released in October 2011 also contained insights into women's changing relationship with firearms. A record-high 43 percent of American women self-reported a gun in their home or somewhere on their property (compared to 52 percent of men), up 7 percent from the prior year.
Asked about ownership, 20 percent of women surveyed said a gun is owned by another household member and 23 percent said they personally own a gun (compared to 46 percent of men). Fifty-five percent of respondents reported no gun in the household.
Related: Newtown to the media: 'Enough is enough'
The subject of the poll was America's waning support of stricter gun laws. Gallup found the number of women favoring stricter laws on the sale of firearms fell 26 percent in 10 years, from 76 percent in favor of stricter laws in 1991 to 50 percent in 2011.
Women in favor of a ban on handguns fell from 51 percent to 31 percent over the same period. The decline followed a national shift in attitude from a majority to a minority favoring gun bans and stricter laws.
Bing: Obama calls for action on gun violence now.
Photo: David Sutherland/Getty Images
More from MSN Living:
Mom of mentally ill son asks for help
Whether - and what - to tell your kids about this tragedy
How to help your kids feel safe
inspire: live a better life
How much do you really know about the Earth? In honor of Earth Day, April 22, we explore some interesting and fun facts about the fifth-largest planet of our solar system.

Happify shares their results of a recent study on how money affects our happiness.

A top exec reveals the company's secret code

Pro tips from the guy who's done it four times

Not all mistakes are as blatant as posting party pics when you're 'sick' at home.

Everyone struggles through weekday drudgery to reach their weekend fun. But what if you could reclaim every day of your life?

Zooming up the ladder is great, but questioning yourself 24/7 is no way to succeed. Manage your stressed self with these surefire tips.

Forget trying to control every little detail. Life is lots more fun (and less stressful) when you let go from the get-go.

So, what exactly is this thing we call "happiness" and how do we get it?

Mark Zuckerberg has an even bigger effect on your life than you thought.

Everyone makes mistakes, but some mistakes can be devastating. Here are 10 icons who fell from grace, and what they can do to redeem themselves.

Twitter turns eight years old today.