5 Mardi Gras myths
Headed to N'awlins? You can keep your top on.
If you're wondering what the Preservation Hall Jazz Band from New Orleans was doing onstage last night at the Grammys in Los Angeles, you missed out on the music industry's nod to Mardi Gras. Here are five myths about Mardi Gras, the grand carnival culminating on Feb 12 this year.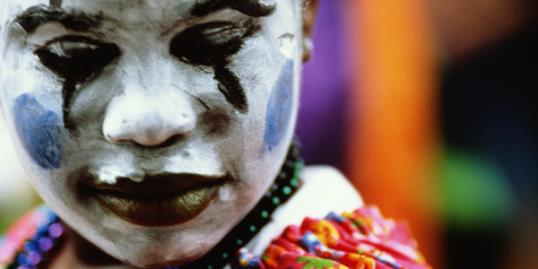 Mardis Gras isn't just a day — it's a season. Mardi Gras is the carvinal season preceding Lent, the 40-day period of fasting and abstinence leading up to the Christian celebration of Easter. The official start of Mardi Gras comes every year on the Epiphany holiday of January 6th and runs until the midnight before Ash Wednesday. "Fat Tuesday" marks the final day of feasting and merriment.
More from MSN Living: 40 time-saving tips
Flashing is not a tradition. To outsiders, Mardi Gras has become renowned in recent years for the drunken co-eds baring their chests to the great joy of drunken frat boys. Some young women on spring break have found an effective way to call attention to themselves as they and other parade-goers vie for the beads, or "throws," and other gifts being tossed from passing floats. But you can get your throws while remaining fully clothed — and most locals wish you would.
There's more than one Mardi Gras parade. In fact, there are more than sixty, with new parades added every eyar, and they don't all pass through the touristy madness of the French Quarter's Bourbon Street scene described above. A spectacular variety of "krewes," each with a theme of its own, parade along follow different routes in NOLA beginning in January. Among the most famous is the Krewe of Rex, founded in 1872, a centerpiece of the festival featuring some 600 male riders. A recent addition is the Petite Rex — ironically nicknamed "T-Rex" — featuring floats the size of shoeboxes.
More from MSN Living: 7 easy ways to get better sleep
Mardi Gras is a family affair. Carnival is a famously inclusive celebration — everybody's welcome regardless of age, color, creed, political persuasion, sexual persuasion, or otherwise. Families line the parade routes all season long to sing, dance, and catch not only the throws but the doubloons, shoes, painted coconuts, toys, and stuffed animals tossed from the floats. Granted, if you're bringing the wee ones, you may want to steer clear of Bourbon Street.
Bing: See pictures from Mardi Gras
You don't have to love Dixieland to enjoy Mardi Gras. It helps, but you need not be a fan of any kind of jazz, which the Big Easy first cooked up in a gumbo of blues and African rhythm. However, you will want to know the tune "If Ever I Cease To Love," the unofficial theme of Mardi Gras. The song's lyrics mirror both the warmth and the madness of the carnival season: If ever I cease to love / May cows lay eggs and fish grow legs / If ever I cease to love.
More from The Daily Dose:
The most common job for women?
Chinese New Year: Which animal are you?
Boy Scout gay policy: What would change?
Love content like this? Friend us on Facebook, follow us on Twitter and find us on Pinterest
Photo: Piecework Productions/Getty Images
inspire: live a better life
Getting to happy may be easier than you think.

Drowning in debt? Maybe there's a silver lining.

"But it's not real life, you know. It's a vacation."

Nothing can stop a woman with a plan. Whether she's creating her own hair care line in a Brooklyn kitchen, like Carol's Daughter's Lisa Price, or leaving a modeling career behind to launch her own media empire, like Tyra Banks, it all starts with a dream.

Our list of must-dos before hitting the road.

Vacations are relaxing, yet sometimes stressful.