What is Pi Day and why do we care?
Rational thoughts about 3.14 on 3/14.
Today's date can be written as 3.14 — the same digits used to estimate π, the ratio of the circumference of a circle to its diameter.
In case you missed geometry class, pi is used in the formula πr2  to calculate the area of a circle: multiply pi (π) by the radius squared (r2). Back in the 1700s, a Swiss mathematician swiped π, the sixteenth letter of the Greek alphabet, from the first letter of periphereia, meaning periphery or circumference.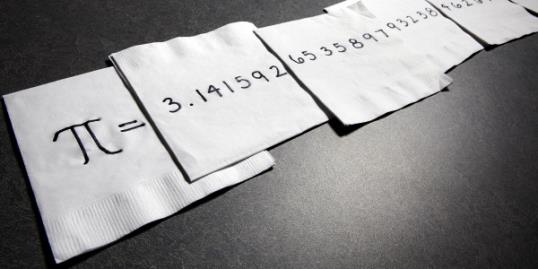 But pi is interesting as far as numbers go because even though a circle is a simple shape that every preschooler can recognize, the precise number represented by pi remains stubbornly elusive.
More from MSN Living: 25 ways technology has changed our lives
What's the last digit in pi? No one knows. It's an irrational number, meaning that it can't be properly expressed by any fraction or decimal. Pi continues infinitely without repeating. In 2010, a Japanese-American duo used a computer system to calculate pi to the five trillionth decimal place. You can see the first one million decimal places on this webpage (be patient — a million digits take a long time to load).
Some irrational numbers, being infinite and therefore literally beyond our comprehension, are referred to as transcendental numbers — lending the numerology of pi a nearly spiritual or religious quality. But for school teachers and math geeks across the land, Pi Day isn't so much a high holiday as a teaching opportunity.
More from MSN Living: 20 things everyone should do at least once 
Physicist Larry Shaw is credited with organizing the first Pi Day celebration at the San Francisco Exploratorium in 1988. A year later, the House of Representaives supported the designation of Pi Day. For the deeply geeky, Pi Approximation Day is observed on July 22 — since 22/7 approximates π in the form of a fraction.
Bing: More about Pi Day
Students across the country aren't apt to get too excited about Pi Day since it's not going to get them out of school anytime soon. But if they correctly calculate the area of a circle, a nice geometry teacher just might transect the diameter at a generous angle and slice them a nice sector of pie.
More from Daily Dose:
Paralyzed by a pretty face
Is less stuff the key to happiness?
4 women who are changing the world
Love content like this? Friend us on Facebook, follow us on Twitter and find us on Pinterest
Photo: What is Pi Day / Jeffrey Coolidge/Getty Images
Are you sure you want to delete this comment?
inspire: live a better life
Our best health and fitness tips including the one move that tones all, berry news, and more.

Who just wants to stand around and watch the red and gold leaves slowly fall from their tree branches to the ground as we move from summer to fall? Instead, take in the changing seasons while you're on the move.

Here's some tips to get to happiness going forward in your life.

People 60 to 82 did best on cognitive tasks before 10:30am.

Lucille Ball was born in 1911, and though we lost her long ago, her legacy as America's favorite redhead lives on through the timeless classic, "I Love Lucy." People of all generations still enjoy Lucy's antics as much as they did over 60 years ago when the show first premiered.

Summer is coming to an end, and in a few weeks, kids will be forced to trade in their beach bags for backpacks. But just because the season is fading away doesn't mean the memories from the past few months have to disappear with it.

Confidence and perceived competence are key, study finds.

Features lead to assumptions about character, study says.

Great gear for an afternoon spent shoreside.

Use these bucket-list ideas to enjoy the little time you have left.

Study points to benefits of improved living conditions.