What is Pi Day and why do we care?
Rational thoughts about 3.14 on 3/14.
Today's date can be written as 3.14 — the same digits used to estimate π, the ratio of the circumference of a circle to its diameter.
In case you missed geometry class, pi is used in the formula πr2  to calculate the area of a circle: multiply pi (π) by the radius squared (r2). Back in the 1700s, a Swiss mathematician swiped π, the sixteenth letter of the Greek alphabet, from the first letter of periphereia, meaning periphery or circumference.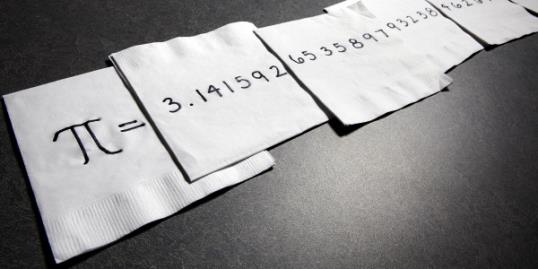 But pi is interesting as far as numbers go because even though a circle is a simple shape that every preschooler can recognize, the precise number represented by pi remains stubbornly elusive.
More from MSN Living: 25 ways technology has changed our lives
What's the last digit in pi? No one knows. It's an irrational number, meaning that it can't be properly expressed by any fraction or decimal. Pi continues infinitely without repeating. In 2010, a Japanese-American duo used a computer system to calculate pi to the five trillionth decimal place. You can see the first one million decimal places on this webpage (be patient — a million digits take a long time to load).
Some irrational numbers, being infinite and therefore literally beyond our comprehension, are referred to as transcendental numbers — lending the numerology of pi a nearly spiritual or religious quality. But for school teachers and math geeks across the land, Pi Day isn't so much a high holiday as a teaching opportunity.
More from MSN Living: 20 things everyone should do at least once 
Physicist Larry Shaw is credited with organizing the first Pi Day celebration at the San Francisco Exploratorium in 1988. A year later, the House of Representaives supported the designation of Pi Day. For the deeply geeky, Pi Approximation Day is observed on July 22 — since 22/7 approximates π in the form of a fraction.
Bing: More about Pi Day
Students across the country aren't apt to get too excited about Pi Day since it's not going to get them out of school anytime soon. But if they correctly calculate the area of a circle, a nice geometry teacher just might transect the diameter at a generous angle and slice them a nice sector of pie.
More from Daily Dose:
Paralyzed by a pretty face
Is less stuff the key to happiness?
4 women who are changing the world
Love content like this? Friend us on Facebook, follow us on Twitter and find us on Pinterest
Photo: What is Pi Day / Jeffrey Coolidge/Getty Images
Are you sure you want to delete this comment?
inspire: live a better life
Miss Manners advises on how to respond when one gets unsolicited advice about weight issues.

Editor's note: We will now be publishing Miss Manners articles twice weekly, but you will only see one question and answer per article. You can expect to see these articles appear on Tuesdays and Thursdays going forward.

President Harry S. Truman was behind efforts to establish the first Armed Forces Day in 1950, and decades later the nation continues to set aside the third Saturday in May to recognize and thank members of the U.S. military for their patriotic service. With these five homecoming images, we salute all service members at home and abroad.

There's much to be desired about working from home: the stress-free commute, flexible hours, and improved work-life balance.

Wishing for the fountain of youth? You may not need it. We've rounded up real-women secrets, tried-and-true beauty tips, and the latest research to help you fight aging.

Experts weigh in on when to bite your tongue at the office.

Oh, the places you'll go — to get some "me" time, that is. REDBOOK readers confess all on Facebook.

How much money you make isn't nearly as important as how you use it, according to Elizabeth Dunn and Michael Norton, authors of the new book Happy Money.

Plus, how do you ask people to not bring gifts to a shower?

Looking for a career upgrade? Follow these tips for a foot in the door.

These tanning and skin cancer myths aren't just wrong — they can do serious harm. Wise up and head into a healthier future. P.S. You'll look a lot younger too.

It's possible to rejigger your brain circuitry and feel more joy, even on Monday mornings. Here's how.