Poll: Moral values in US are declining
Republicans, especially, see our moral compass pointing south.
A Gallup poll released this week indicates that most Americans are very pessimistic about the future of the country's moral values.
In the poll of 1,535 randomly selected adults, 72 percent said moral values in the country as a whole are getting worse. Twenty percent said values are getting better, and 6 percent said they are staying the same.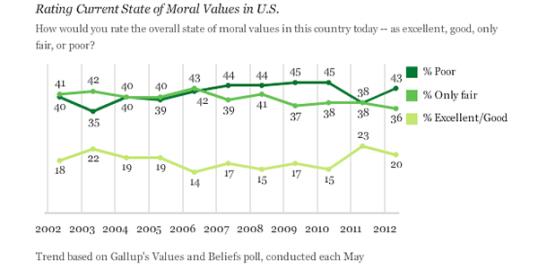 Each May, Gallup conducts a Values and Beliefs poll. This year's poll marks few changes from 2012's, indicating that Americans remain down on the future state of moral values. However, more respondents have a somewhat sunnier view than did a few years ago, when more than 80 percent thought values were in decline in the years 2006 through 2008.
Gallery: 15 untruths you may have believed
Another Gallup poll released earlier this month took the temperature on the nation's current (rather than future) view of moral values, and showed that 44 percent of Americans rate the state of moral values in the U.S. as "poor."
The net result of the two polls' trends, according to Gallup, is that seven in 10 Americans have a negative view of our morals today and think that values are either worsening or, at best, staying the same.
Gallup subdivides its survey participants by asking them to identify themselves by political party, annual household income, marital status and frequency of church attendance (weekly, nearly weekly/monthly, or "less often").
On balance, Republicans appear far more likely than Democrats and independents to have negative assessments of moral values, though majorities of all partisan groups have negative perspectives. The negative view of moral values in the U.S. was also more prominent among those who identify themselves as upper- and middle-income ($30K/year and up), those who are married and those who attend church regularly.
A separate poll conducted last year asked Americans for their views on the most important problem with the state of our moral values. Americans were more likely to base their opinions on the perceived lack of respect or tolerance for other people than on divisive socio-political issues such as abortion or same-sex marriage.
In that poll, 18 percent mentioned "Consideration of others, compassion, caring, tolerance or respect" as the most important moral problems we face. Ten percent cited lack of family structure, and an equal 10 percent mentioned lack of faith or religion. The issues of jobs, the economy and pro-choice/women's rights were each mentioned by 1 percent of respondents.
More from Daily Dose:
Disaster preparedness: Everything you need to know
Harry Potter book with author notes sold for $228K
Ferris wheel world record broken in Chicago
Love content like this? Friend us on Facebook, follow us on Twitter and find us on Pinterest.
Image: Courtesy of Gallup, gallup.com

The Liberal Life style is not conducive to having or being moral. For example, look at the Porn currently being filmed in California. The President and his honesty and a number of other indicators from making Hero's of Criminals to removing God from Schools though I do not know many students who do not ask for God's help before a test, or how many girls sow some wild oats on Saturday and are praying for crop failure on Sunday. Many of the current Popular Evangelists and Ministers on TV even push the do it if it feels good because God will forgive you routine which says what hypocrites they are and the people who are sucked in by it. The millions who defile their bodies with Cocaine, Heroin, Marijuana, and Alcohol lead an amoral life style akin to abuse. And of course the Demoncrats know if they keep the people stoned, drunk and sexed up and parting the lame brains will vote for them...

C'mon...every generation has said that during their lifetime morals have been declining.  They'll be saying this a hundred years from now, too, and look back to today thinking we were so much more moral now than the current generation looking back.  Heck, look at the moral values of the "giants of industry" at the beginning of the 1900s who used child labor and sent thugs to break up strikes.   Look at the priests and boy scout leaders in the 60's and 70's that abused kids and their organizations covered it up.  These issues are certainly in better shape today than they were in the past.  I guess it depends on what "morality" is being judged and by whom.
Are you sure you want to delete this comment?
inspire: live a better life
With all those deals you snagged on Black Friday, Small Business Saturday, and Cyber Monday, today is your chance to give back to those in need with #GivingTuesday.

Miss Manners provides guidance on how to handle a request for party contributions

Miss Manners instructs on why tit-for-tat never works

Miss Manners offers thoughts on guests who disregard dinner party instructions

Make big bucks, from home, having fun? These women got creative and figured out a way to have it all. You can too.

Your boss. You might like her, you probably respect her, but do you know how to approach someone who seems so different from you? (Spoiler: She's actually not.)

Over the weekend, Oprah decluttered her Montecito mansion and three other properties in a Santa Barbara yard sale that brought in more than $600,000(!). (Proceeds will benefit her girls' leadership academy in South Africa, and not half of a Crate and Barrel chair, the traditional end goal of yard-sale proceeds.)

Exclusively for MSN, we bring you a six-part series from the new book: MISS MANNERS MINDS YOUR BUSINESS by Judith and Nicholas Ivor Martin.

Miss Manners weighs in on the financial burdens of remote weddings

How Miss Manners suggests dealing with out of town guest who want tour guide services

Exclusively for MSN, we bring you a six-part series from the new book: MISS MANNERS MINDS YOUR BUSINESS by Judith and Nicholas Ivor Martin.