Full-tilt Powerball frenzy in Florida
Forecast for a big win in the Sunshine State looks favorable; $83 million worth of tickets sold.
OK, Florida. You're kind of showing off with your Powerball sales. A Fort Lauderdale newspaper is claiming that the Sunshine State has the best chance of winning tonight's $550 million Powerball jackpot. And it's not because they have optimism on their side; Florida players have bought more than $83 million worth of tickets.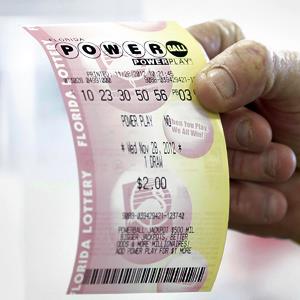 More on MSN Living: 50 things everyone should know about marriage
That's more tickets than any other state. Despite Florida's unstoppable spending, the odds of winning are still 1 in 175 million. On the bright side, no matter the odds, someone has to win, right? 
According to AZCentral.com, Chuck Strutt, the executive director of Multi-State Lottery Association, predicts there's roughly a 60 percent that someone will win Powerball tonight. Chances increase if there's a flurry of last-minute ticket buyers who choose their own numbers. 
If no one wins tonight, the jackpot will continue to skyrocket as ticket sales grow. Good luck!
More on MSN Living: The top 10 traits women want in a man
Bing: Lottery winners who lost it all

Read the full story at SunSentinel.com.
Photo: Chris O'Meara/AP 
More from MSN Living:
25 things she finds sexiest about you
8 words that give away a liar
The trends men love ... and the ones they hate
inspire: live a better life
Some say it's a small world. We beg to differ. Earth has so many wondrous places worth exploring, and most of us are lucky to see a handful of them. Here are 30 of the top trips of a lifetime.

You'll stave off credit card debt by the end of the year if you account for these often-forgotten expenses.

Mark Zuckerberg has an even bigger effect on your life than you thought.

Take this advice to finally tackle that nagging to-do list.

The iconic storyteller would have been 110-years-old

Take the time to appreciate women's contributions to society. Here are some of the women who inspire us by their example.

Cast of the iconic TV show reunites for Florence Henderson's birthday

We couldn't be more excited to watch the best athletes in the world compete at the Winter Olympics in Sochi. This year, about 44 percent of the competitors are women according to the International Olympic Committee—which is awesome but wasn't always the case. Let's look back at some of the amazing women who paved the way with incredible, memorable feats of girl power.

Still pulling yourself out of holiday credit card debt? Ready to pool some funds for that beach vacation you've been dreaming about at your desk? We're with you 100 percent.

"FOMO, the fear of missing out, is a form of social anxiety," says psychiatrist Gail Saltz. "This type of fear tends to cause compulsive behaviors, like checking out other social situations even as you are in the middle of one currently."

When The Shriver Report was released in early January, we shared some of the more interesting statistics about income equality, the wage gap, and other issues confronting women.

Clay Aiken to run for public office.