Full-tilt Powerball frenzy in Florida
Forecast for a big win in the Sunshine State looks favorable; $83 million worth of tickets sold.
OK, Florida. You're kind of showing off with your Powerball sales. A Fort Lauderdale newspaper is claiming that the Sunshine State has the best chance of winning tonight's $550 million Powerball jackpot. And it's not because they have optimism on their side; Florida players have bought more than $83 million worth of tickets.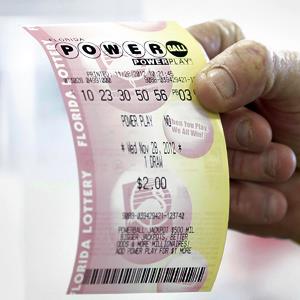 More on MSN Living: 50 things everyone should know about marriage
That's more tickets than any other state. Despite Florida's unstoppable spending, the odds of winning are still 1 in 175 million. On the bright side, no matter the odds, someone has to win, right? 
According to AZCentral.com, Chuck Strutt, the executive director of Multi-State Lottery Association, predicts there's roughly a 60 percent that someone will win Powerball tonight. Chances increase if there's a flurry of last-minute ticket buyers who choose their own numbers. 
If no one wins tonight, the jackpot will continue to skyrocket as ticket sales grow. Good luck!
More on MSN Living: The top 10 traits women want in a man
Bing: Lottery winners who lost it all

Read the full story at SunSentinel.com.
Photo: Chris O'Meara/AP 
More from MSN Living:
25 things she finds sexiest about you
8 words that give away a liar
The trends men love ... and the ones they hate
inspire: live a better life
Summer traditions can be great, but if you're on year six of packing the same people into the same car to go on the same vacation, it's time to switch things up. Surfing in Portugal, perhaps – or cycling through Northern Ireland. We've put together a list of 15 places well off the beaten path that you should go to when you're ready to try something new.

Grab a sleeping bag and head out to one of these amazing campsites.

A dozen adventures that are well worth the trip.

Paper downplays the significance of practice over raw talent.

Survey says American teens aren't great at complex or basic financial tasks.

Fear of Moving Away: How to conquer the latest cultural anxiety and embrace the unknown.

Adulthood has no eureka moment.

Just like your body, your brain needs a regular workout too.

Being a winner is a good feeling to have — especially in life. Winning doesn't solely relate to competitions or Charlie Sheen's coining of the term back in 2011. From achieving success to maintaining a work-life balance, find out what characteristics mean your life is going the way it should be. You may just even find an inspiration or two that you'll want to incorporate into your daily routine!

Sometimes it seems like you need a vacation from your vacation.

That'll get you and your 2 kids a house, SUV, and more, per a 'USA Today' analysis.

While most of us associate the Fourth of July with fireworks and barbecue (and taking a long weekend off from work), it's also an important day to give thanks to the people who help keep us safe.