Full-tilt Powerball frenzy in Florida
Forecast for a big win in the Sunshine State looks favorable; $83 million worth of tickets sold.
OK, Florida. You're kind of showing off with your Powerball sales. A Fort Lauderdale newspaper is claiming that the Sunshine State has the best chance of winning tonight's $550 million Powerball jackpot. And it's not because they have optimism on their side; Florida players have bought more than $83 million worth of tickets.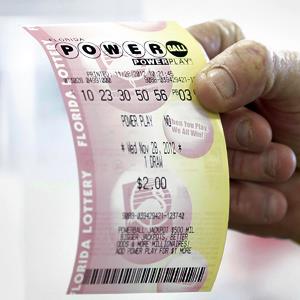 More on MSN Living: 50 things everyone should know about marriage
That's more tickets than any other state. Despite Florida's unstoppable spending, the odds of winning are still 1 in 175 million. On the bright side, no matter the odds, someone has to win, right? 
According to AZCentral.com, Chuck Strutt, the executive director of Multi-State Lottery Association, predicts there's roughly a 60 percent that someone will win Powerball tonight. Chances increase if there's a flurry of last-minute ticket buyers who choose their own numbers. 
If no one wins tonight, the jackpot will continue to skyrocket as ticket sales grow. Good luck!
More on MSN Living: The top 10 traits women want in a man
Bing: Lottery winners who lost it all

Read the full story at SunSentinel.com.
Photo: Chris O'Meara/AP 
More from MSN Living:
25 things she finds sexiest about you
8 words that give away a liar
The trends men love ... and the ones they hate
inspire: live a better life
Miss Manners advises on how to respond when one gets unsolicited advice about weight issues.

Editor's note: We will now be publishing Miss Manners articles twice weekly, but you will only see one question and answer per article. You can expect to see these articles appear on Tuesdays and Thursdays going forward.

President Harry S. Truman was behind efforts to establish the first Armed Forces Day in 1950, and decades later the nation continues to set aside the third Saturday in May to recognize and thank members of the U.S. military for their patriotic service. With these five homecoming images, we salute all service members at home and abroad.

There's much to be desired about working from home: the stress-free commute, flexible hours, and improved work-life balance.

Wishing for the fountain of youth? You may not need it. We've rounded up real-women secrets, tried-and-true beauty tips, and the latest research to help you fight aging.

Experts weigh in on when to bite your tongue at the office.

Oh, the places you'll go — to get some "me" time, that is. REDBOOK readers confess all on Facebook.

How much money you make isn't nearly as important as how you use it, according to Elizabeth Dunn and Michael Norton, authors of the new book Happy Money.

Plus, how do you ask people to not bring gifts to a shower?

Looking for a career upgrade? Follow these tips for a foot in the door.

These tanning and skin cancer myths aren't just wrong — they can do serious harm. Wise up and head into a healthier future. P.S. You'll look a lot younger too.

It's possible to rejigger your brain circuitry and feel more joy, even on Monday mornings. Here's how.