Full-tilt Powerball frenzy in Florida
Forecast for a big win in the Sunshine State looks favorable; $83 million worth of tickets sold.
OK, Florida. You're kind of showing off with your Powerball sales. A Fort Lauderdale newspaper is claiming that the Sunshine State has the best chance of winning tonight's $550 million Powerball jackpot. And it's not because they have optimism on their side; Florida players have bought more than $83 million worth of tickets.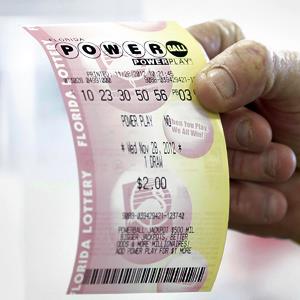 More on MSN Living: 50 things everyone should know about marriage
That's more tickets than any other state. Despite Florida's unstoppable spending, the odds of winning are still 1 in 175 million. On the bright side, no matter the odds, someone has to win, right? 
According to AZCentral.com, Chuck Strutt, the executive director of Multi-State Lottery Association, predicts there's roughly a 60 percent that someone will win Powerball tonight. Chances increase if there's a flurry of last-minute ticket buyers who choose their own numbers. 
If no one wins tonight, the jackpot will continue to skyrocket as ticket sales grow. Good luck!
More on MSN Living: The top 10 traits women want in a man
Bing: Lottery winners who lost it all

Read the full story at SunSentinel.com.
Photo: Chris O'Meara/AP 
More from MSN Living:
25 things she finds sexiest about you
8 words that give away a liar
The trends men love ... and the ones they hate
inspire: live a better life
How much do you really know about the Earth? In honor of Earth Day, April 22, we explore some interesting and fun facts about the fifth-largest planet of our solar system.

Happify shares their results of a recent study on how money affects our happiness.

A top exec reveals the company's secret code

Pro tips from the guy who's done it four times

Not all mistakes are as blatant as posting party pics when you're 'sick' at home.

Everyone struggles through weekday drudgery to reach their weekend fun. But what if you could reclaim every day of your life?

Zooming up the ladder is great, but questioning yourself 24/7 is no way to succeed. Manage your stressed self with these surefire tips.

Forget trying to control every little detail. Life is lots more fun (and less stressful) when you let go from the get-go.

So, what exactly is this thing we call "happiness" and how do we get it?

Mark Zuckerberg has an even bigger effect on your life than you thought.

Everyone makes mistakes, but some mistakes can be devastating. Here are 10 icons who fell from grace, and what they can do to redeem themselves.

Twitter turns eight years old today.