Why do haters hate?
It's ingrained in an individual's personality, research suggests.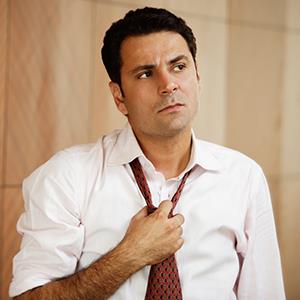 Some people seem to dislike everything.
But what makes haters hate?
It's all part of our individual personality — or "dispositional attitude," according to new research published in the Journal of Personality and Social Psychology.
More from MSN Living: The makeup hater's guide to makeup
"Some people may simply be more prone to focusing on positive features and others on negative features," said co-author Justin Hepler of the University of Illinois at Urbana-Champaign.
To learn whether people differ in the tendency to like or dislike things, Hepler and co-author Dolores Albarracín, the Martin Fishbein Chair of Communication at the Annenberg School for Communication at the University of Pennsylvania, asked participants to report their attitudes on a variety of unrelated subjects such as architecture, politics, soccer and taxes. The responses were then averaged to calculate how much each individual tends like or dislike things in general.
Bing: Dealing with haters
The researchers found that those with generally positive dispositional attitudes are more open to follow positive actions — in other words, buy new things, recycle or drive safely.
And the haters? People who strongly hate one thing are likely to strongly hate other things as well. "You also have to consider the person," Hepler said.
More in Daily Dose:
Study: Race relations in the U.S. improving
Munchies from marijuana festival fetch $50 online
Study: Facebook makes us unhappy
Subscribe to the Daily Dose | Friend us on Facebook, follow us on Twitter and find us on Pinterest.
inspire: live a better life
From international roaming fees to skipping travel insurance, these mistakes can put a damper on your next vacation.

Where in the world do you want to go? Somewhere unique? Any of the places described here are sure to make your next world-travel adventure truly memorable.

It's easy to lead, but it takes courage and conviction to be a truly great leader. Here are 10 inspiring leaders and what we can learn from them.

Some say it's a small world. We beg to differ. Earth has so many wondrous places worth exploring, and most of us are lucky to see a handful of them. Here are 30 of the top trips of a lifetime.

The semi-annual glitch in your daily routine is back this weekend.

You'll stave off credit card debt by the end of the year if you account for these often-forgotten expenses.

Mark Zuckerberg has an even bigger effect on your life than you thought.

Take this advice to finally tackle that nagging to-do list.

The iconic storyteller would have been 110-years-old

Take the time to appreciate women's contributions to society. Here are some of the women who inspire us by their example.

Cast of the iconic TV show reunites for Florence Henderson's birthday

We couldn't be more excited to watch the best athletes in the world compete at the Winter Olympics in Sochi. This year, about 44 percent of the competitors are women according to the International Olympic Committee—which is awesome but wasn't always the case. Let's look back at some of the amazing women who paved the way with incredible, memorable feats of girl power.