Why do haters hate?
It's ingrained in an individual's personality, research suggests.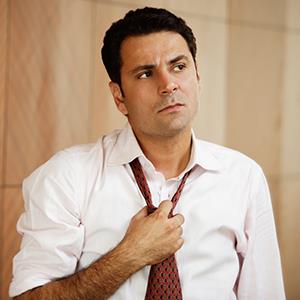 Some people seem to dislike everything.
But what makes haters hate?
It's all part of our individual personality — or "dispositional attitude," according to new research published in the Journal of Personality and Social Psychology.
More from MSN Living: The makeup hater's guide to makeup
"Some people may simply be more prone to focusing on positive features and others on negative features," said co-author Justin Hepler of the University of Illinois at Urbana-Champaign.
To learn whether people differ in the tendency to like or dislike things, Hepler and co-author Dolores Albarracín, the Martin Fishbein Chair of Communication at the Annenberg School for Communication at the University of Pennsylvania, asked participants to report their attitudes on a variety of unrelated subjects such as architecture, politics, soccer and taxes. The responses were then averaged to calculate how much each individual tends like or dislike things in general.
Bing: Dealing with haters
The researchers found that those with generally positive dispositional attitudes are more open to follow positive actions — in other words, buy new things, recycle or drive safely.
And the haters? People who strongly hate one thing are likely to strongly hate other things as well. "You also have to consider the person," Hepler said.
More in Daily Dose:
Study: Race relations in the U.S. improving
Munchies from marijuana festival fetch $50 online
Study: Facebook makes us unhappy
Subscribe to the Daily Dose | Friend us on Facebook, follow us on Twitter and find us on Pinterest.
inspire: live a better life
Use these bucket-list ideas to enjoy the little time you have left.

Study points to benefits of improved living conditions.

Don't leave home without these must-have items.

Handshakes spread 20 times more germs, study says.

Drowning in debt? Maybe there's a silver lining.

"But it's not real life, you know. It's a vacation."

Our list of must-dos before hitting the road.

Summer traditions can be great, but if you're on year six of packing the same people into the same car to go on the same vacation, it's time to switch things up. Surfing in Portugal, perhaps – or cycling through Northern Ireland. We've put together a list of 15 places well off the beaten path that you should go to when you're ready to try something new.

Grab a sleeping bag and head out to one of these amazing campsites.

A dozen adventures that are well worth the trip.

Paper downplays the significance of practice over raw talent.

Survey says American teens aren't great at complex or basic financial tasks.