10 summer facts you didn't know
Thoughts on 'dog days,' Popsicles and the dreaded summer job.
Summer conjures thoughts of sand between the toes, long dips in cool water and nicking off time at work to extend the weekend. As you head out into the sun, here are 10 little-known facts to take with you.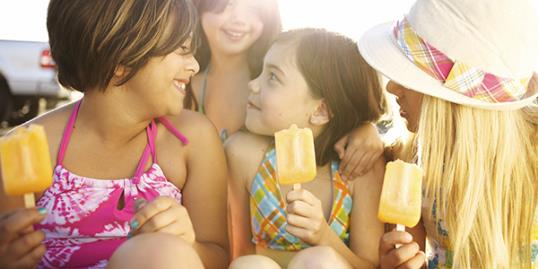 • The Popsicle: This longtime summer favorite was invented by 11-year-old Frank Epperson in 1905. He had mixed powdered soda flavoring with water and inadvertently left the mixture outside overnight, with the stirring stick still in it, when temperatures dropped below freezing. He patented the "Epsicle ice pop" in 1924.
• The solstice: The summer solstice, which falls on June 21 this year and marks the true start of summer, is when the sun is farthest north of the equator. Solstice comes from the Latin words sol meaning "sun" and sistere meaning "still." "The sun stands still" is an apt description of how the astronomical event appears from Earth.
• "Dog days": The phrase "dog days of summer" refers to the weeks between July 3 and Aug. 11. They are named after the "Dog Star," Sirius, in the constellation Canis Major. Ancient Romans and Greeks blamed Sirius for the extreme temperatures, drought, sickness and discomfort that came in summer.
• School vacation: There were no summer school vacations until educator Horace Mann created them in 1840. Depending on where you lived, school breaks came either quarterly, if you lived in a town or city, or when planting and harvesting were active, if you lived among farmlands. Summer vacations in other parts of the world are much shorter than in the U.S.
• Learning losses: Students will experience learning losses during the summer if they do not engage in educational activities. Most students lose about two months of grade-level equivalency in math computation skills, and some lose more than two months of equivalency in reading achievement. Students typically score lower on standardized tests at the end of summer vacation than they do on the same tests at the beginning of the summer.
• Weight gain: Children at high risk of obesity gain weight more rapidly when they are out of school during summer break, unless they remain physically active during these months.
• Ice cream: In 1984, President Ronald Reagan designated July as National Ice Cream Month and the third Sunday of the month as National Ice Cream Day. Almost 10 percent of all the milk produced in the U.S. is used to supply the ice cream industry, which generates more than $10 billion in revenue annually. Americans eat about 5.5 gallons of ice cream per year on average
• TV programming: Summer television used to be repeats only as Americans were typically outdoors for more hours during the summer. New programming was added to summer television lineups beginning in 1991 with a special summer season of "90210," a network first.
• Summer jobs: Thoughts of a summer job may seem brutally depressing if you're a teenager, though you really are in good company. Multi-billionaire Warren Buffett's first job was at his grandfather's grocery shop. Actor Orlando Bloom worked at a clay-pigeon shooting range. Beyoncé Knowles swept up hair cuttings at her mother's hairdressing salon. Before he made moves like Jagger, Mick sold ice cream. Brad Pitt dressed up as a giant chicken to promote a restaurant, and Eva Mendes sold hot dogs at a mall.
• Wildfires: Increased temperatures and drought throughout the western U.S. have summoned severe summer wildfires. Since 2006, the U.S. has had the three worst years for wildfires during the summer months. More than 9 million acres – more land than makes up the state of Maryland – were burned during 2012 alone. Brush and outside fire incidents are four times higher on July 4 than on any other day.
More from Daily Dose:
Missing man walks up to news crew covering his story
Man had pencil in head for 15 years
FBI investigated song 'Louie Louie' for 2 years
Subscribe to the Daily Dose | Friend us on Facebook, follow us on Twitter and find us on Pinterest.
Photo: Kids eating Popsicles / Priscilla Gragg/Getty Images
Are you sure you want to delete this comment?
inspire: live a better life
Summer and winter tend to hog all the glory when it comes to travel high seasons. Sure, you want to soak up all the time at the beach you can during the summer, and you just want to escape the cold during the last months of the year.

Who just wants to stand around and watch the red and gold leaves slowly fall from their tree branches to the ground as we move from summer to fall? Instead, take in the changing seasons while you're on the move.

In September, I'll turn 38. I'm at the age now where, when people ask how old I am, it takes me a minute to remember. I don't know if that's because I've already been 37 different ages and it's hard to keep straight which one I am now, or if it's because I'm in denial, or if it's because I am going senile. Maybe a combination of all of the above. Regardless, my 30s have flown by and soon they will be but a memory. So, in an effort to preserve the memory I have left (or at least keep a record of it), and to celebrate what has been an amazing decade so far, here are 30 things that have happened to me in my 30s (and will probably happen to you too):

Traveling doesn't have to be stressful. And what you can fit in your carry-on can make all the difference (and not just a fresh pair of socks), especially when you get that low battery signal.

Volunteering (and these other rituals) might be just as good as exercise when it comes to extending your life.

Use these tricks to set a better tone for the rest of the week.

Whether it involves a food fight, mermaids or a torch-lit procession, people the world over know how to have a good time. Here are some of the biggest, boldest, booziest celebrations around, along with some tips to get the full experience.

Research could mean more effective treatment for human disorders.

An entry a day might keep the doctor away (or at least the shrink).

One woman's shout-outs to daily moments of joy — and how to cultivate them.

Our best health and fitness tips including the one move that tones all, berry news, and more.