Should Prostitution Be Legal?
A tricky question as news from Maine unfolds
The prostitution scandal in small-town Maine has been deteriorating into a case of she said/he paid. The question of who broke the law has already taken a second seat to who should be shamed, the alleged prostitute at a Zumba fitness studio and her business partner or the dozens of male customers on the Zumba Plus plan.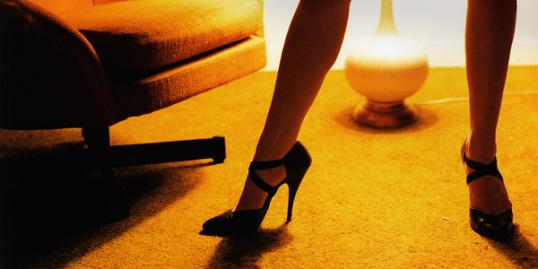 Concurrent news on Dominique Strauss-Kahn, the defamed former IMF director, revolves around the fairness of "criminalizing lust."
For a country with a strong Puritanical streak, America has proven remarkably tolerant of sex workers and their clientele. Hugh Grant is still a movie star, Heidi Fleiss enjoyed as much celebrity as notoriety, and Eliot Spitzer navigated a transition from disgraced politician to nightly political commentator. In the Kennebunk, Maine, case, attorneys for the male johns are fighting to protect the release of their names, characterizing them as victims of privacy invasion.
The case for decriminalizing prostitution has not held sway in the United States, despite the apparent leniency in the court of public opinion. With the exception of laws in parts of Nevada, lawmakers maintain that prostitution is inherently demeaning and that legalization would contribute to the expansion of human trafficking. Even with regulations in place, women could not be adequately protected against exploitation and the violence perpetrated by johns, pimps and traffickers. Poor women desperate for income might find themselves with no option other than turning tricks, and ever-younger girls would be drawn into dark and dangerous circles.
Proponents, meanwhile, have said that prostitution should be sanctioned and regulated in part because the world's oldest profession will never go out of business. It is inevitable, the argument goes, so we're better off improving the conditions  than pretending we can control the trade. Unionizing sex workers would yield legal rights protecting them against traffickers and regulating health standards to stem the tide of sexually transmitted diseases. While those opposed to legalization (notably Nicholas Kristof of The New York Times) cite the rampant victimization and increased risk of HIV in countries such as India and Cambodia, those in favor point to Germany, the Netherlands and our own state of Nevada for evidence that legalization would not increase human-slave trafficking.
If ever the United States were to rethink prostitution laws and regulations, they might look something like the law Sweden enacted in 1999. The Kvinnofrid law made it legal to sell sex but not to buy it. That is, prostitutes couldn't be charged with a crime but their clients would be charged, as would traffickers, pimps and brothel operators. Hotly debated, with even advocates of women's rights on both sides, the law was passed based on the belief that prostitution would always prevail with or without a ban. As our slack-jawed nation watches the news unfold in a scenic, tourist-friendly town in Maine, that much seems to be beyond debate.
Photo: Chas Ray Krider/Getty Images
Bing: Get the latest on the Zumba scandal.
More from MSN Living:
10 Commandments for Texting a Guy
10 Secrets to a Happy Life
Glamour's Top 10 College Women 2012
Get Your Life Back in Order
inspire: live a better life
Editor's note: We will now be publishing Miss Manners articles twice weekly, but you will only see one question and answer per article. You can expect to see these articles appear on Tuesdays and Thursdays going forward.

President Harry S. Truman was behind efforts to establish the first Armed Forces Day in 1950, and decades later the nation continues to set aside the third Saturday in May to recognize and thank members of the U.S. military for their patriotic service. With these five homecoming images, we salute all service members at home and abroad.

There's much to be desired about working from home: the stress-free commute, flexible hours, and improved work-life balance.

Wishing for the fountain of youth? You may not need it. We've rounded up real-women secrets, tried-and-true beauty tips, and the latest research to help you fight aging.

Experts weigh in on when to bite your tongue at the office.

Oh, the places you'll go — to get some "me" time, that is. REDBOOK readers confess all on Facebook.

How much money you make isn't nearly as important as how you use it, according to Elizabeth Dunn and Michael Norton, authors of the new book Happy Money.

Plus, how do you ask people to not bring gifts to a shower?

Looking for a career upgrade? Follow these tips for a foot in the door.

These tanning and skin cancer myths aren't just wrong — they can do serious harm. Wise up and head into a healthier future. P.S. You'll look a lot younger too.

It's possible to rejigger your brain circuitry and feel more joy, even on Monday mornings. Here's how.

Inner peace just got easier. You don't need quiet, incense or hours to meditate, and you can scrap the chanting. Better: Ninety-five percent of you say you're calmer after a single 10-minute session. Whatever your excuse (see ours), get your om on and reap the rewards.