10 facts about guns in America
Firearm ownership and violence in the U.S.
Right now, more than ever, gun control is a hot topic. The powerful gun lobby is once again at odds with reputable polls that indicate Americans believe in limits on gun use, reports The New York Times.
As both sides argue over the meaning of the Second Amendment to the U.S. Constitution: "A well regulated Militia, being necessary to the security of a free State, the right of the people to keep and bear Arms, shall not be infringed," let's take a look at some of the facts surrounding gun ownership and violence in the U.S.
Violence in the U.S.
Kieran Healy, a sociologist at Duke University, made this graph of "deaths due to assault" in the United States and other developed countries.
As Healy writes, "The most striking features of the data are (1) how much more violent the U.S. is than other Organization for Economic Co-operation and Development (OECD) countries (except possibly Estonia and Mexico, not shown here), and (2) the degree of change—and recently, decline—there has been in the U.S. time series considered by itself."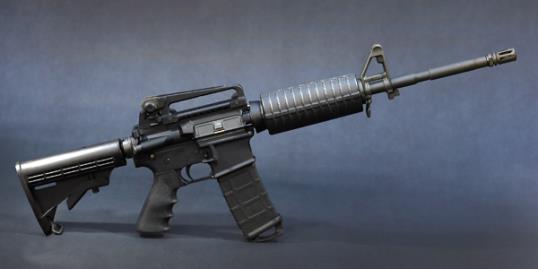 Gun ownership in U.S.
Gallup's October 2011 report finds that 47 percent of Americans reported that they have a gun in their home or elsewhere on their property. This is up from 41 percent a year ago and is the highest Gallup has recorded since 1993.
A separate survey (General Social Survey) by NORC at the University of Chicago indicates that the percentage of gun-owning households has fallen since 2004 to 32 percent in 2010. The survey indicates at least 1.8 firearms per household, or at least 70 million in households nationwide.
Meanwhile, a 2004 study done by the Harvard School of Public Health, estimates 260 to 300 million guns in civilian hands in the U.S.
Private-party gun sales
Perhaps 40 percent of all gun sales nationwide – roughly 6.6 million transactions in 2008 – are made by private parties, reports The New England Journal of Medicine. Moreover, private parties can sell handguns to anyone 18 years of age or older; licensed retailers cannot sell handguns to anyone under 21 years of age.
Gunshot wounds
More than 200 people go to U.S. emergency rooms every day with gunshot wounds, Garen Wintemute, director of the Violence Prevention Research Program at the University of California, Davis.
Guns in the home
Living in a home where there are guns increases the risk of homicide by 40 to 170 percent and the risk of suicide by 90 to 460 percent.
More on MSN Living: A global view on American gun violence
Decrease in murder rate
Daniel Webster, director of the Johns Hopkins University Center for Gun Policy and Research in Baltimore. Homicides may be up this year, though the murder rate from 2006 to 2011 fell 19 percent, to 4.7 for every 100,000 people
Guns will out-kill car fatalities by 2015
Guns and cars have long been among the leading causes of non-medical deaths in the U.S. By 2015, firearm fatalities will probably exceed traffic fatalities for the first time, based on data compiled by Bloomberg. Shooting deaths in 2015 will probably rise to almost 33,000, and those related to autos will decline to about 32,000, based on the 10-year average trend, reports Bloomberg.
15 of the 25 worst mass shootings in the last 50 years took place in the United States.
Time has the full list here. In second place is Finland, with two entries.
More on MSN Living: Newtown to the media: 'Enough is enough'
Of the 11 deadliest shootings in the US, five have happened from 2007 onward.
That doesn't include Friday's shooting in Sandy Hook, Connecticut. The AP put the early reported death toll at 27, which would make it the second-deadliest mass shooting in US history.
In 2011, there were 94 murders in Connecticut due to firearms.
For a state-by-state breakdown of crime, check out the Federal Bureau of Investigation's 'Uniform Crime Reports.'
Bing: Who owns the most guns in America?
Photo: Joe Raedle/Getty Images/Getty Images
More from MSN Living:
Mom of mentally ill son asks for help
Whether - and what - to tell your kids about this tragedy
How to help your kids feel safe
inspire: live a better life
Summer and winter tend to hog all the glory when it comes to travel high seasons. Sure, you want to soak up all the time at the beach you can during the summer, and you just want to escape the cold during the last months of the year.

Who just wants to stand around and watch the red and gold leaves slowly fall from their tree branches to the ground as we move from summer to fall? Instead, take in the changing seasons while you're on the move.

In September, I'll turn 38. I'm at the age now where, when people ask how old I am, it takes me a minute to remember. I don't know if that's because I've already been 37 different ages and it's hard to keep straight which one I am now, or if it's because I'm in denial, or if it's because I am going senile. Maybe a combination of all of the above. Regardless, my 30s have flown by and soon they will be but a memory. So, in an effort to preserve the memory I have left (or at least keep a record of it), and to celebrate what has been an amazing decade so far, here are 30 things that have happened to me in my 30s (and will probably happen to you too):

Traveling doesn't have to be stressful. And what you can fit in your carry-on can make all the difference (and not just a fresh pair of socks), especially when you get that low battery signal.

Volunteering (and these other rituals) might be just as good as exercise when it comes to extending your life.

Use these tricks to set a better tone for the rest of the week.

Whether it involves a food fight, mermaids or a torch-lit procession, people the world over know how to have a good time. Here are some of the biggest, boldest, booziest celebrations around, along with some tips to get the full experience.

Research could mean more effective treatment for human disorders.

An entry a day might keep the doctor away (or at least the shrink).

One woman's shout-outs to daily moments of joy — and how to cultivate them.

Our best health and fitness tips including the one move that tones all, berry news, and more.