Wash. firefighters rescue man stuck in chimney
"You can't make it up," one firefighter said.
TACOMA, Wash. (AP) — Firefighters chiseled a hole through bricks early Tuesday to rescue a man who had gotten himself stuck inside a 20-inch wide chimney space at a Washington home that had been converted to apartments.
The young man was not hurt and was not suspected of a crime, but it's unclear why he apparently climbed into the unused chimney, Tacoma Battalion Chief Dyre Fudge said.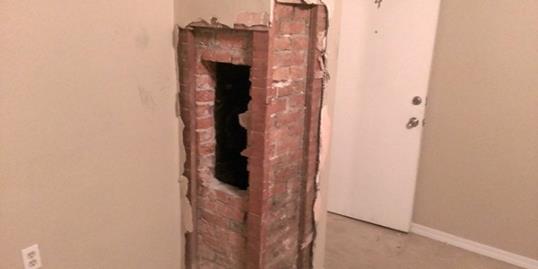 "Stories range from 'hide and seek' to 'repairing the ceiling.' Nobody was able to get the straight story," Fudge said.
"I'm in my 35th year, and it's something different every day. You can't make it up," he said.
Firefighters were called at about 1:30 a.m. to help the young man who was wedged at the second-floor level of the three-story house. A technical team trained in confined-space rescues was called in to rip through a wall and use power equipment to cut a hole in the chimney.
Firefighters lowered a rope to the man to hold him in place until he was able to step out about a half-hour later.
"He was never very panicking and had no real respiratory distress," Fudge said.
There were other people living in the house, but no one seemed to know why the man apparently climbed into the chimney at the third-floor level and slid down like Santa Claus.
"No real clue," Fudge said. "Just one of those stupid pet tricks, maybe."
More from Daily Dose:
Ohio man who threatened police holds 'idiot' sign
New cat token hits the Monopoly board
98% cite rudeness at work
Subscribe to the Daily Dose | Friend us on Facebook, follow us on Twitter and find us on Pinterest.
Photo: A man had to be cut out of this chimney in Tacoma, Wash., on Tuesday, Sept. 10 (KIRO 7 Eyewitness News via Facebook,
http://aka.ms/stuck-​in-chimney
)
inspire: live a better life
In between the hot dogs and the fireworks as you celebrate this 4th of July, take a few moments to learn a few fun facts about Independence Day.

Happy summer solstice, the celestial event celebrating the longest day and shortest night of the year. Here are 9 summer solstice traditions:

Test your intellect with these unusual facts and find out how much you know about the luck of the Irish.

March 14 is Pi Day, a sacred celebration in which radius and circumference lovers rejoice over circular snacks and decimal-reciting contests.

If your idea of roughing it is staying at a hotel without a spa then you'll love these "camping" retreats -- some even offer spa treatments.

People don't care if you go above and beyond what you promised, say researchers.