Wash. firefighters rescue man stuck in chimney
"You can't make it up," one firefighter said.
TACOMA, Wash. (AP) — Firefighters chiseled a hole through bricks early Tuesday to rescue a man who had gotten himself stuck inside a 20-inch wide chimney space at a Washington home that had been converted to apartments.
The young man was not hurt and was not suspected of a crime, but it's unclear why he apparently climbed into the unused chimney, Tacoma Battalion Chief Dyre Fudge said.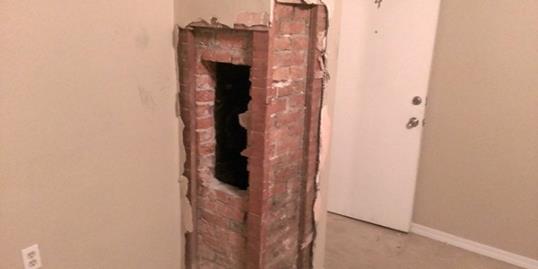 "Stories range from 'hide and seek' to 'repairing the ceiling.' Nobody was able to get the straight story," Fudge said.
"I'm in my 35th year, and it's something different every day. You can't make it up," he said.
Firefighters were called at about 1:30 a.m. to help the young man who was wedged at the second-floor level of the three-story house. A technical team trained in confined-space rescues was called in to rip through a wall and use power equipment to cut a hole in the chimney.
Firefighters lowered a rope to the man to hold him in place until he was able to step out about a half-hour later.
"He was never very panicking and had no real respiratory distress," Fudge said.
There were other people living in the house, but no one seemed to know why the man apparently climbed into the chimney at the third-floor level and slid down like Santa Claus.
"No real clue," Fudge said. "Just one of those stupid pet tricks, maybe."
More from Daily Dose:
Ohio man who threatened police holds 'idiot' sign
New cat token hits the Monopoly board
98% cite rudeness at work
Subscribe to the Daily Dose | Friend us on Facebook, follow us on Twitter and find us on Pinterest.
Photo: A man had to be cut out of this chimney in Tacoma, Wash., on Tuesday, Sept. 10 (KIRO 7 Eyewitness News via Facebook,
http://aka.ms/stuck-​in-chimney
)
inspire: live a better life
Here's some tips to get to happiness going forward in your life.

People 60 to 82 did best on cognitive tasks before 10:30am.

Lucille Ball was born in 1911, and though we lost her long ago, her legacy as America's favorite redhead lives on through the timeless classic, "I Love Lucy." People of all generations still enjoy Lucy's antics as much as they did over 60 years ago when the show first premiered.

Summer is coming to an end, and in a few weeks, kids will be forced to trade in their beach bags for backpacks. But just because the season is fading away doesn't mean the memories from the past few months have to disappear with it.

Confidence and perceived competence are key, study finds.

Features lead to assumptions about character, study says.

Great gear for an afternoon spent shoreside.

Read on for surefire strategies to boost your bliss.

Use these bucket-list ideas to enjoy the little time you have left.

Study points to benefits of improved living conditions.

Don't leave home without these must-have items.

Handshakes spread 20 times more germs, study says.