Wash. firefighters rescue man stuck in chimney
"You can't make it up," one firefighter said.
TACOMA, Wash. (AP) — Firefighters chiseled a hole through bricks early Tuesday to rescue a man who had gotten himself stuck inside a 20-inch wide chimney space at a Washington home that had been converted to apartments.
The young man was not hurt and was not suspected of a crime, but it's unclear why he apparently climbed into the unused chimney, Tacoma Battalion Chief Dyre Fudge said.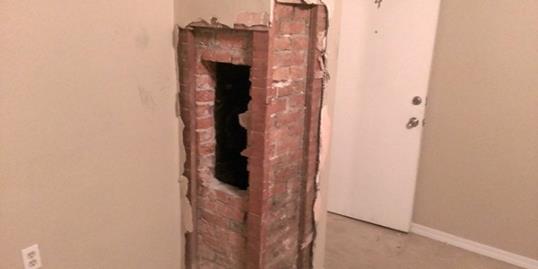 "Stories range from 'hide and seek' to 'repairing the ceiling.' Nobody was able to get the straight story," Fudge said.
"I'm in my 35th year, and it's something different every day. You can't make it up," he said.
Firefighters were called at about 1:30 a.m. to help the young man who was wedged at the second-floor level of the three-story house. A technical team trained in confined-space rescues was called in to rip through a wall and use power equipment to cut a hole in the chimney.
Firefighters lowered a rope to the man to hold him in place until he was able to step out about a half-hour later.
"He was never very panicking and had no real respiratory distress," Fudge said.
There were other people living in the house, but no one seemed to know why the man apparently climbed into the chimney at the third-floor level and slid down like Santa Claus.
"No real clue," Fudge said. "Just one of those stupid pet tricks, maybe."
More from Daily Dose:
Ohio man who threatened police holds 'idiot' sign
New cat token hits the Monopoly board
98% cite rudeness at work
Subscribe to the Daily Dose | Friend us on Facebook, follow us on Twitter and find us on Pinterest.
Photo: A man had to be cut out of this chimney in Tacoma, Wash., on Tuesday, Sept. 10 (KIRO 7 Eyewitness News via Facebook,
http://aka.ms/stuck-​in-chimney
)
inspire: live a better life
Just like your body, your brain needs a regular workout too.

Being a winner is a good feeling to have — especially in life. Winning doesn't solely relate to competitions or Charlie Sheen's coining of the term back in 2011. From achieving success to maintaining a work-life balance, find out what characteristics mean your life is going the way it should be. You may just even find an inspiration or two that you'll want to incorporate into your daily routine!

Sometimes it seems like you need a vacation from your vacation.

That'll get you and your 2 kids a house, SUV, and more, per a 'USA Today' analysis.

While most of us associate the Fourth of July with fireworks and barbecue (and taking a long weekend off from work), it's also an important day to give thanks to the people who help keep us safe.

For a truly out-of-the-box vacation, skip traditional hotels and opt for unique lodging.

Save money (and your sanity) whether you're flying, driving or riding the rails to your getaway

Get the inside track on exploring America by train with these three incredible itineraries.

Dramatic vistas! Tickling bubbles! Heavenly steam! Hot springs prove Mother Nature wanted us to luxuriate at one of these affordable spa escapes.

You're only going to make them feel worse, say researchers.

Young or old, everyone loves a great fireworks show! So go on and celebrate America's birthday at these top fireworks displays across the USA.