Wash. firefighters rescue man stuck in chimney
"You can't make it up," one firefighter said.
TACOMA, Wash. (AP) — Firefighters chiseled a hole through bricks early Tuesday to rescue a man who had gotten himself stuck inside a 20-inch wide chimney space at a Washington home that had been converted to apartments.
The young man was not hurt and was not suspected of a crime, but it's unclear why he apparently climbed into the unused chimney, Tacoma Battalion Chief Dyre Fudge said.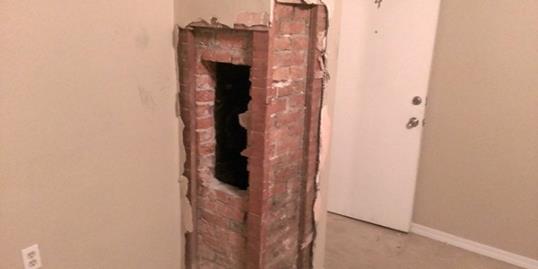 "Stories range from 'hide and seek' to 'repairing the ceiling.' Nobody was able to get the straight story," Fudge said.
"I'm in my 35th year, and it's something different every day. You can't make it up," he said.
Firefighters were called at about 1:30 a.m. to help the young man who was wedged at the second-floor level of the three-story house. A technical team trained in confined-space rescues was called in to rip through a wall and use power equipment to cut a hole in the chimney.
Firefighters lowered a rope to the man to hold him in place until he was able to step out about a half-hour later.
"He was never very panicking and had no real respiratory distress," Fudge said.
There were other people living in the house, but no one seemed to know why the man apparently climbed into the chimney at the third-floor level and slid down like Santa Claus.
"No real clue," Fudge said. "Just one of those stupid pet tricks, maybe."
More from Daily Dose:
Ohio man who threatened police holds 'idiot' sign
New cat token hits the Monopoly board
98% cite rudeness at work
Subscribe to the Daily Dose | Friend us on Facebook, follow us on Twitter and find us on Pinterest.
Photo: A man had to be cut out of this chimney in Tacoma, Wash., on Tuesday, Sept. 10 (KIRO 7 Eyewitness News via Facebook,
http://aka.ms/stuck-​in-chimney
)
inspire: live a better life
With all those deals you snagged on Black Friday, Small Business Saturday, and Cyber Monday, today is your chance to give back to those in need with #GivingTuesday.

Miss Manners provides guidance on how to handle a request for party contributions

Miss Manners instructs on why tit-for-tat never works

Miss Manners offers thoughts on guests who disregard dinner party instructions

Make big bucks, from home, having fun? These women got creative and figured out a way to have it all. You can too.

Your boss. You might like her, you probably respect her, but do you know how to approach someone who seems so different from you? (Spoiler: She's actually not.)

Over the weekend, Oprah decluttered her Montecito mansion and three other properties in a Santa Barbara yard sale that brought in more than $600,000(!). (Proceeds will benefit her girls' leadership academy in South Africa, and not half of a Crate and Barrel chair, the traditional end goal of yard-sale proceeds.)

Exclusively for MSN, we bring you a six-part series from the new book: MISS MANNERS MINDS YOUR BUSINESS by Judith and Nicholas Ivor Martin.

Miss Manners weighs in on the financial burdens of remote weddings

How Miss Manners suggests dealing with out of town guest who want tour guide services

Exclusively for MSN, we bring you a six-part series from the new book: MISS MANNERS MINDS YOUR BUSINESS by Judith and Nicholas Ivor Martin.