Man says he robbed banks for CIA
The strange case of the Target worker, six banks and a sugar daddy.
Herson Torres was wary but intrigued. Here he was at 21 years old, stacking boxes at Target for $11 an hour, when a friend from high school sent a text asking if he was interested in a $25,000 opportunity working for the government.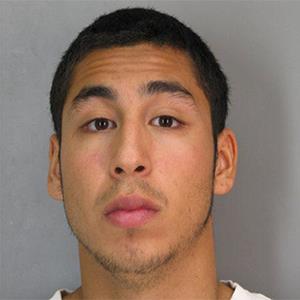 The job? Robbing banks for the CIA, according to the friend.
What followed in the hours, days and weeks after that initial text is the stuff of spy novels — the kind that end with unanswered questions.
Read: Most stylish royals around the world
Torres met the friend, Carolina Villegas, three hours later in a Virginia parking lot and was put on the phone with a mysterious man who identified himself only as Theo. The man said he worked for the government and was recruiting people for an undercover project testing retail bank security. If Torres walked away from a robbery with money, Theo said, he'd be paid $25,000. If unsuccessful, he'd still be paid $2,500 for the attempt.
Torres laughed, skeptical, and wondered if he was being punked. But Theo assured him the government operation was real. Federal authorities would clear him within 24 hours if caught. He told Torres he'd been vetted by his agency, and cited a misdemeanor theft at J.C. Penney that Torres had been charged with when he was 15.
Read: 10 interesting facts about the Earth
Torres was in. And the operation started immediately. He was driven by Villegas to the first of three banks he would attempt to rob that day. He took directions from the cool-headed Theo over the phone as the police gave chase, and listened as Theo called authorities to get the helicopter off his back.
Torres and Villegas hid out in a parking lot that night until Theo gave the all clear. Torres has said he remained suspicious of Theo and Villegas, but was also thrilled. He was told to bring friends and try again the next day.
The friends and relatives Torres reached out to were skeptical as he had been — until Villegas produced a document from Theo on Defense Intelligence Agency letterhead describing Operation Downstrike, which would be executed with the help of civilian volunteers who would be immune from civil and criminal action.
Torres and his companions attempted three more bank robberies in the following days, all under Theo's direction. Theo arranged for Torres to be away from his job at Target, and promised a "fix" of the fingerprints Torres left behind at one bank and of images security cameras had captured.
Within a week, Torres was under arrest and trying to convince authorities about his government mission. The detectives were contacted by Theo, who put them on the defensive. "Where is he? What have you done with him?" Theo demanded. "You can't make people disappear — only we can." A Washington law firm was contacted by Theo as well, who  persuaded them to take Torres' case.
In the end, the charges against Torres would be dropped and police would be led to the true identity of Theo: a 26-year-old man named Joshua Brady who lived in a quiet community with his mother, grandmother and 10-year-old brother. A CIA buff and previously accused confidence artist, Brady had met Villegas through a sugar-daddy website.

Brady was charged with impersonating a government official and three counts of attempted bank robbery — though in an interview from jail, he said the CIA was penalizing him for allowing Torres to be a fall guy. Charges against each of the attempted robbers and against Villegas were apparently dropped because authorities believe they were all taken in by Brady's elaborate con.

Read the whole story, as reported by Bloomberg's Tom Schoenberg, at Bloomberg Businessweek.
This post has been edited from the original to bring additional facts to light.
More from Daily Dose:
Promiscuous women blamed for earthquakes
Airline sued for asking men to change clothes
War vet arrested and disarmed while hiking
Love content like this? Friend us on Facebook, follow us on Twitter and find us on Pinterest.
Photo: Herson Torres / Fairfax County Police
inspire: live a better life
Some say it's a small world. We beg to differ. Earth has so many wondrous places worth exploring, and most of us are lucky to see a handful of them. Here are 30 of the top trips of a lifetime.

You'll stave off credit card debt by the end of the year if you account for these often-forgotten expenses.

Mark Zuckerberg has an even bigger effect on your life than you thought.

Take this advice to finally tackle that nagging to-do list.

The iconic storyteller would have been 110-years-old

Take the time to appreciate women's contributions to society. Here are some of the women who inspire us by their example.

Cast of the iconic TV show reunites for Florence Henderson's birthday

We couldn't be more excited to watch the best athletes in the world compete at the Winter Olympics in Sochi. This year, about 44 percent of the competitors are women according to the International Olympic Committee—which is awesome but wasn't always the case. Let's look back at some of the amazing women who paved the way with incredible, memorable feats of girl power.

Still pulling yourself out of holiday credit card debt? Ready to pool some funds for that beach vacation you've been dreaming about at your desk? We're with you 100 percent.

"FOMO, the fear of missing out, is a form of social anxiety," says psychiatrist Gail Saltz. "This type of fear tends to cause compulsive behaviors, like checking out other social situations even as you are in the middle of one currently."

When The Shriver Report was released in early January, we shared some of the more interesting statistics about income equality, the wage gap, and other issues confronting women.

Clay Aiken to run for public office.