New library to be book-less
San Antonio's BiblioTech will be an entirely digital reading room.
San Antonio's Bexar County seeks to reverse the traditional model of a library with an entirely digital public library, the BiblioTech, which will open this autumn.
BiblioTech will be one of the first digital-only libraries of its kind.
Many public institutions have only begun to implement new technologies. Take libraries. Although computers are available at most, they often function as a search auxiliary and not as the primary media source.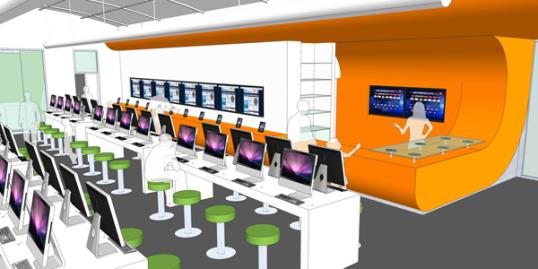 But at BiblioTech personal computers, laptops and tablets will replace the hardcover volumes, paperbacks, newspapers and magazines that usually line the shelves of traditional reading rooms. Although thousands of titles will be accessible to patrons, not a single book will be available at Bexar's new facility.
More from the MSN Living: Your 2013 bargain calendar
Library members will be permitted to check out e-readers loaded with an assortment of e-books and media. There will be study areas and meeting rooms in addition to an interactive children's play area.
In a statement, Bexar County Judge Nelson Wolff remarked, "The ever changing landscape of technology means that literacy is no longer about picking up a physical book and being able to comprehend the words; technology is changing the way we read, learn and thrive as citizens of the 21st Century."
More from the MSN Living: 25 things that will keep you young
The hope is that the new library will introduce digital platforms to communities that may otherwise lack access to technology. And although this library is a pilot program, the BiblioTech is not intended to replace paper everywhere. 
So bibliophiles shouldn't find the BiblioTech threatening.
More from the Daily Dose:
Wait — TV can be good for you?
Amid controversy, Gun Appreciation Day set for Jan. 19
Trouble with Mars travel: Getting good sleep 
Subscribe to the Daily Dose
Love content like this? Friend us on Facebook, follow us on Twitter and find us on Pinterest
Photo: Courtesy of Bexar County, Texas
inspire: live a better life
Miss Manners advises on how to respond when one gets unsolicited advice about weight issues.

Editor's note: We will now be publishing Miss Manners articles twice weekly, but you will only see one question and answer per article. You can expect to see these articles appear on Tuesdays and Thursdays going forward.

President Harry S. Truman was behind efforts to establish the first Armed Forces Day in 1950, and decades later the nation continues to set aside the third Saturday in May to recognize and thank members of the U.S. military for their patriotic service. With these five homecoming images, we salute all service members at home and abroad.

There's much to be desired about working from home: the stress-free commute, flexible hours, and improved work-life balance.

Wishing for the fountain of youth? You may not need it. We've rounded up real-women secrets, tried-and-true beauty tips, and the latest research to help you fight aging.

Experts weigh in on when to bite your tongue at the office.

Oh, the places you'll go — to get some "me" time, that is. REDBOOK readers confess all on Facebook.

How much money you make isn't nearly as important as how you use it, according to Elizabeth Dunn and Michael Norton, authors of the new book Happy Money.

Plus, how do you ask people to not bring gifts to a shower?

Looking for a career upgrade? Follow these tips for a foot in the door.

These tanning and skin cancer myths aren't just wrong — they can do serious harm. Wise up and head into a healthier future. P.S. You'll look a lot younger too.

It's possible to rejigger your brain circuitry and feel more joy, even on Monday mornings. Here's how.