New library to be book-less
San Antonio's BiblioTech will be an entirely digital reading room.
San Antonio's Bexar County seeks to reverse the traditional model of a library with an entirely digital public library, the BiblioTech, which will open this autumn.
BiblioTech will be one of the first digital-only libraries of its kind.
Many public institutions have only begun to implement new technologies. Take libraries. Although computers are available at most, they often function as a search auxiliary and not as the primary media source.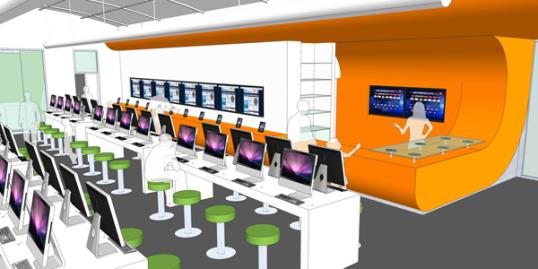 But at BiblioTech personal computers, laptops and tablets will replace the hardcover volumes, paperbacks, newspapers and magazines that usually line the shelves of traditional reading rooms. Although thousands of titles will be accessible to patrons, not a single book will be available at Bexar's new facility.
More from the MSN Living: Your 2013 bargain calendar
Library members will be permitted to check out e-readers loaded with an assortment of e-books and media. There will be study areas and meeting rooms in addition to an interactive children's play area.
In a statement, Bexar County Judge Nelson Wolff remarked, "The ever changing landscape of technology means that literacy is no longer about picking up a physical book and being able to comprehend the words; technology is changing the way we read, learn and thrive as citizens of the 21st Century."
More from the MSN Living: 25 things that will keep you young
The hope is that the new library will introduce digital platforms to communities that may otherwise lack access to technology. And although this library is a pilot program, the BiblioTech is not intended to replace paper everywhere. 
So bibliophiles shouldn't find the BiblioTech threatening.
More from the Daily Dose:
Wait — TV can be good for you?
Amid controversy, Gun Appreciation Day set for Jan. 19
Trouble with Mars travel: Getting good sleep 
Subscribe to the Daily Dose
Love content like this? Friend us on Facebook, follow us on Twitter and find us on Pinterest
Photo: Courtesy of Bexar County, Texas
inspire: live a better life
Three out of four of you say the most anxiety-inducing part of your job is your boss. Sound familiar?

The holidays are upon us, so whether you're heading to your hometown, getting away for New Year's, or just taking a few days off to relax with friends and family, it's almost time to set your OOO (out-of-office) message.

Become a master of your own fate and maximize your happiness with a few easy tweaks.

Sure, you realize that your daily lattes aren't exactly necessities. But once you discover what they, and other regular purchases, add up to, you'll realize it's time to think twice about shelling out. Trim the fat from your budget with these expert tips for saving big.

When you stumble upon an unflattering photo of yourself, you can make excuses for it, or you can change your ways.

For those who would rather pay it forward, proceeds from this gift guide go to deserving charities — and these presents happen to be pretty fabulous as well. Plus, shop more gifts for stylish women.