New library to be book-less
San Antonio's BiblioTech will be an entirely digital reading room.
San Antonio's Bexar County seeks to reverse the traditional model of a library with an entirely digital public library, the BiblioTech, which will open this autumn.
BiblioTech will be one of the first digital-only libraries of its kind.
Many public institutions have only begun to implement new technologies. Take libraries. Although computers are available at most, they often function as a search auxiliary and not as the primary media source.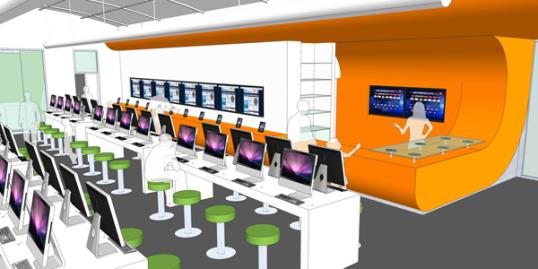 But at BiblioTech personal computers, laptops and tablets will replace the hardcover volumes, paperbacks, newspapers and magazines that usually line the shelves of traditional reading rooms. Although thousands of titles will be accessible to patrons, not a single book will be available at Bexar's new facility.
More from the MSN Living: Your 2013 bargain calendar
Library members will be permitted to check out e-readers loaded with an assortment of e-books and media. There will be study areas and meeting rooms in addition to an interactive children's play area.
In a statement, Bexar County Judge Nelson Wolff remarked, "The ever changing landscape of technology means that literacy is no longer about picking up a physical book and being able to comprehend the words; technology is changing the way we read, learn and thrive as citizens of the 21st Century."
More from the MSN Living: 25 things that will keep you young
The hope is that the new library will introduce digital platforms to communities that may otherwise lack access to technology. And although this library is a pilot program, the BiblioTech is not intended to replace paper everywhere. 
So bibliophiles shouldn't find the BiblioTech threatening.
More from the Daily Dose:
Wait — TV can be good for you?
Amid controversy, Gun Appreciation Day set for Jan. 19
Trouble with Mars travel: Getting good sleep 
Subscribe to the Daily Dose
Love content like this? Friend us on Facebook, follow us on Twitter and find us on Pinterest
Photo: Courtesy of Bexar County, Texas
inspire: live a better life
Try these anything-but-ordinary ideas for a healthier, more productive mid-day break.

An effective team leader should have a strong and powerful set of skills. After all, taking charge isn't easy. Here are ten principles of power and leadership.

Hundreds of products hit our labs every year, from the inspired to the absurd (does anyone really need to be able to cook eggs on a stick?). These six measured up to our gold standard, offering ingenious solutions to everyday problems.

I was lucky enough to log into a webinar hosted by Ernst & Young Women Athletes Business Network, in which the panel included tennis legend Martina Navratilova and Olympic gold medalist and TV host Summer Sanders. (Not too shabby, yeah?)

And they're healthier for it, too.

Some say it's a small world. We beg to differ. Earth has so many wondrous places worth exploring, and most of us are lucky to see a handful of them. Here are 30 of the top trips of a lifetime.

Test your intellect with these unusual facts and find out how much you know about the luck of the Irish.

March 14 is Pi Day, a sacred celebration in which radius and circumference lovers rejoice over circular snacks and decimal-reciting contests.

Where in the world do you want to go? Somewhere unique? Any of the places described here are sure to make your next world-travel adventure truly memorable.

It's easy to lead, but it takes courage and conviction to be a truly great leader. Here are 10 inspiring leaders and what we can learn from them.

The semi-annual glitch in your daily routine is back this weekend.

You'll stave off credit card debt by the end of the year if you account for these often-forgotten expenses.