New library to be book-less
San Antonio's BiblioTech will be an entirely digital reading room.
San Antonio's Bexar County seeks to reverse the traditional model of a library with an entirely digital public library, the BiblioTech, which will open this autumn.
BiblioTech will be one of the first digital-only libraries of its kind.
Many public institutions have only begun to implement new technologies. Take libraries. Although computers are available at most, they often function as a search auxiliary and not as the primary media source.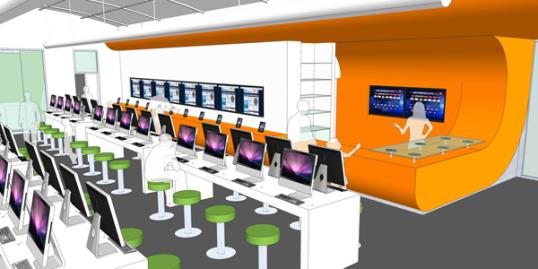 But at BiblioTech personal computers, laptops and tablets will replace the hardcover volumes, paperbacks, newspapers and magazines that usually line the shelves of traditional reading rooms. Although thousands of titles will be accessible to patrons, not a single book will be available at Bexar's new facility.
More from the MSN Living: Your 2013 bargain calendar
Library members will be permitted to check out e-readers loaded with an assortment of e-books and media. There will be study areas and meeting rooms in addition to an interactive children's play area.
In a statement, Bexar County Judge Nelson Wolff remarked, "The ever changing landscape of technology means that literacy is no longer about picking up a physical book and being able to comprehend the words; technology is changing the way we read, learn and thrive as citizens of the 21st Century."
More from the MSN Living: 25 things that will keep you young
The hope is that the new library will introduce digital platforms to communities that may otherwise lack access to technology. And although this library is a pilot program, the BiblioTech is not intended to replace paper everywhere. 
So bibliophiles shouldn't find the BiblioTech threatening.
More from the Daily Dose:
Wait — TV can be good for you?
Amid controversy, Gun Appreciation Day set for Jan. 19
Trouble with Mars travel: Getting good sleep 
Subscribe to the Daily Dose
Love content like this? Friend us on Facebook, follow us on Twitter and find us on Pinterest
Photo: Courtesy of Bexar County, Texas
inspire: live a better life
You may have a corner office, a big paycheck, or a political following, but these flubs will plummet your appeal--and fast track you to the front door.

Influence anyone with these sneaky tricks.

An investment in gratitude pays valuable dividends, especially when times are tough.

Scoring big in your career means being off-target more times than you hit the bull's-eye. Learn how to make all those misses lead to success.

Raise your hand if you've been here: It's Monday morning, and you've been up all night wiping your runny nose, coughing, and feeling achy all over.

5 proven tips to maximize your productivity.

These 'experts' underperform the markets year after year.

You love your friends—so why does it sting when one of them reaches a life-changing goal before you do? How to stop the comparathon.

It's the one resolution you must keep this year! Start by taking inventory of what matters to you and what makes you happy. Then, work on savoring those experiences! Here, four ways to create more delight each and every day from life consultant Michelle DeAngelis.

Print out all 27 mind and body pick-me-ups and keep them in a jar. In a meh mood emergency, dispense as needed.

If your New Year's resolution is to dust off your online dating profile and get some action on it, here's an important tip…

Three out of four of you say the most anxiety-inducing part of your job is your boss. Sound familiar?