New library to be book-less
San Antonio's BiblioTech will be an entirely digital reading room.
San Antonio's Bexar County seeks to reverse the traditional model of a library with an entirely digital public library, the BiblioTech, which will open this autumn.
BiblioTech will be one of the first digital-only libraries of its kind.
Many public institutions have only begun to implement new technologies. Take libraries. Although computers are available at most, they often function as a search auxiliary and not as the primary media source.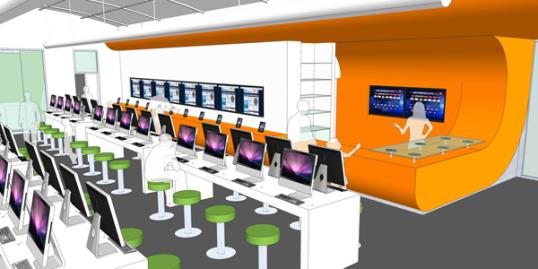 But at BiblioTech personal computers, laptops and tablets will replace the hardcover volumes, paperbacks, newspapers and magazines that usually line the shelves of traditional reading rooms. Although thousands of titles will be accessible to patrons, not a single book will be available at Bexar's new facility.
More from the MSN Living: Your 2013 bargain calendar
Library members will be permitted to check out e-readers loaded with an assortment of e-books and media. There will be study areas and meeting rooms in addition to an interactive children's play area.
In a statement, Bexar County Judge Nelson Wolff remarked, "The ever changing landscape of technology means that literacy is no longer about picking up a physical book and being able to comprehend the words; technology is changing the way we read, learn and thrive as citizens of the 21st Century."
More from the MSN Living: 25 things that will keep you young
The hope is that the new library will introduce digital platforms to communities that may otherwise lack access to technology. And although this library is a pilot program, the BiblioTech is not intended to replace paper everywhere. 
So bibliophiles shouldn't find the BiblioTech threatening.
More from the Daily Dose:
Wait — TV can be good for you?
Amid controversy, Gun Appreciation Day set for Jan. 19
Trouble with Mars travel: Getting good sleep 
Subscribe to the Daily Dose
Love content like this? Friend us on Facebook, follow us on Twitter and find us on Pinterest
Photo: Courtesy of Bexar County, Texas
Someone in Texas has a sense of humor. Biblio Tech is very close to the Spanish word, "biblioteca" which in English is "library". The irony of this debate over whether or not it needs books is that it's being discussed electronically.
I write books and offer them to the public in both formats. The key is reading.
Are you sure you want to delete this comment?
inspire: live a better life
How much do you really know about the Earth? In honor of Earth Day, April 22, we explore some interesting and fun facts about the fifth-largest planet of our solar system.

Happify shares their results of a recent study on how money affects our happiness.

A top exec reveals the company's secret code

Pro tips from the guy who's done it four times

Not all mistakes are as blatant as posting party pics when you're 'sick' at home.

Everyone struggles through weekday drudgery to reach their weekend fun. But what if you could reclaim every day of your life?

Zooming up the ladder is great, but questioning yourself 24/7 is no way to succeed. Manage your stressed self with these surefire tips.

Forget trying to control every little detail. Life is lots more fun (and less stressful) when you let go from the get-go.

So, what exactly is this thing we call "happiness" and how do we get it?

Mark Zuckerberg has an even bigger effect on your life than you thought.

Everyone makes mistakes, but some mistakes can be devastating. Here are 10 icons who fell from grace, and what they can do to redeem themselves.

Twitter turns eight years old today.