Thief returns bike after written plea
Lesson learned: Sometimes it pays to ask nicely.
When Eileen Remedios had her bike stolen, instead of turning to the police she opted for a path of kindness. The 55-year-old nurse from England wrote a pleading note to the thief, asking very nicely for the safe return her old blue bike and only mode of transportation. She stuck the note on a nearby lamppost.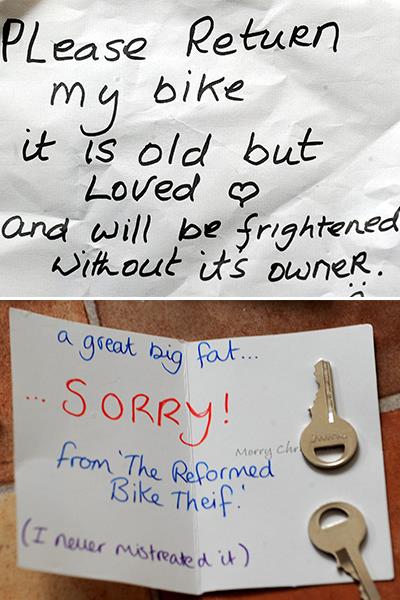 "I was feeling quite cross," Remedios told the Daily Mail. "I thought, 'Why would someone want to take my old bike?' I thought maybe someone was drunk and had borrowed it."
More on MSN Living: Girl gets stolen dog back
Her plan worked. The following day, Remedios' bike had been returned, along with an apology note and a brand new lock.
"I never imagined that someone would bring it back," Remedios told the Daily Mail. "It really has restored my faith in humanity."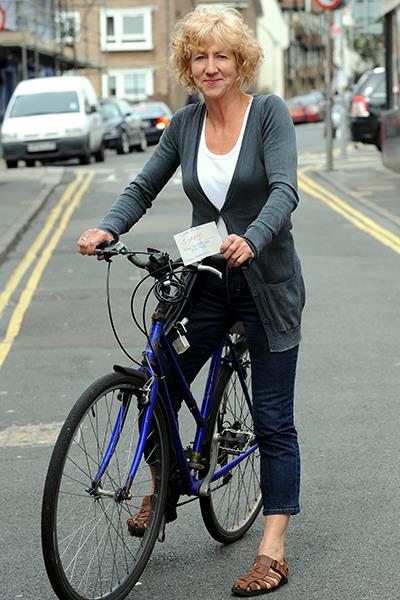 Tell us: What would have done in this situation?
Bing: Pictures that will restore your faith in humanity
More from Daily Dose:
Most and least lucrative college majors
Pop goes the mission to cross Atlantic by balloon cluster
Roller coaster to reopen after fatal accident
Subscribe to the Daily Dose | Friend us on Facebook, follow us on Twitter and find us on Pinterest.
Photo: Nurse Eileen Remedios and the note she posted saying she'd like her stolen bike back, along with the note she received back containing an apology and a bike lock key to retrieve her stolen bike. (SWNS)
inspire: live a better life
A look back on all of the tiny tasks that 30 years of technology has saved you from.

What sets you apart from everyone else looking for a new job or bigger paycheck? Your profile!

With all those deals you snagged on Black Friday, Small Business Saturday, and Cyber Monday, today is your chance to give back to those in need with #GivingTuesday.

Miss Manners provides guidance on how to handle a request for party contributions

Miss Manners instructs on why tit-for-tat never works

Miss Manners offers thoughts on guests who disregard dinner party instructions

Make big bucks, from home, having fun? These women got creative and figured out a way to have it all. You can too.

Your boss. You might like her, you probably respect her, but do you know how to approach someone who seems so different from you? (Spoiler: She's actually not.)

Over the weekend, Oprah decluttered her Montecito mansion and three other properties in a Santa Barbara yard sale that brought in more than $600,000(!). (Proceeds will benefit her girls' leadership academy in South Africa, and not half of a Crate and Barrel chair, the traditional end goal of yard-sale proceeds.)

Exclusively for MSN, we bring you a six-part series from the new book: MISS MANNERS MINDS YOUR BUSINESS by Judith and Nicholas Ivor Martin.

Miss Manners weighs in on the financial burdens of remote weddings