US death toll from mass shootings has doubled since Columbine
Looking in vain for signs the gun conversation will change.
Number of deaths in the deadliest mass shootings (12 or more lives lost) in America, 1900–1999: 106

Number of deaths in the deadliest mass shootings, 2000–2013: 112
Signs that mass shootings impact meaningful legislative changes: 0
Dr. A. Charles Catania, a behavior analyst and experimental psychologist at the University of Maryland, shared a difficult statistic with producers of "The Rachel Maddow Show" on MSNBC after the Sandy Hook tragedy last year. Catania had reviewed a Washington Post report on the deadliest mass shootings in U.S. history and plotted the data on a graph.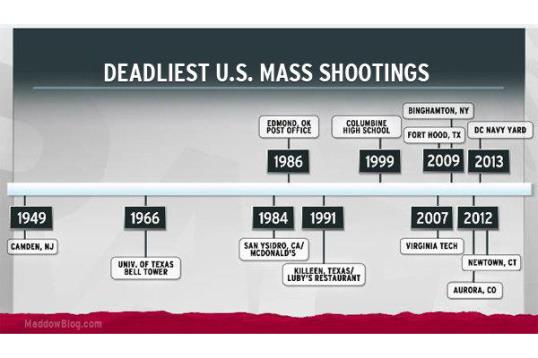 Catania realized how drastically the death toll from mass shootings had increased in the recent past: Half the deadliest shootings in U.S. history had occured in just the six years prior. "The acceleration in deaths shown by graphing the data this way is breath-taking," he said, "and probably the scariest data I've ever plotted in this format."
Bing: Get the latest on the DC Navy Yard shooting

Taken cumulatively, the total number of people killed in U.S. mass shootings — defined at this point as 12 or more lives lost — has doubled since Dylan Klebold and Eric Harris murdered 12 students and a teacher at Columbine High School in 1999. A total of 106 people, including shooters, were killed in such shootings before the turn of the last century, and 112 in the years since.

The number of people killed in mass shootings pales, by far, compared to the monstrous though unquantified number of people shot to death every week in events that don't even make the news. 

Despite data indicating the U.S. has far more gun-related killings than any other developed country — perhaps as high as 20 times the average for all other countries researched — the pace for reforming gun laws and related statutes has been glacial and numerous pieces of legislation frozen in place. With no meaningful changes in the wake of the Sandy Hook massacre, to the great shame of Congress, Americans are left to their own devices, for better and for worse. News today that Starbucks has politely asked its customers to leave firearms at home before coming in for coffee, reversing an earlier policy of defaulting to local gun laws, provides some indication of how people are seeking to establish some guidelines as confidence in a political solution fades to black.

The worst mass shootings in U.S. history, including number of dead, per The Washington Post:
River Road in Camden, N.J. (Sept. 6, 1949): 13
Bell tower shooting, U of Texas at Austin (Aug. 1, 1966):  16 + shooter
McDonald's in San Ysidro, Calf. (July 18, 1984): 21 + shooter
Post Office in Edmond, Okla. (Aug. 21, 1986): 14 + shooter
Luby's Cafeteria in Killeen, Texas (Oct. 16, 1991): 23 + shooter
Columbine High School, Colo. (April 20, 1999): 13 + 2 shooters
Virginia Tech (April 16, 2007): 32 + shooter
Binghamton, N.Y., immigration center (April 3, 2009): 13 +shooter
Fort Hood, Texas (Nov. 5, 2009): 13
Aurora movie theater, Colo. (July 20, 2012): 12
Sandy Hook Elementary School, Conn. (Dec. 14, 2012):  26 + shooter
Navy Yard complex (Sept. 16, 2013): 12 + shooter
More from Daily Dose:
Roller coaster to reopen after fatal accident
9/11 museum unveils Survivor Tree seedling program
Wash. firefighters rescue man stuck in chimney
Subscribe to the Daily Dose | Friend us on Facebook, follow us on Twitter and find us on Pinterest.

Illustration:
Maddowblog.msnbc.com​
inspire: live a better life
A look back on all of the tiny tasks that 30 years of technology has saved you from.

What sets you apart from everyone else looking for a new job or bigger paycheck? Your profile!

With all those deals you snagged on Black Friday, Small Business Saturday, and Cyber Monday, today is your chance to give back to those in need with #GivingTuesday.

Miss Manners provides guidance on how to handle a request for party contributions

Miss Manners instructs on why tit-for-tat never works

Miss Manners offers thoughts on guests who disregard dinner party instructions

Make big bucks, from home, having fun? These women got creative and figured out a way to have it all. You can too.

Your boss. You might like her, you probably respect her, but do you know how to approach someone who seems so different from you? (Spoiler: She's actually not.)

Over the weekend, Oprah decluttered her Montecito mansion and three other properties in a Santa Barbara yard sale that brought in more than $600,000(!). (Proceeds will benefit her girls' leadership academy in South Africa, and not half of a Crate and Barrel chair, the traditional end goal of yard-sale proceeds.)

Exclusively for MSN, we bring you a six-part series from the new book: MISS MANNERS MINDS YOUR BUSINESS by Judith and Nicholas Ivor Martin.

Miss Manners weighs in on the financial burdens of remote weddings