This 13-Year-Old Has a Cure for Hiccups
And guess what? It's a lollipop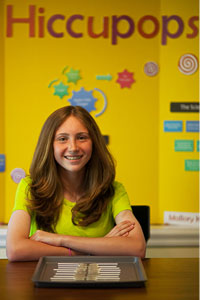 Mother of invention, meet your daughter. Mallory Kievman may be on the cusp of resolving one of life's most stubborn mysteries, right up there with black holes, Stonehenge, and what that thing is on top of Donald Trump's head. The 13-year-old has cooked up a cure for the hiccups.
Mallory's hiccup stopper comes in the form of a lollipop she calls the Hiccupop. Her idea for this little sucker graduated from cute to commercial at an invention convention in Connecticut. You may already be familiar with invention conventions as grade-school events where kids display their creative designs for things like the Automatic Bed Maker or The Annoying Brother Shutter Upper (patents pending). But Mallory isn't messing around. She wants to be a doctor someday and has a particular Hiccupop user in mind: cancer patients, she has sensitively noted, are often beset with hiccups as a side effect of chemotherapy. At a more formal convention near her home in Manchester, Conn., Mallory met up with financiers who wanted to back her idea and help her bring it to market.
There are still challenges ahead for young Mallory, but according to the New York Times she's enlisting a team of MBA students to develop her company, with the teen entrepreneur remaining at the helm. In addition to being CEO, she's the head of Research & Development — with a little assistance from her dad, she's been tweaking her recipe in the kitchen at home. Hiccupop's admixture of lollipops, apple cider vinegar and sugar needs to be more palatable, she says, but the combination of ingredients seems to affect the nerves in the throat and mouth believed to cause the hiccup reflex. "It basically over-stimulates those nerves and cancels out the message to hiccup," Mallory told the Times.
What about product testing? Imagine the boardrooms of angel investors, where suited millionaires sit patiently around a conference table for hours, a box of lollipops on the table, just waiting for someone to get a case of the hiccups. Hiccupops have the mark of many great, and greatly successful, products: an innovation that addresses a common need with a simple solution. If Mallory's pops work, they'll be worth the wait.

Photo: Andrew Sullivan

inspire: live a better life
Editor's note: We will now be publishing Miss Manners articles twice weekly, but you will only see one question and answer per article. You can expect to see these articles appear on Tuesdays and Thursdays going forward.

President Harry S. Truman was behind efforts to establish the first Armed Forces Day in 1950, and decades later the nation continues to set aside the third Saturday in May to recognize and thank members of the U.S. military for their patriotic service. With these five homecoming images, we salute all service members at home and abroad.

There's much to be desired about working from home: the stress-free commute, flexible hours, and improved work-life balance.

Wishing for the fountain of youth? You may not need it. We've rounded up real-women secrets, tried-and-true beauty tips, and the latest research to help you fight aging.

Experts weigh in on when to bite your tongue at the office.

Oh, the places you'll go — to get some "me" time, that is. REDBOOK readers confess all on Facebook.

How much money you make isn't nearly as important as how you use it, according to Elizabeth Dunn and Michael Norton, authors of the new book Happy Money.

Plus, how do you ask people to not bring gifts to a shower?

Looking for a career upgrade? Follow these tips for a foot in the door.

These tanning and skin cancer myths aren't just wrong — they can do serious harm. Wise up and head into a healthier future. P.S. You'll look a lot younger too.

It's possible to rejigger your brain circuitry and feel more joy, even on Monday mornings. Here's how.

Inner peace just got easier. You don't need quiet, incense or hours to meditate, and you can scrap the chanting. Better: Ninety-five percent of you say you're calmer after a single 10-minute session. Whatever your excuse (see ours), get your om on and reap the rewards.