This 13-Year-Old Has a Cure for Hiccups
And guess what? It's a lollipop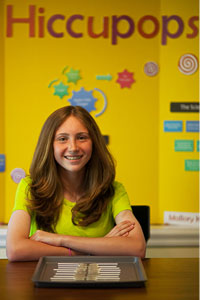 Mother of invention, meet your daughter. Mallory Kievman may be on the cusp of resolving one of life's most stubborn mysteries, right up there with black holes, Stonehenge, and what that thing is on top of Donald Trump's head. The 13-year-old has cooked up a cure for the hiccups.
Mallory's hiccup stopper comes in the form of a lollipop she calls the Hiccupop. Her idea for this little sucker graduated from cute to commercial at an invention convention in Connecticut. You may already be familiar with invention conventions as grade-school events where kids display their creative designs for things like the Automatic Bed Maker or The Annoying Brother Shutter Upper (patents pending). But Mallory isn't messing around. She wants to be a doctor someday and has a particular Hiccupop user in mind: cancer patients, she has sensitively noted, are often beset with hiccups as a side effect of chemotherapy. At a more formal convention near her home in Manchester, Conn., Mallory met up with financiers who wanted to back her idea and help her bring it to market.
There are still challenges ahead for young Mallory, but according to the New York Times she's enlisting a team of MBA students to develop her company, with the teen entrepreneur remaining at the helm. In addition to being CEO, she's the head of Research & Development — with a little assistance from her dad, she's been tweaking her recipe in the kitchen at home. Hiccupop's admixture of lollipops, apple cider vinegar and sugar needs to be more palatable, she says, but the combination of ingredients seems to affect the nerves in the throat and mouth believed to cause the hiccup reflex. "It basically over-stimulates those nerves and cancels out the message to hiccup," Mallory told the Times.
What about product testing? Imagine the boardrooms of angel investors, where suited millionaires sit patiently around a conference table for hours, a box of lollipops on the table, just waiting for someone to get a case of the hiccups. Hiccupops have the mark of many great, and greatly successful, products: an innovation that addresses a common need with a simple solution. If Mallory's pops work, they'll be worth the wait.

Photo: Andrew Sullivan

inspire: live a better life
From international roaming fees to skipping travel insurance, these mistakes can put a damper on your next vacation.

Where in the world do you want to go? Somewhere unique? Any of the places described here are sure to make your next world-travel adventure truly memorable.

It's easy to lead, but it takes courage and conviction to be a truly great leader. Here are 10 inspiring leaders and what we can learn from them.

Some say it's a small world. We beg to differ. Earth has so many wondrous places worth exploring, and most of us are lucky to see a handful of them. Here are 30 of the top trips of a lifetime.

The semi-annual glitch in your daily routine is back this weekend.

You'll stave off credit card debt by the end of the year if you account for these often-forgotten expenses.

Mark Zuckerberg has an even bigger effect on your life than you thought.

Take this advice to finally tackle that nagging to-do list.

The iconic storyteller would have been 110-years-old

Take the time to appreciate women's contributions to society. Here are some of the women who inspire us by their example.

Cast of the iconic TV show reunites for Florence Henderson's birthday

We couldn't be more excited to watch the best athletes in the world compete at the Winter Olympics in Sochi. This year, about 44 percent of the competitors are women according to the International Olympic Committee—which is awesome but wasn't always the case. Let's look back at some of the amazing women who paved the way with incredible, memorable feats of girl power.