This 13-Year-Old Has a Cure for Hiccups
And guess what? It's a lollipop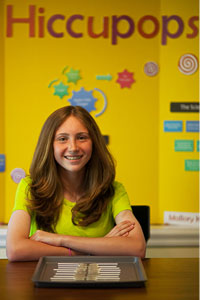 Mother of invention, meet your daughter. Mallory Kievman may be on the cusp of resolving one of life's most stubborn mysteries, right up there with black holes, Stonehenge, and what that thing is on top of Donald Trump's head. The 13-year-old has cooked up a cure for the hiccups.
Mallory's hiccup stopper comes in the form of a lollipop she calls the Hiccupop. Her idea for this little sucker graduated from cute to commercial at an invention convention in Connecticut. You may already be familiar with invention conventions as grade-school events where kids display their creative designs for things like the Automatic Bed Maker or The Annoying Brother Shutter Upper (patents pending). But Mallory isn't messing around. She wants to be a doctor someday and has a particular Hiccupop user in mind: cancer patients, she has sensitively noted, are often beset with hiccups as a side effect of chemotherapy. At a more formal convention near her home in Manchester, Conn., Mallory met up with financiers who wanted to back her idea and help her bring it to market.
There are still challenges ahead for young Mallory, but according to the New York Times she's enlisting a team of MBA students to develop her company, with the teen entrepreneur remaining at the helm. In addition to being CEO, she's the head of Research & Development — with a little assistance from her dad, she's been tweaking her recipe in the kitchen at home. Hiccupop's admixture of lollipops, apple cider vinegar and sugar needs to be more palatable, she says, but the combination of ingredients seems to affect the nerves in the throat and mouth believed to cause the hiccup reflex. "It basically over-stimulates those nerves and cancels out the message to hiccup," Mallory told the Times.
What about product testing? Imagine the boardrooms of angel investors, where suited millionaires sit patiently around a conference table for hours, a box of lollipops on the table, just waiting for someone to get a case of the hiccups. Hiccupops have the mark of many great, and greatly successful, products: an innovation that addresses a common need with a simple solution. If Mallory's pops work, they'll be worth the wait.

Photo: Andrew Sullivan

inspire: live a better life
Don't leave home without these must-have items.

Handshakes spread 20 times more germs, study says.

Drowning in debt? Maybe there's a silver lining.

"But it's not real life, you know. It's a vacation."

Our list of must-dos before hitting the road.

Summer traditions can be great, but if you're on year six of packing the same people into the same car to go on the same vacation, it's time to switch things up. Surfing in Portugal, perhaps – or cycling through Northern Ireland. We've put together a list of 15 places well off the beaten path that you should go to when you're ready to try something new.

Grab a sleeping bag and head out to one of these amazing campsites.

A dozen adventures that are well worth the trip.

Paper downplays the significance of practice over raw talent.

Survey says American teens aren't great at complex or basic financial tasks.

Fear of Moving Away: How to conquer the latest cultural anxiety and embrace the unknown.

Adulthood has no eureka moment.