Happy Equal Pay Day!
Or, theoretical Equal Pay Day, if we're being picky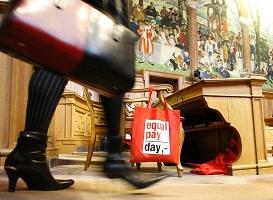 by Caitlin Kelly
,
Glamour
Here in New York, the sun is shining. It's absolutely beautiful out. Yet, thousands of people are walking around, looking like they just heard Brad and Angelina called the whole thing off. Why? Because today is the federal tax filing deadline. But ladies, don't look so glum--today's another great day, too. It's
Equal Pay Day
, the day meant to create awareness for the gap between men and women's wages in the U.S. It's not just Tax Day--it's double the fun, indeed.
OK, I'm reaching here, I know. Especially because the "equal pay" part of Equal Pay Day isn't equal at all. 
This
commonly cited statistic
says women earn 77 cents for every dollar men do, with women of color receiving even less. It's admittedly tricky to generalize about a wage gap with several variables at play: age, education, occupation, workweek hours, benefits, and many other factors that can't simply be labeled as sexism. Confronted with these kinds of hurdles, some people just throw their hands up and call the pay gap situation a
myth
. Others try to account for disparities in income, and
when they do
, working women still get the short end of the salary stick, in part due to that whole
being women
thing.
This year, for example, simply being a woman may have set you
back an estimated $10,784
—and that's before it got you the
higher health care bill
. 
Want to maximize that paycheck as much as possible for next year?
Here are a few tips
: negotiate (but not too aggressively!), be a leader (but not too pushy, obviously!), and look nice (but not, erm, too nice!). That list was published last Equal Pay Day, but it's just as relevant, especially since the wage gap hasn't budged at all this past year. Now get out there on that golf course (unless it
bans women members, even CEOs like Virginia Rometty
) and negotiate! 
Note: Unfortunately, you may have a bit harder of a time working with the above advice if if you live in Wisconsin,
where men just care more about money
. That's why the state repealed its Equal Pay Enforcement Act earlier this month. So, anyone busting out the bubbly for Equal Pay Day? Tax Day is sounding like a lot more fun to celebrate all of a sudden, isn't it? 
Is the pay gap real? Is it a myth? Do you think legislation, like Wisconsin's defunct Equal Pay Enforcement Act or the Lilly Ledbetter Fair Pay Act, can do anything to help close the wage gap?
More from Glamour:
Photo: Ruben Sprich//Reuters
inspire: live a better life
From international roaming fees to skipping travel insurance, these mistakes can put a damper on your next vacation.

Where in the world do you want to go? Somewhere unique? Any of the places described here are sure to make your next world-travel adventure truly memorable.

It's easy to lead, but it takes courage and conviction to be a truly great leader. Here are 10 inspiring leaders and what we can learn from them.

Some say it's a small world. We beg to differ. Earth has so many wondrous places worth exploring, and most of us are lucky to see a handful of them. Here are 30 of the top trips of a lifetime.

The semi-annual glitch in your daily routine is back this weekend.

You'll stave off credit card debt by the end of the year if you account for these often-forgotten expenses.

Mark Zuckerberg has an even bigger effect on your life than you thought.

Take this advice to finally tackle that nagging to-do list.

The iconic storyteller would have been 110-years-old

Take the time to appreciate women's contributions to society. Here are some of the women who inspire us by their example.

Cast of the iconic TV show reunites for Florence Henderson's birthday

We couldn't be more excited to watch the best athletes in the world compete at the Winter Olympics in Sochi. This year, about 44 percent of the competitors are women according to the International Olympic Committee—which is awesome but wasn't always the case. Let's look back at some of the amazing women who paved the way with incredible, memorable feats of girl power.