Happy Equal Pay Day!
Or, theoretical Equal Pay Day, if we're being picky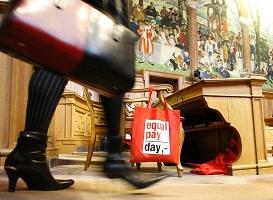 by Caitlin Kelly
,
Glamour
Here in New York, the sun is shining. It's absolutely beautiful out. Yet, thousands of people are walking around, looking like they just heard Brad and Angelina called the whole thing off. Why? Because today is the federal tax filing deadline. But ladies, don't look so glum--today's another great day, too. It's
Equal Pay Day
, the day meant to create awareness for the gap between men and women's wages in the U.S. It's not just Tax Day--it's double the fun, indeed.
OK, I'm reaching here, I know. Especially because the "equal pay" part of Equal Pay Day isn't equal at all. 
This
commonly cited statistic
says women earn 77 cents for every dollar men do, with women of color receiving even less. It's admittedly tricky to generalize about a wage gap with several variables at play: age, education, occupation, workweek hours, benefits, and many other factors that can't simply be labeled as sexism. Confronted with these kinds of hurdles, some people just throw their hands up and call the pay gap situation a
myth
. Others try to account for disparities in income, and
when they do
, working women still get the short end of the salary stick, in part due to that whole
being women
thing.
This year, for example, simply being a woman may have set you
back an estimated $10,784
—and that's before it got you the
higher health care bill
. 
Want to maximize that paycheck as much as possible for next year?
Here are a few tips
: negotiate (but not too aggressively!), be a leader (but not too pushy, obviously!), and look nice (but not, erm, too nice!). That list was published last Equal Pay Day, but it's just as relevant, especially since the wage gap hasn't budged at all this past year. Now get out there on that golf course (unless it
bans women members, even CEOs like Virginia Rometty
) and negotiate! 
Note: Unfortunately, you may have a bit harder of a time working with the above advice if if you live in Wisconsin,
where men just care more about money
. That's why the state repealed its Equal Pay Enforcement Act earlier this month. So, anyone busting out the bubbly for Equal Pay Day? Tax Day is sounding like a lot more fun to celebrate all of a sudden, isn't it? 
Is the pay gap real? Is it a myth? Do you think legislation, like Wisconsin's defunct Equal Pay Enforcement Act or the Lilly Ledbetter Fair Pay Act, can do anything to help close the wage gap?
More from Glamour:
Photo: Ruben Sprich//Reuters
inspire: live a better life
Miss Manners advises on how to respond when one gets unsolicited advice about weight issues.

Editor's note: We will now be publishing Miss Manners articles twice weekly, but you will only see one question and answer per article. You can expect to see these articles appear on Tuesdays and Thursdays going forward.

President Harry S. Truman was behind efforts to establish the first Armed Forces Day in 1950, and decades later the nation continues to set aside the third Saturday in May to recognize and thank members of the U.S. military for their patriotic service. With these five homecoming images, we salute all service members at home and abroad.

There's much to be desired about working from home: the stress-free commute, flexible hours, and improved work-life balance.

Wishing for the fountain of youth? You may not need it. We've rounded up real-women secrets, tried-and-true beauty tips, and the latest research to help you fight aging.

Experts weigh in on when to bite your tongue at the office.

Oh, the places you'll go — to get some "me" time, that is. REDBOOK readers confess all on Facebook.

How much money you make isn't nearly as important as how you use it, according to Elizabeth Dunn and Michael Norton, authors of the new book Happy Money.

Plus, how do you ask people to not bring gifts to a shower?

Looking for a career upgrade? Follow these tips for a foot in the door.

These tanning and skin cancer myths aren't just wrong — they can do serious harm. Wise up and head into a healthier future. P.S. You'll look a lot younger too.

It's possible to rejigger your brain circuitry and feel more joy, even on Monday mornings. Here's how.